Triple award win for Edinburgh's response to Ukraine crisis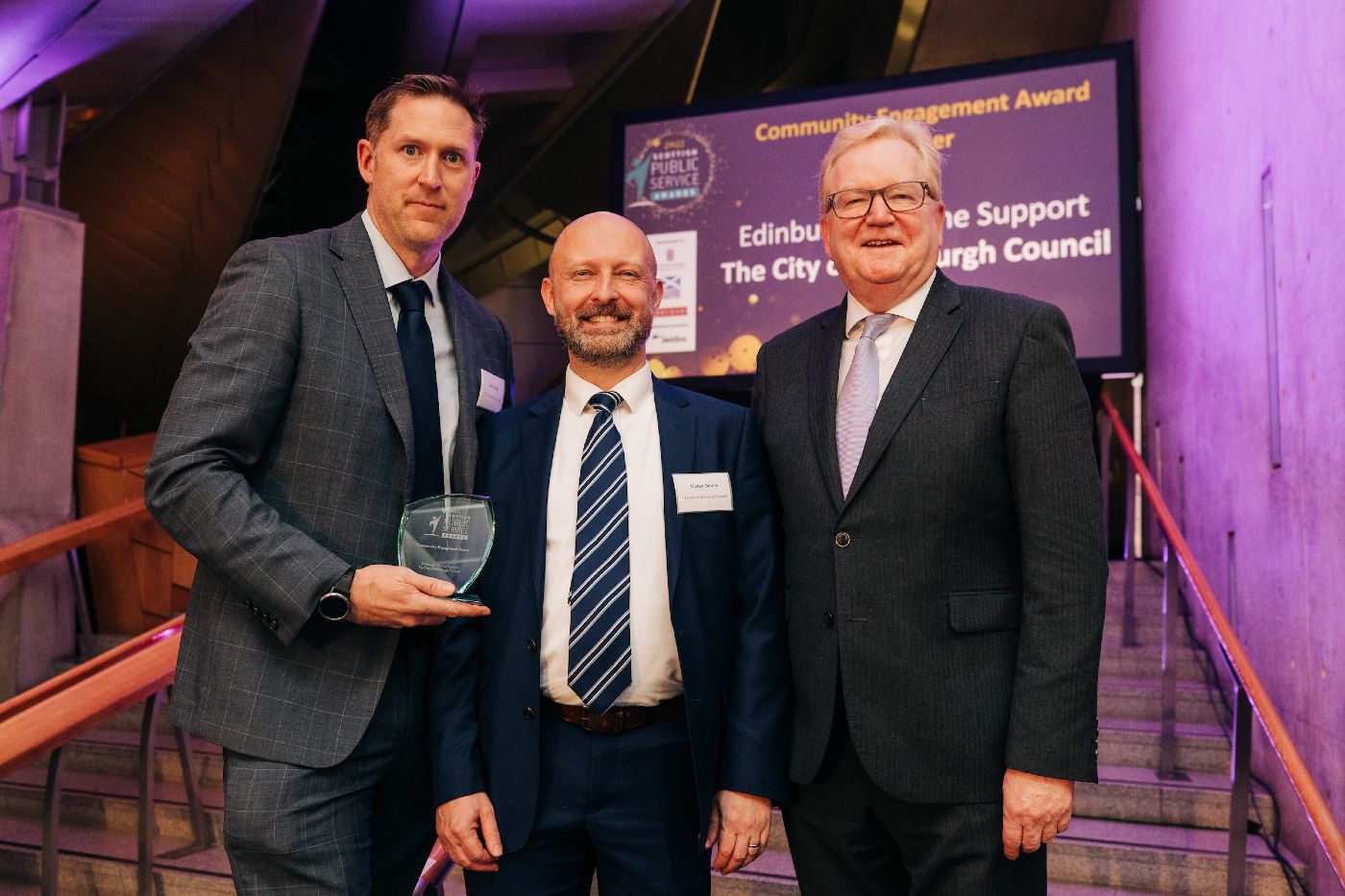 The efforts of hundreds of people who have worked together in Edinburgh to support more than 10,000 people fleeing war in Ukraine have been honoured at the Scottish Public Service Awards.
The Community Award accolade was announced in the Scottish Parliament this week and presented to City of Edinburgh Council officers Alistair Dinnie and Gavin Sharp. They have been working citywide with partners like EVOC, Volunteer Edinburgh and Natwest since February to safely accommodate families from Ukraine.
The Community Award recognises their work and that of their council colleagues, partner agencies and volunteers to ensure all Ukrainians entering Edinburgh "are well supported with their welfare, cultural and informational needs".
Hannah Beaton-Hawryluk, the chair of the Association of Ukrainians in Great Britain, was also presented with an award for the Association's response to the current crisis in Ukraine. Hannah's "professionalism, commitment and view to honouring the organisation's founders" were all cited as achievements worthy of this year's Leadership Award. On the same night, Hannah was recognised as a Local Hero at the Edinburgh Evening News Awards.
Council leader Cammy Day said: "The efforts of all those involved in the city's Ukraine response to provide whatever help they can have been nothing short of extraordinary.
"From refugees landing in Scotland and being immediately received by incredible volunteers at Edinburgh Airport, to getting help from the council with accommodation and other needs at our Welcome Hub, to receiving ongoing support at our advice centre and within the local community - we're here for Ukraine's refugees every step of the way.
"Children have been helped to successfully settle into schools and we're seeing many people secure further education or jobs. We've even been able to recruit some incredible new Ukrainian colleagues who've gone through the process themselves to help us with interpretation and support other Ukrainians here in the city.
"In these most desperate of times, we've had to call on the goodwill of many big-hearted volunteers and of course those with a spare room. We've seen volunteers and council officers continue to go above and beyond the day job, working long shifts and all times of the day, and inspiring people like Hannah and her team to make sure the right help is being given in the right places. I'd like to thank and congratulate Hannah, Alistair and Gavin who collected these awards, and of course the countless others who support them."
Chair of the judging panel and managing director of Holyrood Communications, Mandy Rhodes, said: "The quality and quantity of nominations for this year's awards was exceptionally high and really gave the judging panel a tough time. Well done to all the projects that entered and congratulations to the winners, richly deserved."
Each year, the Scottish Public Service Awards offer the opportunity to celebrate outstanding achievements within Scotland's civic landscape and give welcome recognition to the work that supports the governance of Scotland.
Adding to the city's success at the awards, Edinburgh College was recognised for its Emerging Leaders training Programme aimed at Black, Asian and minority ethnic employees within the Scottish Parliament to allow them to achieve their full potential.