Ultrafast broadband reaches Orkney and Shetland housing developments
Housing developments in Orkney, Shetland and the Western Isles will be among the best connected in Scotland, with access to reliable ultrafast broadband.
Openreach is working with local developers to build full fibre networks direct to dozens of new homes in Gott on Shetland, Kirkwall on Orkney, Stornoway on the Isle of Lewis and Bowmore on Islay, as well as Lochgilphead and Oban on the Argyll and Bute mainland.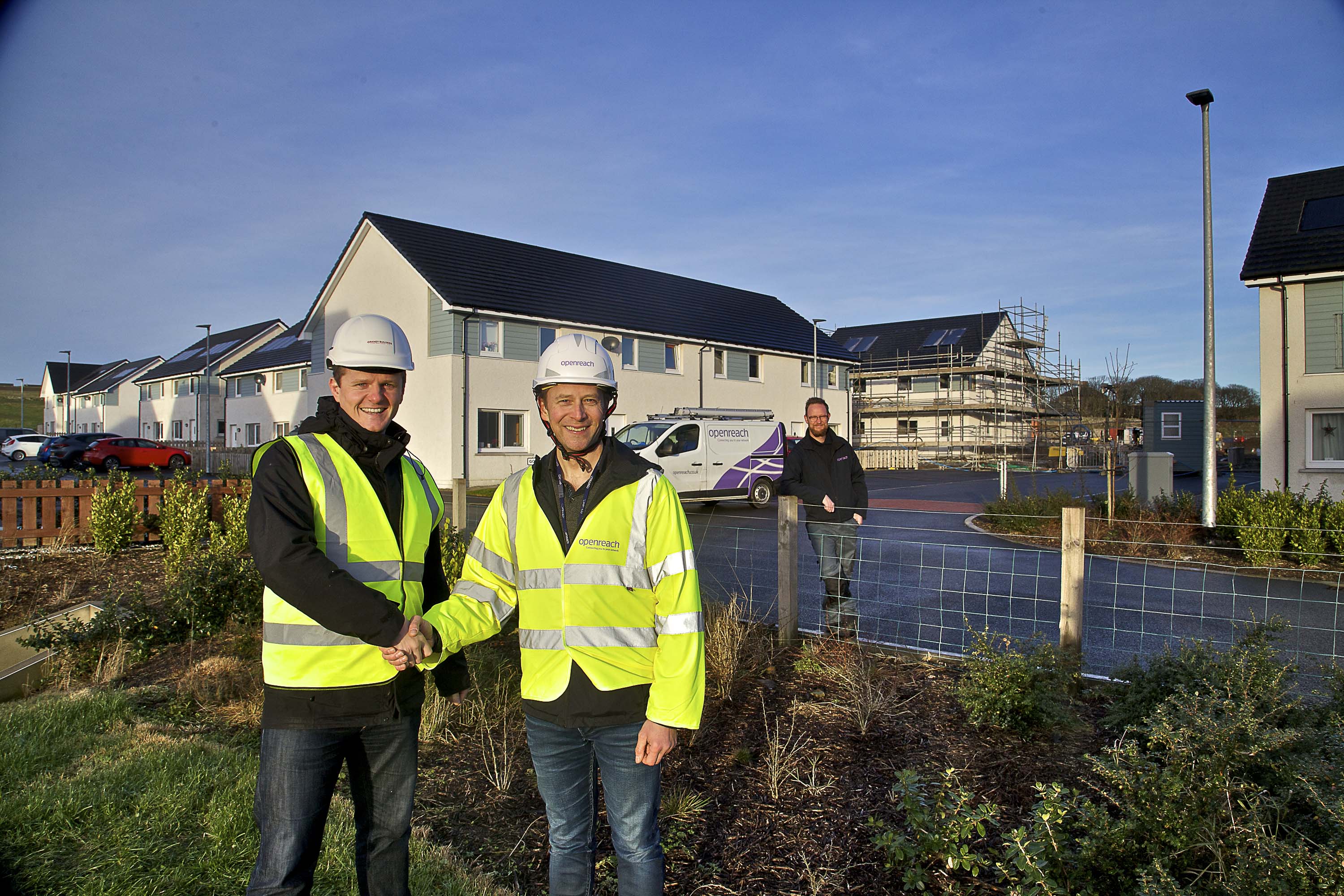 Fibre-to-the-Premises (FTTP) offers greater capacity, more reliability and is capable of broadband speeds of up to 1Gbps – around 22 times faster than the current UK average of 46.2Mbps.
Engineers have installed around 5,900 metres of new core fibre cabling to reach the sites - enough to stretch across the Skye Bridge a dozen times. The new full fibre networks – installed by Openreach at no cost to the developers – build on the core fibre infrastructure put in place by the Digital Scotland Superfast Broadband project, led in the area by Highlands and Islands Enterprise.
The first premises to benefit are at Orkney Builders' Grainbank development in Kirkwall on Orkney, where all 32 houses are now able to connect to ultrafast broadband, and 30 new houses and 16 flats at Gaet-a-Gott by Tingwall on Shetland, where the full-fibre network started to go live at the end of September.
The Shetland project alone involved the installation of more than 1,300 metres of cable along the main A970 between Lerwick and Sullom Voe to the site's entrance. The new infrastructure will provide the same connectivity to the rest of the site which, when complete, will comprise around 80 new homes.
Twenty new houses in the new Sealladh development at Bowmore on Islay and four houses and 12 flats on the site of a former high school in Lochgilphead started to be connected to full-fibre in October, and full-fibre for 50 new premises at Sandwick by Stornoway will follow soon, with 1,275 metres of core fibre spine already in place to serve the site.
Meanwhile, the first FTTP at a building site in the Oban exchange area has gone live on the Glenshellach development, where 26 houses and 24 flats will be able to connect.
Andrew Hepburn, Openreach's fibre delivery director for Scotland, said: "We've been honing our skills on full-fibre rollout in places like Altnaharra in Sutherland. New, more efficient techniques and equipment we tried out there are now helping us to deliver full-fibre networks to other rural places.
"We've cracked some challenges to bring FTTP to these island sites, like shipping out specialist equipment to Shetland to blow the delicate, glass fibres through underground piping. When you buy a new home, you expect the best of everything – and residents will find their new homes are among the best-connected in Scotland.
"FTTP provides an unbeatable service for residential broadband, with lots of capacity for data-hungry services and applications, and it's also great for businesses, giving them all the bandwidth they need to max their online operations and future growth. We're on a mission to bring decent broadband to everyone in Scotland, and we've recently dropped our wholesale prices to help stimulate the fibre broadband market."
Openreach has been working closely with several local developers – including Kirkwall-based Orkney Builders Limited; E&H Building Contractors Ltd on Shetland; Lochgilphead-based Macleod Construction Ltd; and Calmax Construction on the Isle of Lewis – to make sure the future-proof, ultrafast infrastructure goes in with the bricks to enable smooth network delivery.
Stephen Kemp, managing director of Orkney Builders Limited, said: "In Orkney, we've generally become used to obtaining access to high-speed connectivity only once it's been available elsewhere in the country for some time. High-speed broadband is a major consideration for home buyers, so it's been great to work with Openreach to make sure people moving into our new properties here in Orkney are right at the forefront of the next generation of connectivity.
"At Grainbank, we have customers who rely on their broadband service not only for day-to-day domestic use, but also for their businesses. Their feedback has been excellent, and so we're very much looking forward to continuing to roll out high-speed fibre broadband on our future phases of development."