University of Glasgow housing student wins CIH Malcolm Smith Award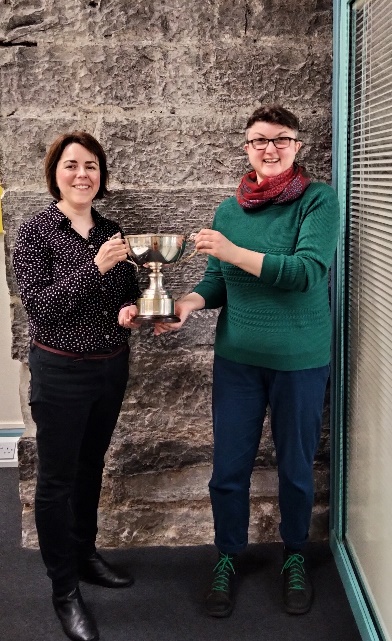 University of Glasgow housing student Nicky Imrie has received a prestigious award for her work outlining the importance of homelessness and help with housing costs as key drivers for UK housing policy change.
Ms Imrie, who is studying an MSc in housing studies, was awarded the Malcolm Smith Memorial Award by CIH Scotland. The accolade, judged anonymously, is given for the best piece of work, with a focus on housing law and policy, during the last academic year by a student in Scotland.
Commenting on the award, Nicky said: "I chose to write about the importance of two policy drivers for understanding UK housing policy change: homelessness and help for low-income tenants with their housing costs. As a newbie to housing, it felt vital to me to get to grips swiftly with global, national and local political and economic events, thinking and decision-making that have shaped the housing and homelessness services and financial support which exist today and with the academic and policy literature - recent editions of the UK Housing Review served as sources for my written work.
"Also, as an online, remote learner due to the Covid-19 pandemic, I was also curious to discover how the 'unprecedented' measures to support homeless people and those at risk of homelessness, as well as low-income tenants during the pandemic, may be contributing to building fairer futures in housing and beyond.
"I was astonished that my written efforts to grapple with and understand aspects of UK housing-policy change were good enough to be nominated for an award. So, I am very surprised and very honoured to have won. I sincerely hope that I will be able to transfer my book-learning on the University of Glasgow course successfully into the realities of housing work.
"I want to acknowledge my classmates already working in housing whose wide-ranging and critical insights from practice have, alongside fascinating, information-packed lectures from university staff and guests and huge amounts of reading, proved absolutely invaluable to my learning so far. Thank you!"
Dr Craig Gurney, programme director for the Postgraduate Diploma/MSc Housing Studies Programme and Lecturer in Housing Studies at the School of Social & Political Sciences (Urban Studies) University of Glasgow, added: "We are really proud of all of our housing students at the University of Glasgow. but we're obviously really pleased to hear that Nicky won this year's award. Her essay was a critical and insightful analysis of contemporary housing policy drivers. The quality of her writing really shines through, and she is an excellent role model to this year's new recruits.
"The Malcolm Smith prize is highly sought after by our students and one of the leading academic prizes for housing studies in the UK. I have no doubt that Nicky will go onto have a successful career in the sector, as many previous winners from Glasgow have done."
Nicky will receive a £100 cash award, which she will be donating to the Rock Trust, alongside the coveted trophy.