Urban Union celebrates handover of 1,000th home
Regeneration company Urban Union has officially handed over its 1,000th home just six years after completing its first.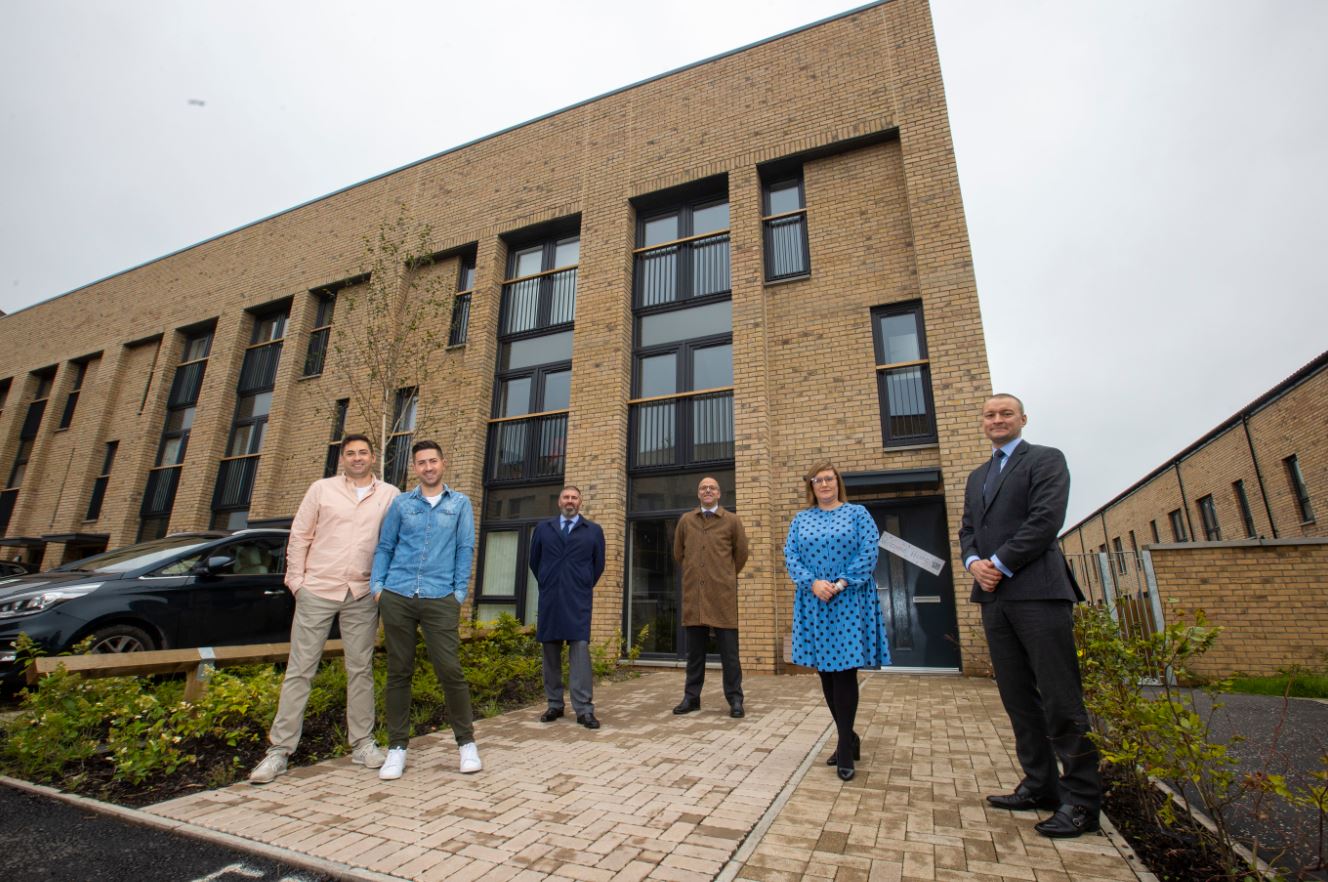 Part of Robertson Group, the firm has four developments across Scotland, including two in Glasgow, one in Perth and one in Edinburgh.
Laurieston Living, in the Gorbals area of Glasgow, was the firm's original development and the first home was handed over in 2014.
Now plot 72 at Phase 2 of the development - a four-bedroom townhouse - has been handed over to Chris and Daniel, who made use of the Scottish Government's First Home Fund to purchase the property.
A special presentation was held by Urban Union's managing director Neil McKay and Robertson Group's executive property director Nick Harris to welcome Chris and Daniel to their new home.
Neil McKay said: "Laurieston Living is a particularly special site for us as it was the first development we secured way back in 2012. In the eight years' since, we have delivered hundreds of houses to families and individuals across all our sites in Scotland, ready for them to transform into a home. More than half of these have been for social rented tenure. It is fitting that our milestone 1,000th home is at Laurieston, which continues to flourish as we deliver further phases of the masterplan.
"We are immensely proud of the role we have played in the revitalisation of Laurieston, which is one of Glasgow's key regeneration sites. The community has genuinely been regenerated and I am sure Chris and Daniel will quickly become part of the neighbourhood, while enjoying their new home together. We wish them all the very best."
Nick Harris added: "Urban Union plays a significant role in regeneration across Scotland to provide affordable homes and transform communities. Achieving the 1000th completion in the last six years is something that we are all very proud of and I congratulate the Urban Union staff for their dedication and hard work which has made this possible.
"The site at Laurieston is a long-term regeneration project and Urban Union have already delivered significant investment and opportunity and will continue to do so as their work on the site progresses throughout Phase 2 and beyond. We wish Chris and Daniel every happiness in their first home."
On moving into their new home in Laurieston, first-time buyer Christopher Anderson said: "Moving into our first home was always going to be a very exciting time but it's an added bonus that Urban Union are kicking off the celebrations by handing over the keys to their 1,000th home to us.
"From our initial plot selection to receiving our keys today, we have been supported throughout the entire process of our first home purchase. And, all in a knowledgeable way that reassured us of our choices.
"As the situation with COVID-19 developed, the Urban Union team continued to keep us updated, informed and reassured that our home would be completed in a compliant way. We have genuinely been delighted with the service and would recommend Urban Union as a home builder of choice."
In the first phase at the development, a total of 364 affordable and private homes were delivered in partnership with New Gorbals Housing Association. A further 190 homes are currently being developed as part of Phase 2 which is due to be completed by the end of 2021.
In a more than £140 million revitalisation of the Gorbals area, Urban Union plans to deliver four phases over a nine-year period. The site forms part of the wider Transforming Communities: Glasgow programme that aims to regenerate eight key neighbourhoods across the city.
Planning permission is currently being sought for the third phase of Laurieston Living, which will consist of a vibrant new-build residential development providing 349 dwellings, a mixed-use ground floor and the final section of an ambitious civic park.