Utilities join forces with fire and rescue service to improve home safety
The electricity and gas network operators for the north of Scotland are joining forces with the Scottish Fire and Rescue Service to help make homes safer.
Scottish and Southern Electricity Networks (SSEN) and SGN will be teaming up with fire crews to highlight the extra help available for vulnerable electricity and gas customers of both companies.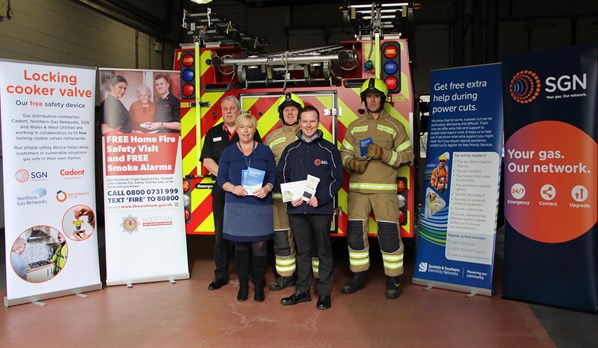 Building on an existing partnership, Scottish Fire and Rescue teams carrying out home fire safety visits in Moray and Aberdeenshire will promote SSEN's Priority Services Register which provides dedicated 24-hour support, priority updates before and during a power cut, and offers extra help where required including support for vital medical equipment.
They will also recommend SGN's locking cooker valve, a free safety device designed to help keep people living in vulnerable circumstances gas safe in their own homes.
Every hour of every day there's a house fire in Scotland and to help combat potential incidents before they happen, the Scottish Fire and Rescue Service offers free home fire safety visits to help people spot possible fire hazards and organise potentially life-saving fire escape plans. Their teams also provide advice and guidance and fit smoke alarms free of charge if needed.
Shona Horn, customer relationship manager for SSEN's North Caledonia region (North East and Shetland), said: "This invaluable relationship with the Scottish Fire and Rescue Service helps us identify people who may benefit from free support from our teams, ensuring those who need extra help during a power cut are provided details of our free Priority Services Register.
"Partnering with SGN and the Scottish Fire and Rescue Service means we can all work together to help keep our customers and communities safe in Moray and Aberdeenshire."
Pamela Goee, head of community at SGN, added: "Our locking cooker valve is especially suited for people that live with dementia or Alzheimer's, but we've also fitted valves for families that have children with autism. It's for anyone that may be in a vulnerable circumstance who could potentially use the cooker in an unsafe way. No matter what you do with the knobs on the cooker itself, no gas will unintentionally pass through to the cooker meaning it can't fill the property with gas. It also means you can't put an electric kettle on the hob and set fire to it, or put on empty pans to be left to burn dry."
Graeme Laird, station manager for the Scottish Fire and Rescue Service in Aberdeenshire and Moray, said: "We are delighted to be working in partnership with Scottish and Southern Electricity Networks and SGN in supporting our home fire safety visits and highlighting the SGN safety locking cooker valve within the kitchen environment.
"These simple but effective devices can contribute to a reduction in accidental dwelling fires within the most vulnerable homes while also reducing unintentional harm at home and are fitted directly by SGN engineers.
"Home fire safety visits are a cornerstone of our prevention efforts and have contributed to a marked decrease in fire incidents during the past decade.
"Our firefighters will visit your home to identify any hazards. They will also assist in developing an escape plan as well as supply and install smoke detectors for free if required.
"We are here to help everyone stay safe within the home, but we are particularly keen to support the most vulnerable and elderly within our communities. That is why we appeal to everyone to check if their elderly relatives, friends or neighbours are in need of this vital support – and to contact us directly."