Veterans Minister Graeme Day visits housing development for disabled veterans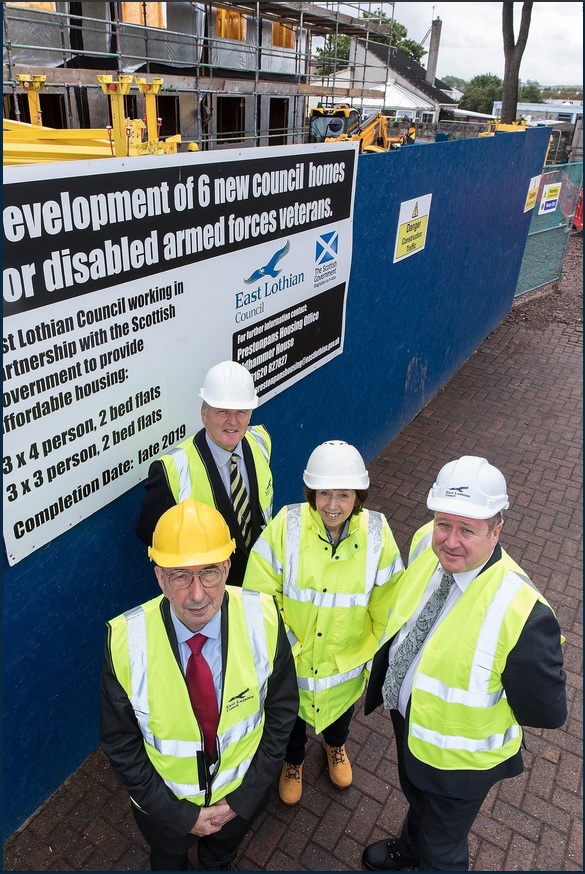 Veterans Minister Graeme Day has visited a development for disabled veterans being built in East Lothian.
The site is the former East Lothian Council groundcare depot at Osborne Terrace, Cockenzie, which will now provide a two-storey flatted block with six two-bedroom flats, including three fully wheelchair-accessible units on the ground floor.
The project is being delivered through a design and build contract with Gordon Guthrie Contracts Ltd. Work began on site in May this year with completion scheduled for December. The total cost is just under £1 million, with £354,000 of that coming from a Scottish Government grant.
The Osborne Terrace development is specifically for disabled veterans, who will be nominated for the housing by the Scottish Veterans Garden City Association (SVGCA), a charity and private landlord specifically for disabled veterans in Scotland.
The development builds on the work already being done to support veterans in East Lothian, including a new housing allocations policy which awards points specifically for those leaving a service tenancy.
East Lothian Council recently signed an Armed Forces Covenant, which involves a working group bringing together key partners from the council, health, education, service and veterans' organisations to create policies and practices that will support armed forces personnel (serving and retired) and their families. The key themes that the group is progressing are housing, employment, education and training, health and wellbeing and community.
Councillor Jim Goodfellow, the council's spokesperson for housing and community well-being and Armed Forces Champion, said: "The move from service life to civilian life can present challenges for personnel and their families in a wide range of areas. This new development is a shining example of working together with partners to provide much-needed housing for veterans with specific needs.
"I'm sure it will make a difference to those who live here and their families. It also builds on the work we're already doing to support veterans in general, to whom society as a whole owes a debt and we are proud to be supporting the Armed Services Covenant in East Lothian."
Mr Day said: "As Veterans Minister, it's my job to ensure that we provide the right support for the Armed Forces Community across Scotland. The Scottish Government is fully committed to supporting the Armed Forces, veterans and their families, and to ensuring they are not disadvantaged by their service or the circumstance they find themselves in because of this.
"It was a pleasure to visit Osborne Terrace today to see the construction of these new, affordable homes for veterans – which are being delivered with the aid of Scottish Government grant funding. Our Armed Forces Community deserves the best possible levels of support when they need it most – and this project is a great example of that."
SVGCA chairman Richard Callander said: "SVGCA is delighted to be working in partnership with East Lothian Council and the Scottish Government to provide affordable quality housing for veterans in need. SVGCA intends to replicate this ground-breaking opportunity Scotland wide and is meeting with other partners but thanks East Lothian Council for being the first local authority to deliver on the scheme.
"The scheme will provide SVGCA with nomination rights throughout Scotland that provides veterans with access to a home they can call their own that is affordable, safe, secure, and meets their needs. Working in partnership with the Scottish Government, local authorities and housing association partners is pivotal to the success of the scheme, and we look forward to working with them to provide quality affordable homes for veterans throughout Scotland."
Stephen Herd of Gordon Guthrie Contracts Ltd added: "Gordon Guthrie Contracts Ltd are privileged to be working on this project which will assist a group of people who deserve such support for what they have given to society."