Weslo completes facelift at former art college
Housing minister Kevin Stewart MSP has officially reopened the former Science and Art School at Park Street in Falkirk after Weslo Housing Management concluded a 20-week redevelopment programme.
The building, known as Silk House, was acquired for mid-market rent by Weslo in March 2018 in a deal worth over £1 million and backed by grant support from the Scottish Government.
The tenanted properties within the development were in need of extensive upgrading at the time of acquisition. Sitting tenants had complained of damp, mould, insufficient heating and generally very poor living conditions.
Kevin Stewart MSP said: "We're committed to delivering better, more energy efficient homes for the people of Scotland. This redevelopment is a great example of how we are improving standards in the private rented sector.
"A home is so much more than bricks and mortar, and this re-development will bring a real sense of belonging and community spirit to the area."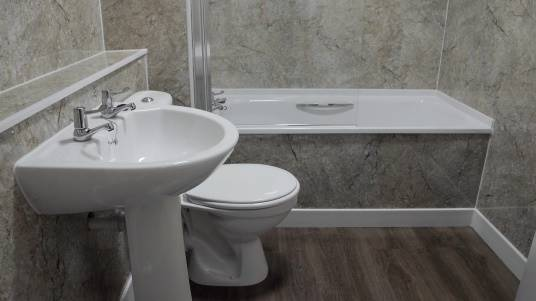 The development, which occupies a prime position in Falkirk's town centre, has undergone a major facelift over the last six months with tenants benefiting from new kitchens, bathrooms, décor, floor coverings and white goods.
The new Quantum heating systems installed as part of the refurbishment are energy efficient and are expected to reduce heating costs for residents by up to 40% and, in turn reduce the overall carbon footprint of the building. In addition, residents can now enjoy and benefit from welcoming communal areas, grounds and increased car parking as a result of the overall re-development.
The building will be managed by Weslo Property Management, the private sector subsidiary of Weslo.
Ashley Millan, head of private rented services, said: "Undergoing a redevelopment of this size with tenants in situ has been no mean feat; however, we were fully supported by the tenants and encouraged by their enthusiasm. The extensive redevelopment of Silk House has significantly improved the quality of living for residents who are already realising the benefits, in the form of reduced energy bills.
"We are delighted to support the Scottish Government in its goal of improving standards in the Private Rented Sector through this initiative, and are pleased to offer the newly re-developed properties to the private sector market place in Falkirk."