West of Scotland Housing Options Hub reviews future options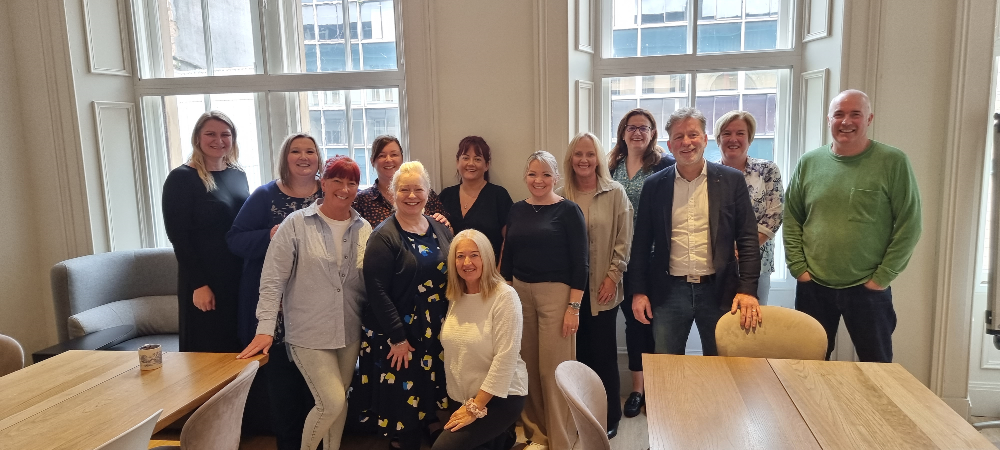 Housing leaders from across the West of Scotland Housing Options Hub met together recently to review progress and plan for the future.
After an urgent period of fortnightly collaboration at the height of the pandemic, it is the new backdrop of a cost-of-living crisis impacting on homelessness, alongside an increase in people needing refugee protection in Scotland, which motivated the Hub to take a strategic and long-term overview for the next phase.
The West of Scotland Housing Options Hub brings together neighbouring councils to promote, develop and share information and best practice on the prevention of homelessness. It is made up of local authority representatives from East Renfrewshire, Renfrewshire, East Dunbartonshire, West Dunbartonshire, North Lanarkshire, South Lanarkshire, City of Glasgow and Wheatley Group. Homeless Network Scotland provides secretariat support.
The Hub works together to gain a shared understanding and strategy for providing housing options across the combined area and directly manages a housing stock of approximately 140,000 social rented properties in the West of Scotland. The Hub also prioritises a preventative approach to help people build and live their lives in the right home in the right place.
Housing Options is a proactive information and advice process that councils use when someone approaches them with a housing problem. When adopted by the Scottish Government and all 32 councils in 2010, it led to a significant fall in homelessness applications over several years that followed.
Horizon planning on the day was helped with a look back at what has worked well and what hasn't over that period. Among the membership includes founding members of the Hub, spanning several cycles of policy and practice changes too.
To the members of the West Hub, it is the relational approach that brings most benefit; the right people involved and the supportive space to share bright spots, as well as challenges and frustrations. The knowledge and ideas exchange, and the opportunity it provides for innovation and improvement, has also underpinned the range of work.
Going forward, the resolute focus is on what more needs done to effectively prevent homelessness, including the new homelessness prevention duties just around the corner. It is also deeply understood that the cost-of-living crisis places local people at a higher risk of homelessness. The Hub will prioritise these matters together and work with all local and national partners who can support people to have better outcomes.
The West Hub remains committed to cross-authority collaboration and will continue to provide this central and valued structure for key people in key housing roles to inform, influence and innovate over the next phase.
More information about the Housing Options Hubs can be found here.