Wheatley distributes digital devices to low-income households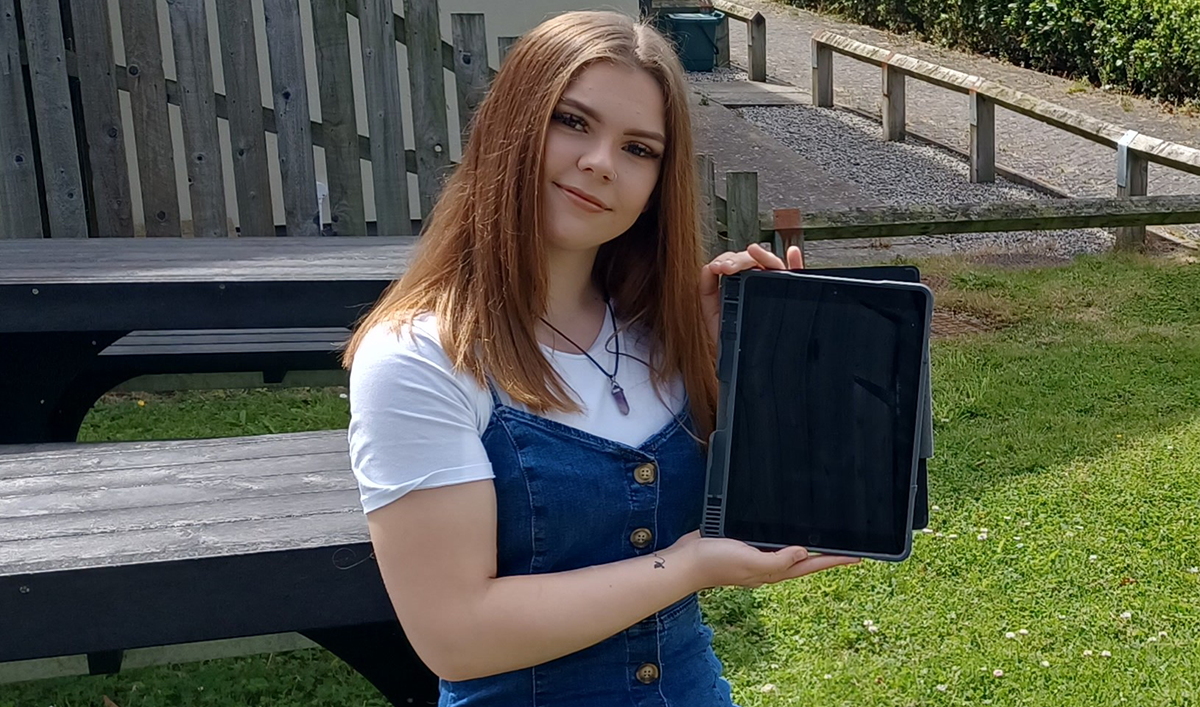 More than 200 low-income households have received essential support to get online thanks to Wheatley Group.
The group – including Wheatley Homes Glasgow, DGHP, Dunedin Canmore, Loretto and West Lothian Housing Partnership – distributed iPads, Chromebooks and WiFi units to tenants in greatest need.
Wheatley's efforts in building confidence and inclusivity across communities have been praised by Scottish Government Enterprise Minister Ivan McKee.
The devices were distributed by Wheatley Foundation, the group's charitable arm. Focus was given to those who had experienced homelessness as well as young unemployed people.
Kianna Waller, 18, stays at DGHP's Young Persons' Project in Troqueer, Dumfries. She said: "The iPad and WiFi helped me out a lot.
"I use the iPad to do my college work. Some of my classes were still online so, without the iPad, I would have been lost."
The rollout, which has been taking place since late 2021, was made possible by Wheatley's partnership with Connecting Scotland – a Scottish Government initiative managed by the Scottish Council for Voluntary Organisations (SCVO).
Enterprise minister Ivan McKee said: "Connecting Scotland is one of the most ambitious and comprehensive national programmes aimed at tackling digital exclusion in the world, unmatched elsewhere in the UK. It delivers devices, internet connections, training and support.
"The work done with Wheatley Foundation to build confidence and inclusivity in their communities is fantastic. This is yet another example of the positive impact Connecting Scotland has made on people's lives."
The initiative was set up in response to the Covid-19 pandemic and met its target to get 60,000 digitally excluded households online by the end of 2021.
Staff delivering the devices were provided with 'Digital Champion' training, so they could support people to build their digital skills and use their devices safely and confidently.
Wheatley Foundation chair Professor Paddy Gray OBE said: "Our partnership with Connecting Scotland has already had a real impact on the lives of people in our communities.
"As we move forward from the pandemic, we want to do more to ensure people aren't left behind when it comes to digital engagement.
"This initiative is an important step in ensuring as many people as possible have access to the internet and all the advantages that can bring."
David McNeill, director of digital at the SCVO, said: "The internet is essential for learning, life and work in the modern world, but it is perhaps all too easy to forget about those who are missing out because of confidence, skills or affordability.
"The successful partnership between Connecting Scotland and Wheatley enabled a comprehensive package of support to be offered to those most in need, enabling them to do the things online that most of us take for granted."