Wheatley Group environmental teams win 5-star award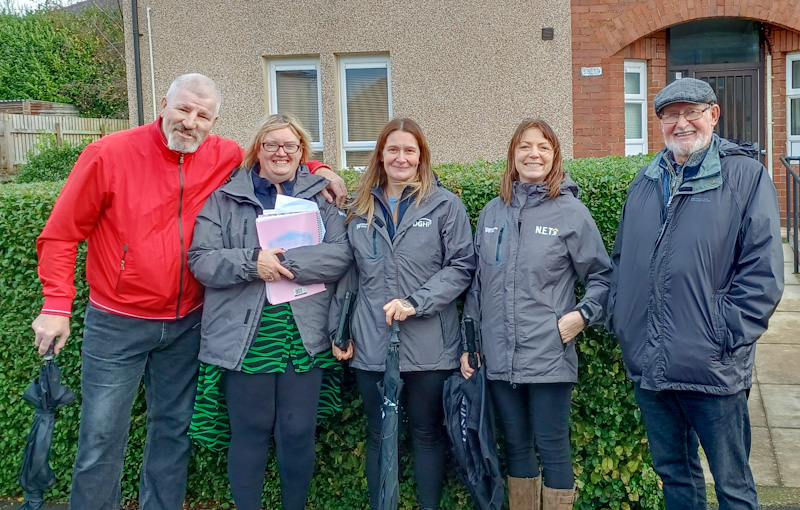 Wheatley Homes South's environmental teams got top marks from a leading charity – just a year after they started working.
Neighbourhood Environmental Teams (NETs) were introduced by Wheatley Homes South last summer to help keep communities in Dumfries and Galloway clean and safe through stair-cleaning, grass cutting and general maintenance.
Now the service has picked up a five-star award from Keep Scotland Beautiful, the national environmental charity that helps create cleaner, greener local environments.
Keep Scotland Beautiful joined Wheatley Homes South staff and tenants to assess neighbourhoods in September, inspecting back courts and open spaces, as well as foyers and stairwells, in line with the charity's prestigious National Award for Environmental Excellence.
Wheatley Homes South has now been awarded five stars – the highest grade possible.
Tenant Les Moffat says the new environmental service helps communities look their best.
Les, a retired postman from Troqueer, Dumfries, said: "The environmental teams have made a big difference.
"I take part in walkabouts with Wheatley Homes South staff quite often, checking gardens and stairwells, making sure areas are kept clean and tidy. If there's anything needing done, they get it sorted.
"My friend lives in Lockerbie and she says it's the same there – grass is cut, and areas are kept nice and tidy."
Wheatley Group teamed up with Keep Scotland Beautiful in 2017 to help improve neighbourhoods. The partnership was extended to Wheatley Homes South in 2021.
Katie Murray, environment and places services manager at Keep Scotland Beautiful, added: "I'd like to say a massive congratulations to all at Wheatley Homes South for the excellent work that they have done, leading to a five-star rating.
"With levels of litter, dog fouling, flytipping and graffiti, across Scotland continuing to rise it is great to see areas bucking the trend. The commitment shown by staff and tenants has been brilliant, and they are so well deserving of this top rating."
Alan Glasgow, managing director of Wheatley Homes South, commented: "We want our communities to be places people are proud to live in and this award from Keep Scotland Beautiful is a tribute to the hard work and dedication of our environmental staff.
"They work closely with our customers to make sure our neighbourhoods always look their best."