Work begins on new council homes for Bellshill
A sod-cutting ceremony has taken place to mark the start of a new North Lanarkshire Council housing development in Bellshill, which will see 29 new affordable homes for rent built in the heart of the local community.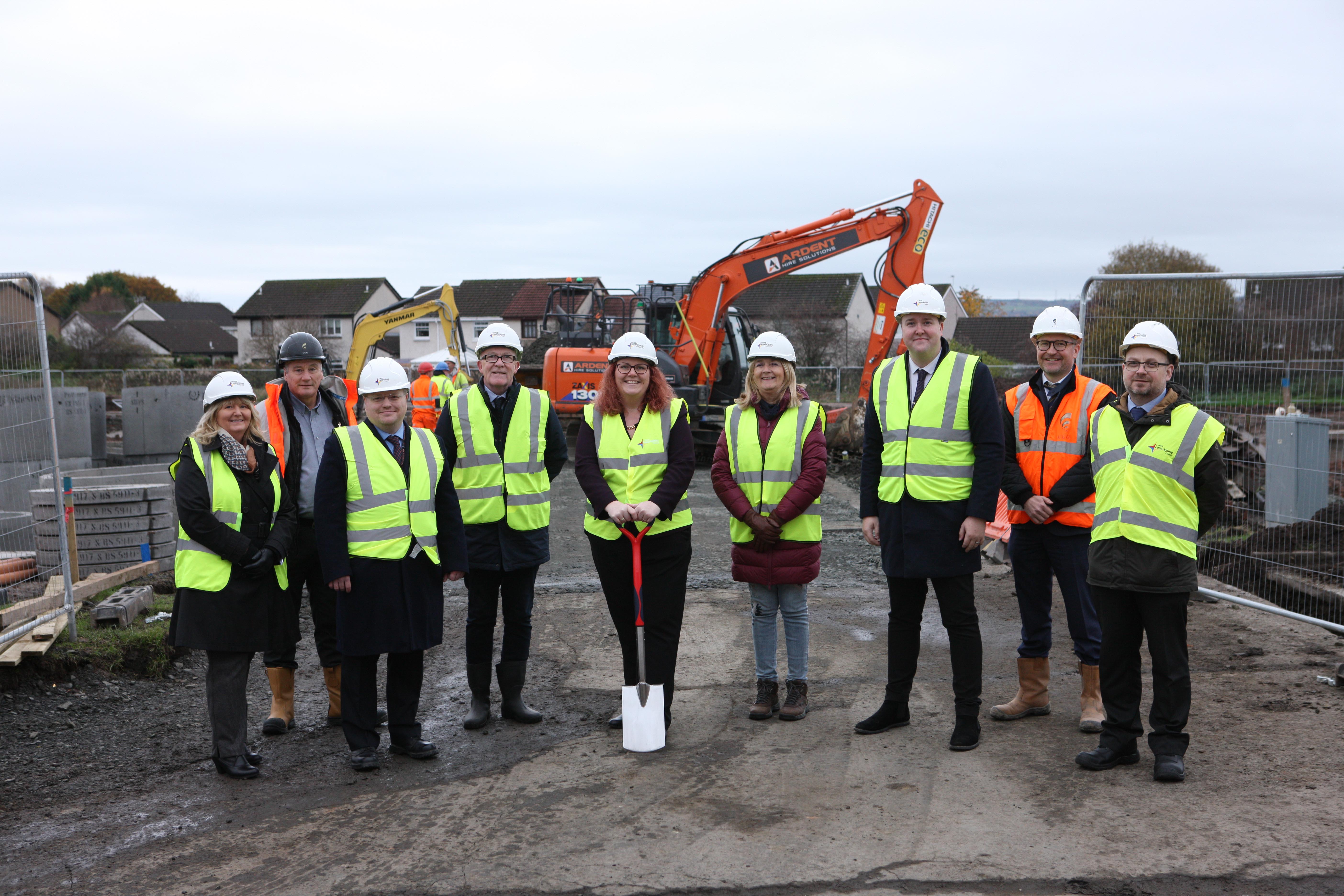 The new homes at Community Road include 25 two, three and four-bedroom houses (three of which are designed for wheelchair users) as well as two one-bedroom cottage flats, one two-bedroom wheelchair standard bungalow and 1one three-bedroom wheelchair standard bungalow.
This latest project to get underway forms part of the council's ambitious council house plans to deliver 5,000 new homes by 2035. To date, 880 new build homes have been completed, a further 321 are on site and a total of 175 homes are expected to be completed this year. A number of new sites across the area are currently at various stages of progression to deliver a further 1,267 new homes both in communities and town centres.
Cutting the sod was Councillor Heather Brannan-McVey, convener of housing and regeneration, who was joined by local members, Councillors Colin Cameron; Angela Campbell; Harry Curran and Jordan Linden; council officers and representatives from developer CCG (Scotland).
Committee convener, Councillor Heather Brannan-McVey, said: "We're making real progress in delivering our new build council homes across North Lanarkshire and I'm delighted to see another project now onsite and underway at Bellshill.
"All of our new homes are designed and built to the highest standards with energy efficiency measures to help us protect the environment and work towards our Net Zero targets while benefiting our tenants by helping them save money on running costs. Our homes all meet Housing for Varying Needs, which means homes are more accessible to adapt to tenants' mobility needs and are secure by design.
"Our new homes are built for the future and will last for generations to come – all part of our long term vision to make North Lanarkshire the place to live."
The £5.6 million development is being delivered by CCG (Scotland) and is supported by a contribution from the Scottish Government.
CCG managing director, David Wylie, said: "Since 2018, CCG has developed a very successful partnership with North Lanarkshire Council. We have created homes across the regional area and we are delighted to have commenced works on site at Community Road to deliver much-needed, highly-energy efficient affordable homes for the community of Bellshill. We look forward to bringing the development forward over the next year."
The development is due for completion in October 2022.