Work to start on largest affordable housing development in Highlands since 1980s
Construction works on the largest affordable housing development in the Highlands since the 1980s is due to begin in Fort William.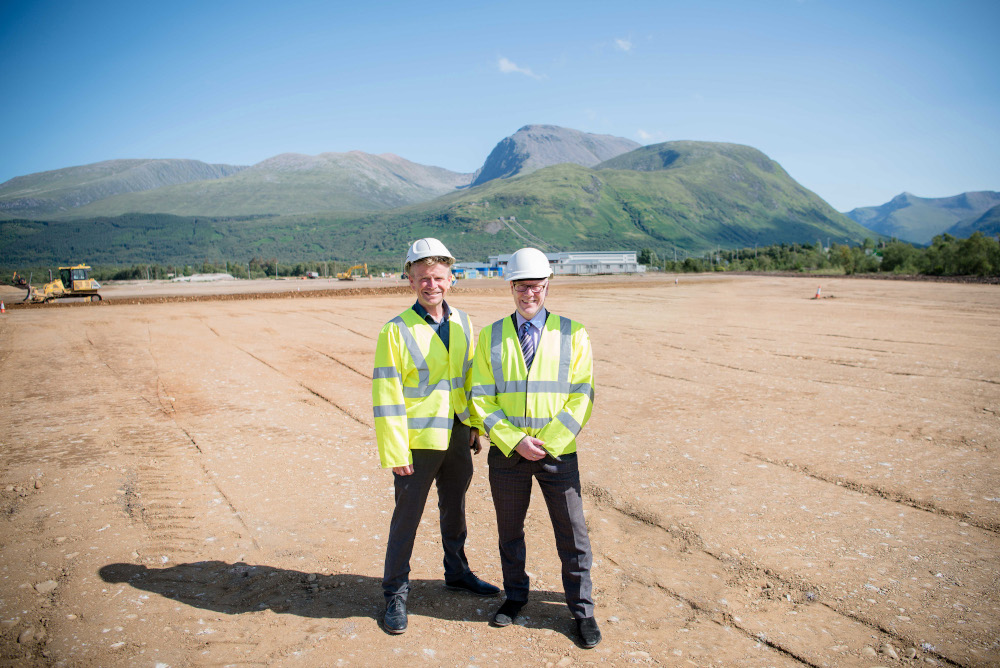 The first phase of the development, which forms part of the strategic Blar Mor development in Fort William, is being developed by The Highland Council and will be delivered on site by TSL Contractors Ltd. It is due to complete by May 2022.
It comprises 117 new affordable homes of various sizes and tenures to help meet the demand within the area. A total of 87 of the completed properties will be made available for rent by The Highland Council, with 20 available for mid-market rent and 10 for sale as shared equity under the Scottish Government's Low-cost Initiative for First Time buyers (LIFT) scheme.
The housing development has benefited from £10.9 million in Scottish Government grant assistance, through the mainstream housing programme and through the Low Carbon Infrastructure Transition Programme. The additional funding has enabled use of the latest heat battery storage technology linked to air source heat pumps and solar panels, contributing to The Highland Council's response to the climate emergency and helping to ensure that the completed homes can be heated affordably.
The strategic Blar Mor development will deliver housing and land for the Belford Hospital replacement as well as a STEM Centre for West Highland College.
Housing Minister Kevin Stewart, who visited the site last July to see the ongoing site preparation, said: "With support of nearly £11 million in Scottish Government funding, this ambitious development will provide more affordable, energy efficient homes to the Lochaber area than ever before.
"This means the new tenants' homes will be warmer and cheaper to heat and bring a real sense of pride and belonging. The local economy and wider community will benefit too, by attracting more people to the area, providing more jobs and improving STEM skills with the new college.
"We want everyone in Scotland to be able to live in a warm, safe home that meets their needs. That's why we are investing an additional £300 million in 2021-22, on top of our record investment of over £3.5 billion to ensure that affordable homes continue to be delivered beyond this current parliament."
Councillor Trish Robertson, chair of The Highland Council's economy and infrastructure committee, said: "It's great news that work on the Blar Mor site is about to start. Lots of planning and preparation work has taken place to get to this stage as this is going to be the largest affordable housing development undertaken in the Highlands since the 1980s.
"Our current Strategy Housing Investment Plan sets targets that reflect our increased housing ambition and we look forward to continuing to work with the Scottish Government, our housing partners and private developers to make the most of all opportunities so we can maximise the number of new affordable homes."
Councillor Ben Thompson, who represents Lochaber and chairs the housing and property committee, added: "A lot of work is being done by the council and its housing partners to provide much needed high quality homes for local residents. Meeting housing demand in Fort William helps bring economic expansion, including private investment, to the town. It is good to see the council working to bring new investment and jobs to Lochaber.
"I particularly applaud the council embracing more reliable green technologies to heat homes. This is a positive step towards making homes cheaper to live in while addressing the climate emergency and I welcome the support from the Low Carbon Infrastructure Transition Programme in achieving this."
Commenting on the start of work, Iain Lumsden, managing director of TSL Contractors Ltd, said: "We are delighted to have been awarded this prestigious project.
Our strategy for the sustainable organic growth of our business has seen us progressively increase our directly employed skilled workforce in the Lochaber area and subsequently provide the platform for the employment and development of much needed apprentices within the local construction industry.
"This project will allow us to further develop this strategy, continue the development of our workforce, seek to enhance our apprenticeship intake and generally help boost the local economy."