Argyll Community Housing Association apprentices secure permanent jobs
---

---
After successfully completing a modern apprenticeship with Argyll Community Housing Association (ACHA), Rachael MacIndeor and George Williamson have secured positions as customer services assistants within the organisation.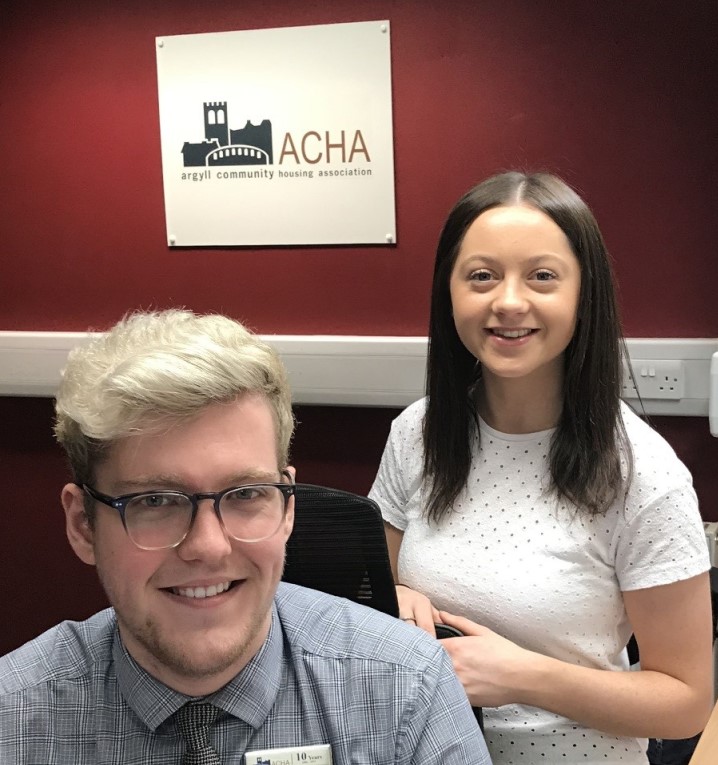 Ms MacIndeor started with ACHA in October 2016, followed by Mr Williamson in August 2017, and both have participated in an intensive development programme, undertaking both internal and external training whilst working in various offices throughout Argyll.
Whilst gaining work experience, the two have also attained the CIH Level 3 in housing practice, a qualification to provide a broad knowledge and understanding of key areas in delivering housing services.
Ms MacIndeor said: "I have really enjoyed the experience of completing my Housing Modern Apprenticeship. It was a great opportunity for me to be able to work and learn at the same time and I am very grateful to have been offered the chance of continuing my career in ACHA."
Mr Williamson added: "I have found the apprenticeship to be a great alternative route to starting my career. It has provided me with work experience as well as a professional qualification to help further my career within the organisation. I would recommend an apprenticeship as a great option to anyone as you are getting hands-on experience whilst also studying to further your knowledge."
Yvonne Angus, ACHA's regional manager, commented: "We have welcomed the opportunity to give young people the chance of valuable work experience as well as being able to obtain a recognised qualification. We are delighted that after all their hard work, Rachael and George have secured employment within the Lochgilphead team. Congratulations to them both in their achievements so far."