Cardonald community receives funding for green space development
---

---
Southside Housing Association has received £537,215 in funding from Scottish Natural Heritage (SNH) for a green space development project in Cardonald.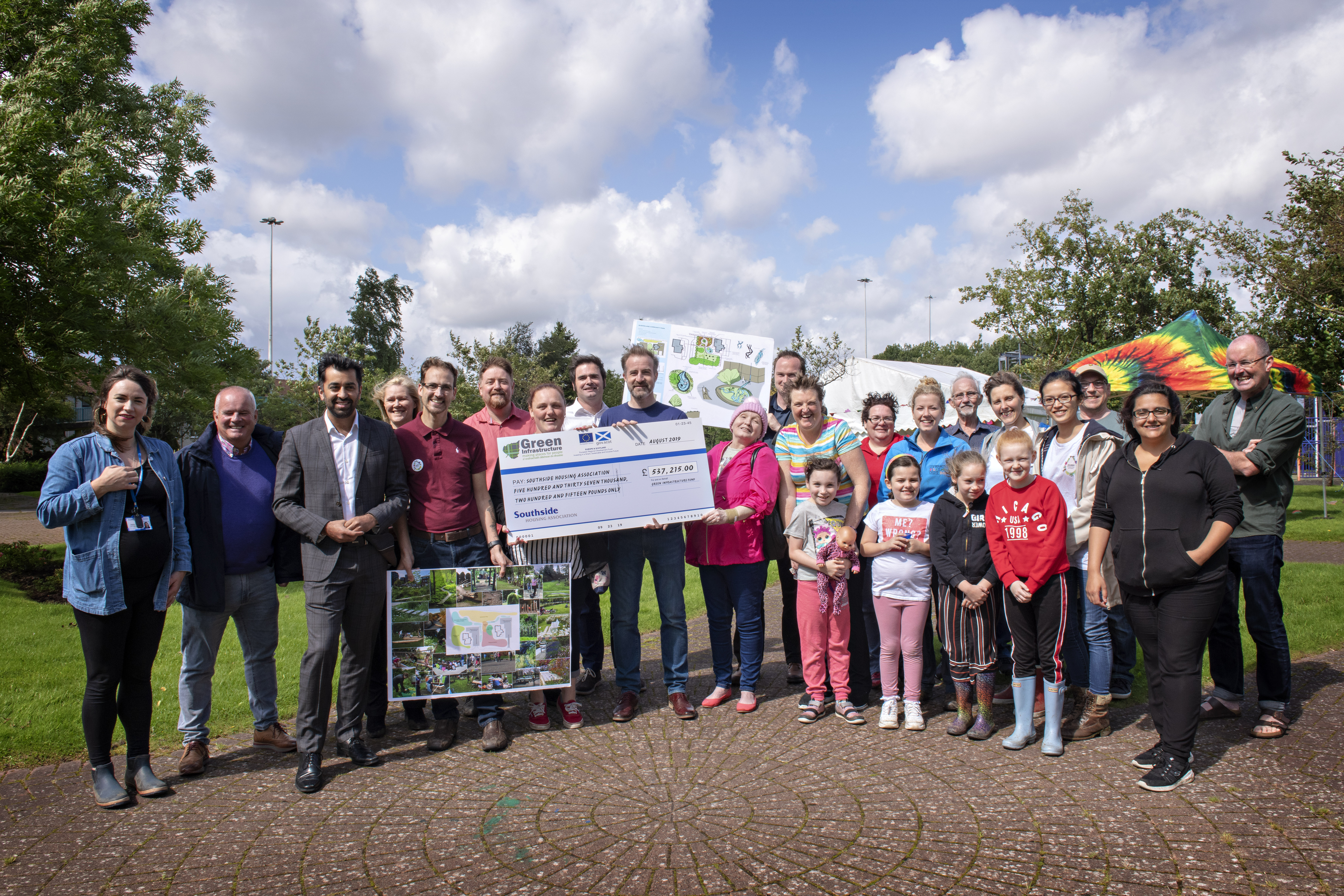 During a community event at Queensland Court and Gardens, local residents and representatives from Scottish National Heritage, which manages the Green Infrastructure Fund, presented a cheque for the funding to Southside Housing Association.
The funding was given to develop the unused and underdeveloped open green space around the two high rise blocks at Queensland Court and Gardens. The area has fallen victim to excess surface water, making the outdoor space limited and often unusable. The area also suffers from poor parking facilities and insufficient play areas for young families.
The project is to be conducted by Southside Housing Association in partnership with Glasgow City Council, which will fund a proportion of the development.
Queensland Court and Gardens is part of a major programme of developments with almost £8 million invested to help people and nature thrive. The Green Infrastructure Strategic Intervention is led by Scottish Natural Heritage and is part-funded through the European Regional Development Fund.
Glasgow City Council convener for neighbourhoods, housing and public realm, Cllr Kenny McLean, said: "Queensland Court and Gardens reflects perfectly the huge value of partnership working that will see urban greenspace otherwise not used to its full potential, vibrantly transformed to the benefit of the local community. As part of the Glasgow City Deal funded Surface Water Management Plan for Hillington and Cardonald; integrating drainage interventions with work to enhance the landscape in this way will reduce flood risk and open up new possibilities for further regeneration in the area."
Chair of Southside Housing Association's Cardonald neighbourhood committee, Alison Devlin, said: "I am delighted to see this further investment of funds to improve the play and parking facilitates as well as helping to deal with flooding in the area. I look forward to seeing the benefits this brings to the local community."
Humza Yousaf MSP added: "I'm delighted that Southside Housing has been awarded funds to help further regenerate Queensland Court and Gardens within my constituency. This funding will not only improve play and parking facilities on-site, but it will also complement Glasgow City Council's city-wide investment to mitigate against the impacts of flooding. We all have a role to play in tackling the global climate emergency, I am delighted that Southside Housing is playing their part. I know my constituents at Queensland will greatly benefit from this investment."
Placemaking team manager for SNH, Ivan Clark, said: "We're delighted to be working with Southside Housing Association to deliver this project and all the benefits it will bring to the residents of Queensland Court and the wider community. The new adventure play areas are being designed with children and wildlife in mind and are going to provide opportunities for the kids here to connect with nature close to where they live. At the same time, the drainage basin is going to help manage surface water in the Cardonald area. These sorts of schemes, delivering a range of benefits for people and nature, will be key to helping our cities adapt to a warmer, wetter, climate in the years to come."