£100m of funding confirmed for Ayrshire Growth Deal
The UK Government has confirmed its £100 million investment in the Ayrshire Growth Deal.
Scottish secretary David Mundell made the announcement as he visited HALO Kilmarnock and Ayrshire College.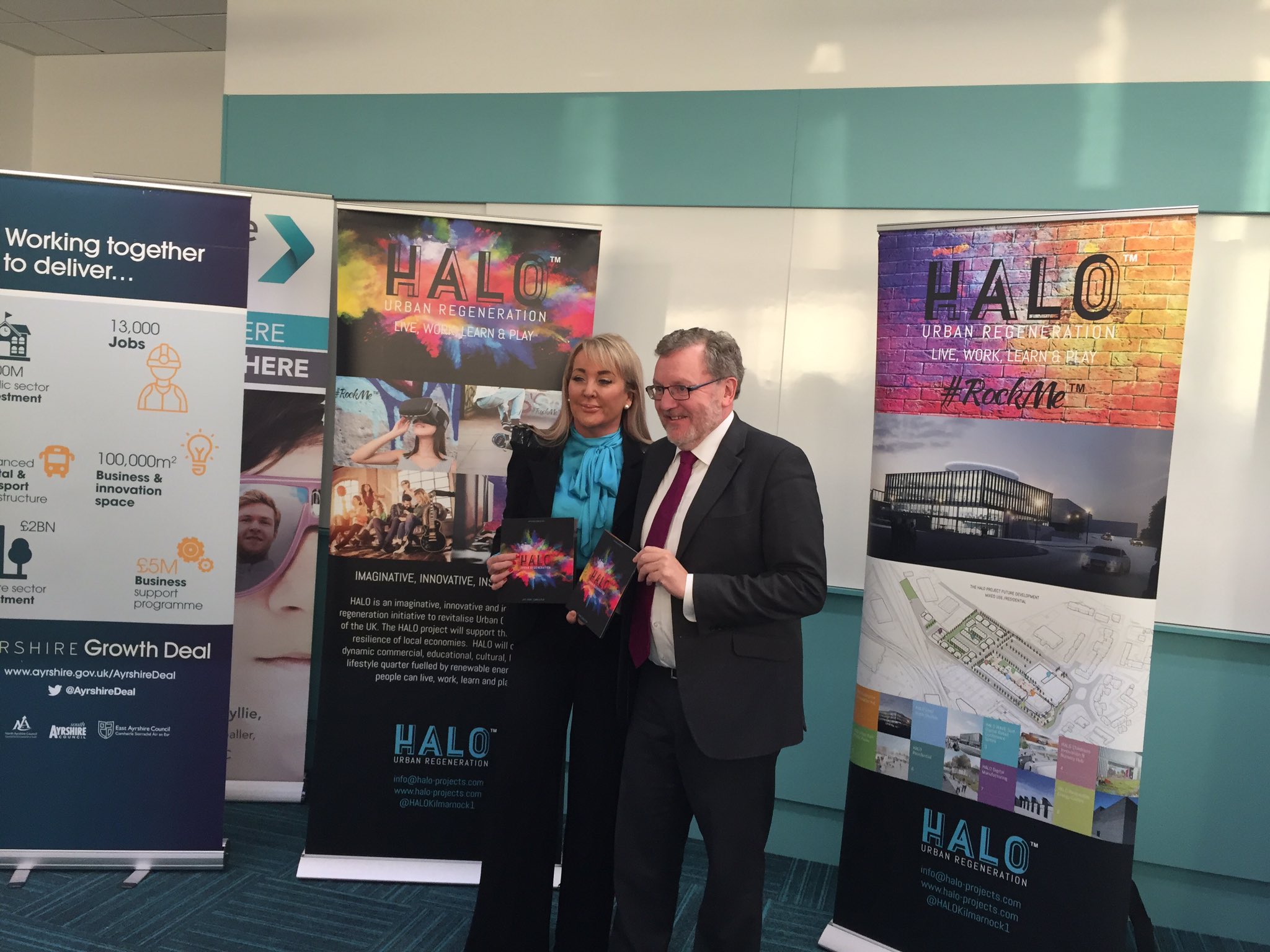 The Ayrshire Growth Deal aims to drive economic development across the region, boosting jobs, creating opportunity and encouraging further inward investment.
The initiative is primed to deliver circa £300m of public sector investment in key assets and sectors including:
investment in aerospace and space Infrastructure in Prestwick
development of tourism infrastructure and products
investment in Low Carbon Energy and Circular Economy (CECE) Infrastructure at Hunterston
creation of National Energy Research & Demonstration Centre in Cumnock
the HALO Kilmarnock Ltd on the former Johnnie Walker site
investment in road and rail infrastructure and digital connectivity across the region.
The funding levels for specific projects will be confirmed within the coming weeks and is expected to focus on employability and skills programmes, innovation, aerospace and energy projects at Hunterston and Cumnock as well as vital improvements to digital connectivity and regeneration.
Mr Mundell MP said: "The UK Government's £100m investment in the Ayrshire Growth Deal will be transformative for the region, boosting jobs and prosperity right across Ayrshire. This brings UK Government investment in Growth Deals in Scotland to £1.2 billion, a huge commitment to growing Scotland's economy.
"We look forward to working with the Ayrshire Councils, the Scottish Government and the private sector to finalise the details of the innovative projects to be funded through the Growth Deal."
On his visit today Mr Mundell was joined by representatives from East, North and South Ayrshire Councils, local businesses and founder and director of HALO Kilmarnock Marie Macklin.
The UK Government has previously committed to invest £3.5m in HALO Kilmarnock, an ambitious regeneration programme project in the former Diageo bottling plant in the town.
Ms Macklin CBE said: "I am honoured that the Secretary of State has chosen to come to Kilmarnock to announce the UK Government's support for the Ayrshire Growth Deal and to underline the important role that The HALO will play in that.
"We welcome the UK Government's support of the HALO Scotland. Construction work is due to begin shortly and everyone at The HALO is looking forward to delivering this exciting, community led development that will breathe new life into not just Kilmarnock and East Ayrshire, but the whole of Scotland."
Responding to the UK Government announcement, Scottish infrastructure secretary, Michael Matheson, said: "Whilst I am disappointed that the UK Government has decided to depart from previous practice of agreeing joint announcements on growth deal support, I am glad to see that the UK Government has finally moved to make its commitment to Ayrshire clear. This is something which we have been urging them to do for some time.
"The Scottish Government has already made clear our commitment to invest in the Ayrshire Growth Deal for some considerable time. And on the basis of our 50:50 approach to funding growth deals, we will of course match the £100m announced for Ayrshire by the UK Government. We will also continue our dialogue with our Ayrshire partners on those projects that they think will have the transformative effect on the Ayrshire economy that we all want to see. Finally, we look forward to being able to announce a Heads of Terms agreement as soon as possible, which will specify which projects will be supported by this joint investment."