86 families move into new affordable housing in Cambuslang
A total of 86 people and families have set up new homes in South Lanarkshire thanks to affordable housing developed by Link Group.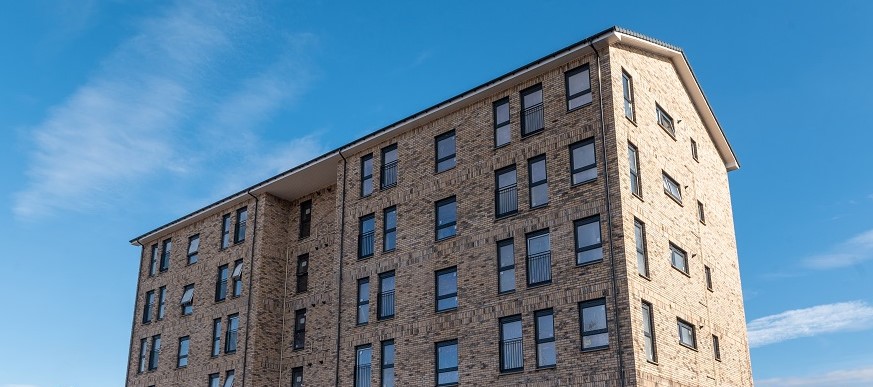 Construction of the £13.7 million development, just off Bridge Street in Cambuslang, started in October 2019 using £7.8 million funding from the Scottish Government, with the balance funded by Link Group.
The project was supported by South Lanarkshire Council and the Scottish Government as part of the drive to deliver more affordable housing in Lanarkshire.
Built by JR Group, the development consists of two and three-bedroom homes and eight wheelchair-accessible properties. It also includes a children's play area to promote a sense of community.
Colin Culross, Link Group commercial director, said: "Working with our partners, we overcame the challenges of Covid-19 restrictions to complete this development and are delighted to see the difference these modern, affordable homes are already making to people's lives."
Bridge Street builds on Link's ambitious plan to deliver 3,381 affordable, high-quality homes over the next five years. Since 2019, Link has completed three developments in South Lanarkshire and currently has one development on-site at Carlowrie Avenue in Blantyre.
Andrew Dallas, project director for The JR Group, added: "We are excited for the residents of Bridge Street to move in and create new memories now the development has been completed.
"Our team has done a fantastic job in overcoming the unforeseen challenges brought about by the global pandemic, handling everything professionally and quickly without affecting the integrity of the project.
"We are thrilled to have once again worked alongside Link to facilitate more high quality, affordable housing within Cambuslang and we look forward to continuing to work together in future."
Councillor Josh Wilson, chair of housing and technical resources committee, commented: "This is an important project bringing much needed affordable homes to Cambuslang town centre.
"This brownfield site had been vacant for many years and I am delighted to see 86 new homes supported by the Scottish Government's Affordable Housing Supply Programme funding, being developed by Link Group on the site."
Shona Robison, cabinet secretary for social justice, housing and local government, said: "We want everyone to have a safe, warm affordable home that meets their needs.
"I am delighted that we've been able to provide £7.8 million funding to support the delivery of these 86 new high quality homes for social rent to help meet the housing needs of the people in the Cambuslang area."