Affordable housing progress made but statistics hit by coronavirus
The number of affordable housing approvals and starts in Scotland has increased compared to a year ago while affordable home completions have fallen, new figures have shown.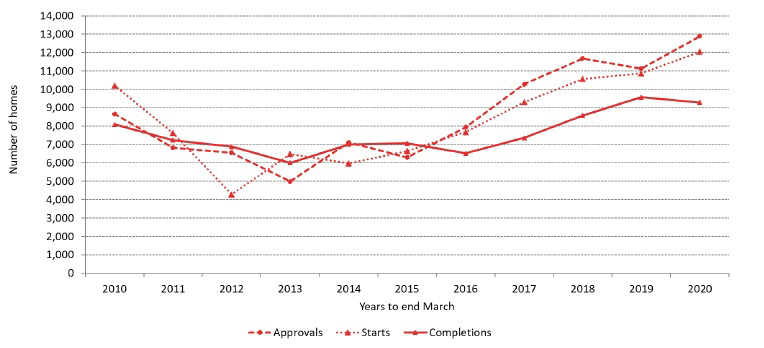 The housing statistics quarterly update for June 2020 found that in the year to end March 2020, there were a total of 12,886 homes approved through the Scottish Government affordable housing supply programme, which includes off-the-shelf purchases and rehabilitations as well as new builds. This is an increase of 1,756 homes (16%) on the previous year, and an increase of 62% compared with the year to end March 2016.
In the same period, 12,045 affordable homes were started, an increase of 1,173 homes (11%) on the previous year, and an increase of 57% compared with the year to end March 2016.
There were 9,286 homes delivered in the year to end March 2020, a decrease of 282 homes (3%) on the previous year, but an increase of 42% compared with the year to end March 2016.
It should be noted that the amount of affordable housing supply activity recorded in the most recent quarter January to March 2020 will have been impacted on by the introduction of government advice and measures to reduce the spread of the coronavirus (COVID-19) from mid-March onwards, in which non-essential construction activity stopped, and home buyers were advised to delay moving to a new home where possible.
This has lowered the total amount of activity recorded for this quarter compared to what would otherwise have been the case. Year to date totals to end March 2020 will also have been affected.
Figures for the next quarter April to June 2020, which are due to be reported on in the quarterly housing statistics update in September 2020, are likely to see an even greater impact due to COVID measures continuing throughout April and May, and into June 2020.
The statistics were due to include an update on all-sector new house building starts and completions to end December 2019, with more recent figures on social sector new builds to end March 2020.
However, due to the impacts of COVID-19, some local authorities have been unable to provide new build data to the usual timescales. The government said it is working with local authorities to agree reasonable extensions to submission deadlines, and is aiming to publish this new build housing data as soon as possible.
Commenting on the statistics, the Scottish Federation of Housing Associations (SFHA) repeated its call for housing to be at heart of Scotland's economic recovery.
Head of policy and innovation, Lorna Wilson, said: "The Scottish Government has made progress into tackling housing need in Scotland since 2016, and it looks likely that it was on track to meet its 50,000 affordable homes target, before the programme was paused due to the coronavirus pandemic. The government must be given credit for this, and it's vital this progress – and the ambition behind it – is maintained and not lost.
"SFHA recently released research with CIH Scotland and Shelter Scotland which found that we need 53,000 affordable homes to be delivered between 2021–2026. By committing to this new target, the government can reduce housing need, tackle child poverty and kick-start Scotland's economic recovery from the coronavirus crisis."
The SFHA also welcomed this week's report by the Advisory Group on Economic Recovery which also called for the Scottish Government to invest in affordable housing as part of its recommendations.
Housing minister Kevin Stewart said: "I am proud that we have now delivered over 95,000 affordable homes since 2007 with more than 66,000 of these for social rent. We were on track to deliver our target of 50,000 affordable homes by the end of March 2021, but the impact of COVID-19 has caused a necessary pause to activity.
"We will continue to work with partners across the housing sector to deliver the remainder of these homes, as quickly as it is safe to do so and I look forward to construction resuming in a new safe way."
Read all of our articles relating to COVID-19 here.