Age Scotland: 220,000 older Scottish households will struggle to cover essential spending this year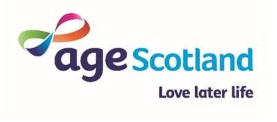 Around 220,000 older households in Scotland will have insufficient income to cover their essential spending this year, according to the latest analysis by Age Scotland's sister charity Age UK.
With 150,000 pensioners already living in relative poverty in Scotland, the charities estimate that the poorest older households in Scotland will need to drastically increase the percentage of their net income spent on essential goods and services from 70% in 2021-22 to 87% in 2022-23 due to higher costs of living.
For older people, essential spending covers spending on housing (rent/mortgage), Council Tax, utility bills, food and drinks, communications in the home (i.e. telephone, mobile, internet access) and transport (taxis, vehicle running costs such as fuel and repairs and maintenance).
Recent ONS figures also show the proportion of older people reporting an increase in their cost of living over the previous month has been steadily increasing since November 2021.
Without major interventions, Age Scotland warns that rising bills, surging inflation and increased costs of living will continue to push older households into poverty, poorer health and financial insecurity.
That's why the charity is calling on the Scottish, UK, and newly elected local governments to take action to help older people, particularly those on lowest incomes or with health conditions, to cover essential spending and navigate the cost of living crisis.
Brian Sloan, Age Scotland's chief executive, said: "When we released our Help to Turn Up the Heat report back in March, 94% of older people were already worried about their energy bills. Now, with costs continuing to increase and given the UK Government's decision to pause the triple lock on pensions, the situation is becoming increasingly desperate.
"It's scandalous that so many older households are being left with no choice but to switch off their heating and reduce the amount of food they buy or risk falling into debt due to unmanageable bills. These debts will become ever harder to clear as their outgoings from fixed incomes continue to rise.
"Huge numbers of older people are reliant on the State Pension and social security to survive, or live on low and fixed incomes, so the coming months are going to be incredibly tough as the bills keep mounting."
He added: "The cost of living is surging, and quickly, but solutions from decision makers are few and far between. It's clear further action is needed and we believe governments and councils should fully explore all avenues of support they could provide to ensure older households can cover the costs essential to supporting their health and wellbeing. There must be more than politicians can do to help, so the time to act is now, rather than waiting until life becomes even worse for many more people.
"We know that hundreds of millions of pounds go unclaimed by older people in Scotland every year, and barriers to claiming this support must be broken down as a matter of urgency. Our free 0800 12 44 222 helpline can help callers understand what they could be missing out on and help with the claims by carrying out a free entitlement check."