Age Scotland partners with Scottish Water to help older people stay hydrated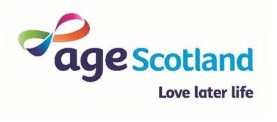 Age Scotland has partnered with Scottish Water to launch a new campaign to help older people across Scotland stay hydrated this summer and beyond.
The campaign, supported by Age Scotland's Hydration Matters publication and Scottish Water's Your Water Your Life campaign, focuses on increasing awareness around drinking enough water, as well as ensuring older people know how to spot the tell-tale signs of dehydration.
Our bodies are around 60% water and keeping this topped up is vital to feeling our best at any age. However, older people naturally have a lower volume of water in their bodies and some may experience a decreased thirst response or be wary of drinking too much due to bladder or bowel issues. That's why it's all the more important to ensure we know how to maintain daily water intake and prevent dehydration as we age.
The partnership is also encouraging vulnerable older people to sign up to Scottish Water's Priority Services Register, which helps look after customers who have extra communication, access or safety needs.
Water and waste water services are essential to daily life and it's often not until these services are disrupted that we appreciate just how important they are. Some people may rely on these services more than others, for example those with medical conditions or people living with disabilities. Signing up to this free, confidential register, will help ensure Scottish Water is able to provide that extra level of support for those who need it most.
Michelle Supple, director of charity services at Age Scotland, said: "We are delighted to partner with Scottish Water to help raise awareness of the importance of hydration in older people and encourage those more vulnerable older people to sign up to the Scottish Water Priority Services Register.
"The campaign will help older people to feel more knowledgeable about staying hydrated and improving their physical and mental wellbeing.''
Brian Lironi, director of corporate affairs at Scottish Water, added: "We're really pleased Age Scotland have joined the wave and that we're working together to help encourage older people to top up from the tap to stay hydrated. Water is vital for our bodies and topping up from the tap can help you stay hydrated and play your part in making Scotland a greener, cleaner place to live – it's good for your health, your pocket and the planet.

"Remember to take a refillable bottle with you when you go out and about too so you can stay refreshed and hydrated on the go.

"And we hope that older people who may require additional support sign up to our Priority Services Register to enable us to ensure that, whenever there are any issues with our service that affect them, we're able to prioritise them and make sure they get the support they need."