Almond Valley MSP visits ground-breaking Cyrenians project
Homelessness charity Cyrenians hosted Almond Valley MSP Angela Constance at its West Lothian farm community this week.
The East-of-Scotland based charity operates four residential communities, including the Farm Community.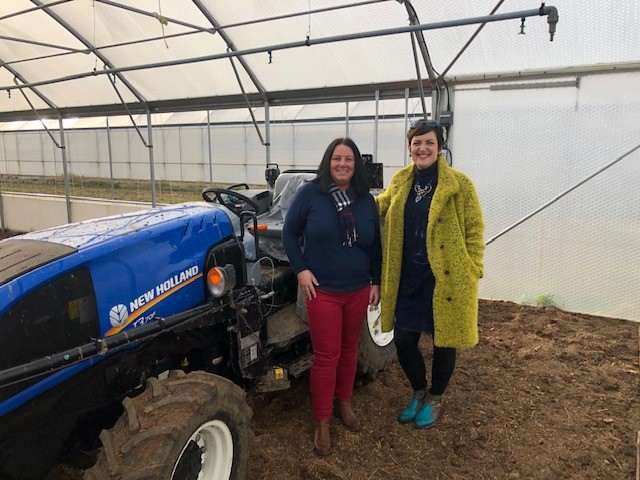 Home to up to eight young people, many of whom have experience of homelessness or vulnerable housing, the community is a constantly evolving home. Utilising the peer volunteer model, the farm community welcomes residential volunteers from across the globe for six to nine month placements.
Providing a range of opportunities for individuals to develop confidence and crucial life skills, the farm community acts as the first step towards a more settled lifestyle.
During her visit, Angela spoke to the young people about their experience of living in the community, including learning to cook, eat and live together.
She took away one of the charity's fantastic Veg Bags, which are a popular aspect of the social enterprise at the farm and are delivered to workplaces and hubs across West Lothian and Edinburgh. Bags include potatoes, onions, carrots, fresh mixed salad, root veg and a 'Wild Card' produce depending on the time of year and what's in season.
Angela said: "I always enjoy visiting the Cyrenian Farm Community just outside Kirknewton in my constituency. For 50 years the Cyrenians have supported people who have either been at risk of or who have experienced homelessness.
"It was good to meet some of the young people being supported at the community as well as staff and the residential volunteers. The work placement volunteers come from across the globe, some of whom have experienced homelessness themselves, are well placed to support and welcome young residents to the farm.
"During their stay on the farm the young people will receive help to build their self-confidence, develop life skills whilst making a meaningful contribution to their local community. The social enterprise activities provide locally grown organic produce for sale and work is ongoing to redevelop a walled garden one of the oldest in Scotland.
I congratulate everyone involved with the Cyrenians and wish them well for the future."
Nicole LeBlond, Cyrenians communities operations manager, said: "It was a pleasure to host Angela and give her a taste of Community life. It's great to see MSPs supporting what we do here."