BHA offers place for reflection with new 'Breathing Space' bench
Berwickshire Housing Association (BHA) has unveiled a special 'Breathing Space' bench at its new development in Springfield, Duns.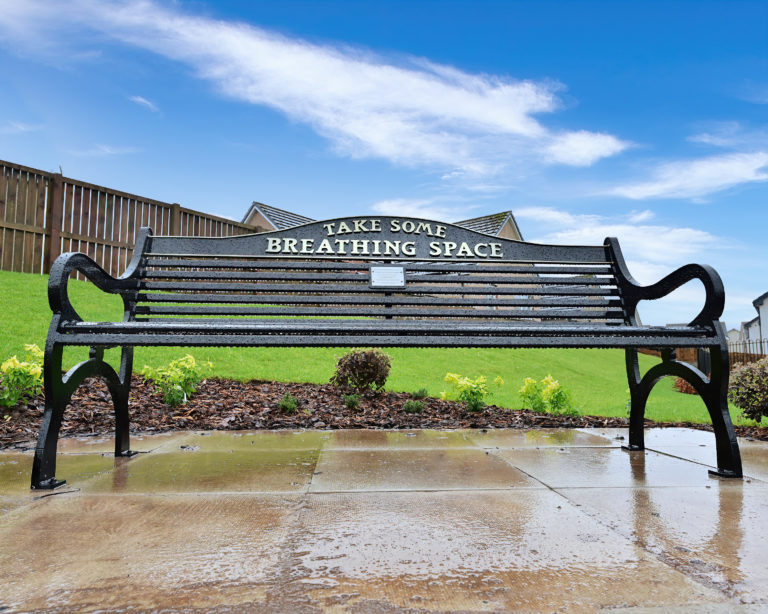 BHA, in conjunction with the Springfield Group, created a welcoming space for the bench in their plans for this development in support of the excellent work being done by NHS 24's Breathing Space service to address serious concerns about the mental wellbeing of people in Scotland.
The bench was unveiled to mark National Breathing Space Day on 1st February, a day where we were all encouraged to take some time out for our mental health; whether that meant making time for relaxation, hobbies or enjoying nature.
It is hoped that tenants of the Springfield development, as well as visitors, will find it a useful place to gather their thoughts and take time to reflect.
Michelle Meldrum, BHA chief executive, said: "Sometimes life can be challenging and unkind and it's widely reported that stress and anxiety issues are at an all-time high. In addition, the world of modern technology, social media and constant news updates means we are often bombarded with confusing and conflicting information which can distract and disconnect us from what is really important.
"To assist with self-care and overall personal wellbeing, it's good to take time out to reflect and reconnect to the things that really matter. The Breathing Space bench provides local residents with the opportunity to do this and we are delighted to be able to provide this facility working in partnership with the Springfield Group."
Dougie Paterson, BHA's community initiatives manager, added: "We are very grateful to the Springfield Group for the donation of the Breathing Space bench as a place for quiet contemplation and reflection to support the wellbeing of our communities.
"We are delighted to be working with Breathing Space and other partner services to raise awareness of mental health and wellbeing and promote the range of support on offer. BHA is committed to supporting positive mental health as much as possible and the installation of the bench is a permanent contribution to that ambition."
Tom Leggeat, Springfield managing director of affordable housing, commented: "The Springfield Group is proud to have partnered with NHS 24 and BHA to give a Breathing Space bench a home surrounded by green space and soft landscaping at our development in Duns.
"The importance of our wellbeing and mental health has grown significantly in the last year. Access to the outdoors for fresh air and mind space is an essential element of this and the bench is an asset to our development for the enjoyment of local residents and visitors alike.
"We are working with Breathing Space to identify other locations, within Springfield Group developments, to install more benches and add to the growing network of Breathing Space benches across Scotland."
Breathing Space was launched in 2002 and complements the work of other professionals and agencies which are endeavouring to reduce suicide rates in Scotland. Their advisers come from a range of mental health, counselling and social work backgrounds.
They are a free, confidential phone service for anyone in Scotland over the age of 16 experiencing low mood, depression or anxiety.
Tony McLaren, Breathing Space national co-ordinator, said: "It's fantastic that we have this lovely outdoor space for residents. This bench is part of a wider network of benches across Scotland and like the other benches, has the details for Breathing Space inscribed. It's important that people know that we are here to provide listening and advice to anyone who is struggling with their mental health or experiencing distress in their lives."
You can speak to a Breathing Space advisor on 0800 83 85 87.
The Breathing Space phoneline is available 24 hours at weekends (6pm Friday to 6am Monday) and from 6am to 2am on weekdays (Monday to Thursday).