Black's Blog: Will the Scottish standard still pass as Passivhaus?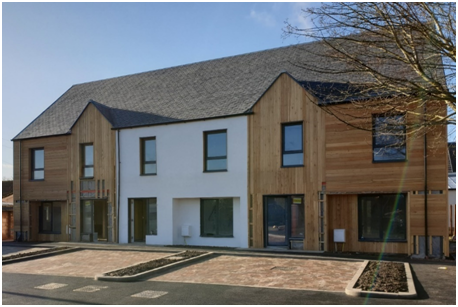 Jimmy Black reflects on the Passivhaus standard after a wide-ranging chat with Josiah Lockhart, CEO of Changeworks, the latest guest on the Scottish Housing News Podcast.
Please don't blame Josiah Lockhart, CEO of Changeworks, for what I write in this article. That would be far from fair, as he answered a whole pile of unexpected questions about decarbonising Scotland's homes, eloquently and informatively (see the latest SHN podcast).
But neither Josiah nor the Scottish Government have enough answers to Cassandra-like prophets of doom who cannot see a way of achieving the government's ambitious targets for creating net zero, warm and affordable housing. And in fairness, Josiah does not claim to have all the answers.
The most recent policy announcement to give me the shivers is the government's plan to make all new build homes conform to a new, Scottish, equivalent of the Passivhaus standard. Here's what worries me.
Firstly what does a "Scottish equivalent" mean? Either it's a Passivhaus, or its not. Attempts to adapt the Passivhaus standard to make it acceptable and affordable to the Scottish construction industry are likely to devalue the whole exercise. There are no compromises with a Passivhaus.
My second question is … does Passivhaus work for everyone? These buildings are wonderfully energy efficient, but they are also airtight. They require a mechanical ventilation system to circulate fresh air, and that in turn requires a reliable electricity supply in a country full of people with pre-payment electricity meters. Already people with positive input ventilation systems mistakenly turn them off because they worry about fuel costs and draughts, and suffer the consequences of condensation and mould growth. Will people behave differently in a Passivhaus?
Designers must take care to avoid too many windows in an airtight, highly insulated Passivhaus as the sun will cause the house to overheat. I doubt if the Passivhaus standard will ever include air conditioning, so the normal method of cooling is opening the windows. Most of the year that should work, but not in our increasingly frequent summer heatwaves.
And keeping a Passivhaus 'passiv' may be harder than we think, as people start installing satellite dishes, bathroom fans, outdoor taps and woodburning stoves. Or they forget to change the filters in the ventilation system.
My view is that the Passivhaus standard is wonderful for the right people in the right places, but there must be other ways of building which provide warm, comfortable, affordable homes and dramatically reduce carbon use.
To hear Josiah's more measured, and, I admit, better-informed view, tune into our podcast, where he also covers retrofitting Scotland's homes and much else. Now, retrofitting - there's another subject!
All episodes of the Scottish Housing News Podcast are available here as well as on the following platforms: