Blog: Scotland needs 53,000 affordable homes

CIH Scotland, SFHA and Shelter Scotland are calling on the Scottish Government to build 53,000 affordable homes over the next Parliament (2021–2026) and to commit to a capital investment programme of at least £3.4 billion over five years.
Five years ago our joint research set out the need for 60,000 affordable homes to be delivered between 2016 and 2021 – a target designed to address our housing crisis during this Parliament.
The latest figures show that we were on track to meet the government's target of 50,000 affordable homes. Just under 40,000 grant-funded affordable homes had been approved in Scotland from the beginning of 2016/17 until December 2019. However, due to the lockdown and the pause on construction activity, the 50,000 target will not be reached by March 2021.
This crisis has taught us all the importance of having a safe, affordable place to call home and as we seek to rebuild the country, the need for housing is likely to be greater than ever – both for Scotland's people and its economy.
With 120,000 on housing waiting lists and local authorities losing 500,000 homes through the right to buy before it was abolished in 2016, these are homes that are desperately needed by families and communities across the country.
The anti-poverty charity Joseph Rowntree Foundation reported that the scale of our social housing programme has been a significant factor in slowing down the rise of poverty in Scotland compared with England.
Industry body Homes for Scotland reports that four jobs are created for new every home built and that there are 80,000 jobs associated with home building in Scotland.
And by matching the money provided by the Scottish Government, councils and housing associations are making a significant investment in the construction sector and demonstrating their role as a catalyst for public-private collaboration.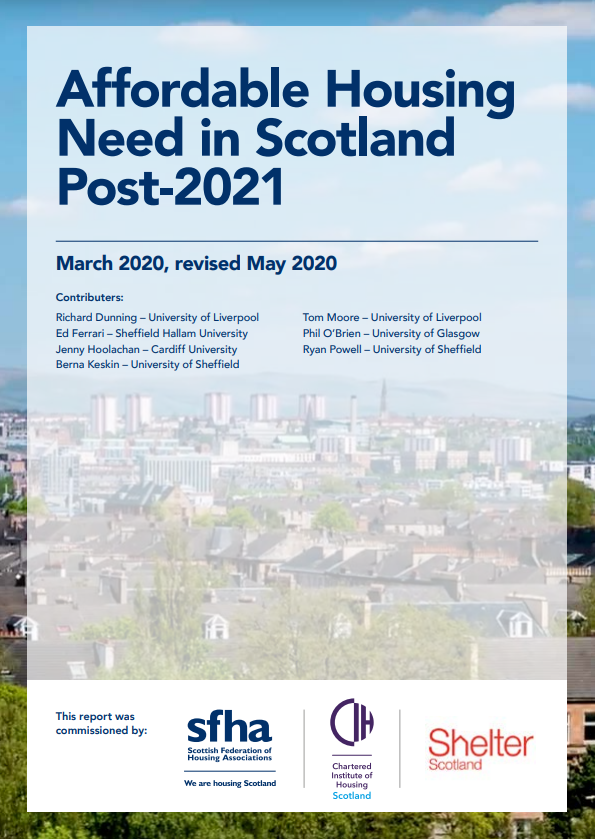 At a time when major infrastructure programmes face significant obstacles, the success and deliverability of affordable housing is to be commended.
Unfortunately, demographic and housing market trends in Scotland point to significant housing pressures, with the potential for a worsening situation in terms of access to affordable housing in the short to medium-term.
Indeed, despite record levels of investment in affordable housing over the last four years, waiting lists remain too high and homelessness is again on the rise. The depth of Scotland's housing crisis can't be addressed by one Parliamentary cycle; the challenges are too great and require more than five years of targeted investment.
That is why we need to look beyond what has been achieved in this Parliament, to keep the momentum going and to ensure that an ambitious programme for affordable housing supply is at the centre of any long-term housing strategy
One of the main positives to come from this crisis has been the ability of our political leaders to think differently and take radical action. With both the job retention scheme and six-month pause on evictions critical in ensuring that the ill effects of the crisis have not been greater.
So as the lockdown ends we can't go back to business as usual. We need to use our experience to build back better with an ambitious plan for affordable housing at the heart of Scotland's economic and social recovery.
This isn't the time for timidity. Politicians from all parties must think differently and recognise that we can choose to end homelessness, to end poverty in this country and give everyone the right foundation for safe, secure life. This all starts by building the 53,000 affordable homes the country needs.
Callum Chomczuk is the national director for CIH Scotland, Sally Thomas is SFHA chief executive and Alison Watson is director of Shelter Scotland
This article was originally published in The Herald