Borders community food hub shortlisted for national award
When the COVID-19 pandemic took hold back in April 2020, Eildon Housing Association got together with the homelessness charity Cyrenians with support from Scottish Borders Council to collectively distribute much needed food supplies to foodbanks and community groups in the Scottish Borders.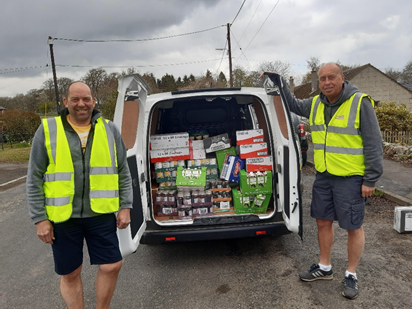 The service has been recognised with a shortlisting in the 'Working in Partnership Category' at the CIH Scottish Housing Awards ceremony on February 4.
Eildon's chief executive Nile Istephan said: "Working in partnership with the Cyrenians provides the necessary link to enable us to get supplies into our Borders communities where they are most needed.
"It is great to see that this working relationship with Cyrenians and the local foodbanks has not gone unnoticed, as we have been shortlisted for the 'Working in Partnership Category' at the Chartered Institute of Housing's Scottish Housing Awards ceremony on 4 February.
"So far 66 tons of supplies including foods, clothes, books and toiletries have been delivered to communities across the whole of the Borders and the intention is to keep the momentum going and build on the success of this partnership."
Cyrenians is the FareShare partner for Central and South East Scotland, and charities that distribute food are being encouraged to consider becoming a FareShare member.
Neil Hay, head of enterprise with Cyrenians, added, "Across central and south east Scotland this year, our Fareshare depot has distributed over 3.2m meals worth of food to in excess of 200 Community Food Members. All of these members are organisations in their own right, serving their local community and meeting increased demand for access to food in a quick, dignified manner.
"As we see the demand for assistance rising, Cyrenians work to support community groups in the Borders continues via the food hub. Without partnerships, like this with Eildon, we could never reach so many people."
If you are a charity or organisation that already distributes food to households in need, and feel you could benefit from linking in with this service, please contact: foodhub@eildon.org.uk or for info on becoming a FareShare member visit here.