Budget cut 'seriously threatens' housing associations' ability to build new homes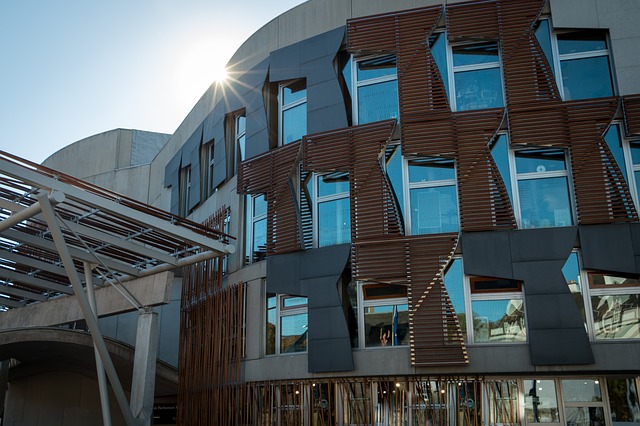 The Scottish Federation of Housing Associations (SFHA) and CIH have criticised the Scottish Government for reducing its funding for the Affordable Supply Programme as part of its 2023-24 Scottish Budget yesterday.
According to the budget papers, the amount to be invested in housing during 2023-24 will be £721.6 million, a fall from £888m and £893.3m in the previous two years. Within this spending plan, the More Homes funding has dropped from £748.1m in 2021-22 and £744.3m in 2022-23 to just £567.5m for the upcoming year.
Meanwhile, having already increased the unique Scottish Child Payment to £25 per week as part of a drive to eradicate child poverty, the budget invests £428m to uprate all other devolved benefits in April 2023 by September's Consumer Price Index inflation level of 10.1%. It also commits £20m to extend the Fuel Insecurity Fund to provide a lifeline for households, including the most vulnerable, against rising energy prices.
And the country's transition to net zero is boosted with an increased investment of over £366m in delivering the Heat in Buildings Strategy in 2023-24. This will help tackle fuel poverty as part of a £1.8 billion commitment over this Parliament to improve energy efficiency and decarbonise more than a million Scottish homes by 2030.
However, the housing bodies, which called for an increase in new homes funding, have argued that the reduction does not fit with the government's focus to reduce poverty in Scotland.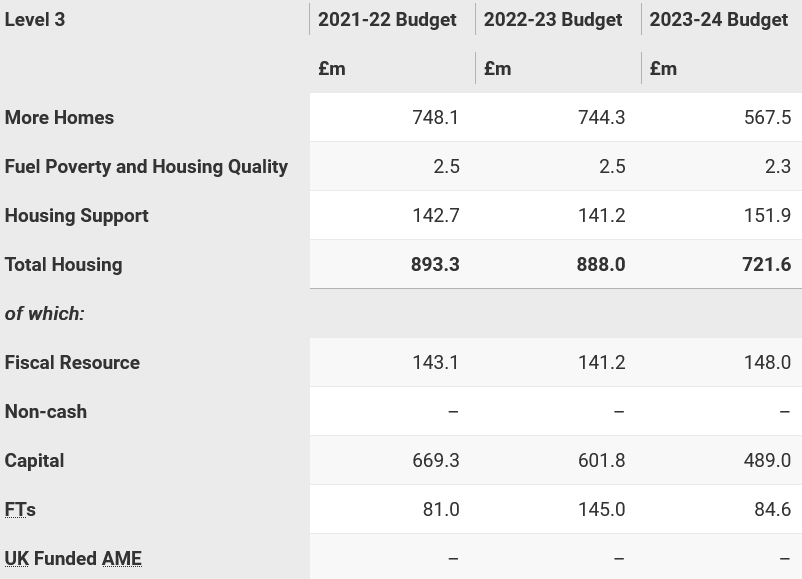 Callum Chomczuk, national director at CIH Scotland, said: "This budget risks stalling the real progress made over the last eight years in increasing the supply of affordable housing in Scotland and reducing housing need. In real terms, the budget for 'more homes' is 70% of the equivalent budget for 22/23 and that is without considering higher new building standards and probable limitations on social landlords setting their own rent levels post-March 2023.
"As we approach the mid-point of the Parliament, we called for additional investment so completions could gather pace and the Scottish Government could meet its target of delivering 110,000 affordable homes, and decarbonise existing stock by 2032.
"Instead, the budget for new affordable homes has been reduced by over £200m in real terms which makes the challenging target of 110,000 affordable homes target even more difficult. Indeed, given the understandable focus on the twin pressures of the climate emergency and the cost-of-living crisis, it is disappointing that the budget did not prioritise investment into one of the key areas that would support both these outcomes - building social housing."
Sally Thomas, chief executive of the SFHA, added: "We welcome the Scottish Government's aim in this budget to try and provide further support to those in greatest need, with increases to Scottish social security benefits and £20m to extend the Fuel Insecurity Fund in 2023/24, which should help tenants who are struggling with spiralling living costs and heating bills.
"However, social housing provides one of the greatest protections against poverty, and we are alarmed to see a cut to the Affordable Housing Supply Programme which, coupled with continuing uncertainty over rent setting and inflationary pressures on costs, seriously threatens our members' ability to build homes. A budget decrease of any amount will still reduce the number of homes our members can build, and we urge the government to rethink this cut if it's serious about tackling poverty in Scotland."
David Bookbinder, director of the Glasgow and West of Scotland Forum of Housing Associations, added: "The previously allocated £636m grant funding for the new supply programme has been cut by £55m, which is around 9%, before high inflation is factored in. Any such cut is always regrettable.
"In this case, there's a question over whether the cut reflects any expectations that the original budget may not have been fully spent because of unwillingness on the part of some councils and/or the Scottish Government itself to fund new build at current prices."
Elsewhere, Deputy First Minster John Swinney announced that proposed changes to a number of devolved taxes will raise additional revenue to support Scotland's NHS and other public services.
On income tax, he set out plans to add 1 pence to the Higher and Top tax rates, maintaining the Starter and Basic Rate bands at their current level, and reduce the threshold at which people pay the Top Rate, from £150,000 to £125,140. According to the Scottish Fiscal Commission (SFC), this will raise £129m.
In addition, the Higher Rate Threshold will be maintained at its current level, increasing revenue by a further £390m when compared to inflation according to Scottish Government estimates.
The Scottish Fiscal Commission estimates that the tax decisions made in Scotland since income tax powers were devolved could raise around £1bn more in 2023-24 compared to the income tax policy decisions made by the UK Government.
A further £34m is expected to be raised by increasing the Additional Dwelling Supplement from 4% to 6% from 16 December 2022, which is paid as part of Land and Buildings Transaction Tax (LBTT) on additional properties.
During his Budget statement to Parliament, the Deputy First Minister also set out plans to:
freeze the non-domestic rates poundage and offer transitional relief for businesses seeing the most significant increases in their rateable values following the 1 April 2023 revaluation
maintain the residential and non-residential rates and bands of LBTT
increase the standard and lower rates of Scottish Landfill Tax, which will prevent cross-border movement of waste and support ambitions for the circular economy
Industry body Propertymark said the increase in the Additional Dwelling Supplement would disincentivise landlords from investing in properties.
Timothy Douglas, head of policy and campaigns, added: "Our Propertymark members in Scotland already tell us of the plummeting desire for landlords to remain in the sector with 68 per cent of letting agents reporting an increase in notices to sell due to ongoing legislative changes. Therefore, it is disappointing to see the blatant disregard for the importance of incentivising investment in the private rented sector by raising the Additional Dwelling Supplement from four per cent to six per cent for additional homes.
"The private rented sector is a key solution to resolve the housing crisis but if the Scottish Government continue with policies that disincentive landlords this will only make the situation worse."
The 2023-24 Scottish Budget also includes:
around £1bn investment in high quality early learning and childcare provision, with a further £22m invested in holiday food provision and expanding support for school-age childcare
£50m for the Whole Family Wellbeing programme for preventative co-ordinated family support and a further £30m to keep The Promise to care experienced children and young people
£80m capital funding to support the expansion of free school meals
going beyond existing commitments with more than £550m additional funding to local government
£165m additional funding for frontline justice services and to continue with transformational reforms
a £46m increase in resource funding to universities and colleges to ensure a highly qualified and highly skilled workforce for Scotland.
Deputy First Minister John Swinney said: "The Scottish Government, like governments all over the world, is faced with a difficult set of choices. Through this budget we are facing up to our responsibilities while being honest with the people of Scotland about the challenges which lie ahead.
"To govern is to choose and the Scottish Government has made its choice.
"Within the powers available to us, we will choose a different path. A path which sees the Scottish Government commit substantial resources to protect the most vulnerable people of Scotland from the impact of decisions and policies made by the UK Government. We choose to stand firmly behind the Scottish people, investing in our public services and doing everything possible to ensure that no one is left behind.
"This budget strengthens the social contract between the Scottish Government and every citizen of Scotland for the wider benefit of society. This social contract means that people in Scotland continue to enjoy many benefits not available throughout the UK – including free prescriptions, free access to higher education and the Scottish Child Payment.
"Because we know this progressive model works, we choose the path where people are asked to pay their fair share, in the knowledge that in so doing they help to create the fairer society in which we all want to live."