Cabinet secretary celebrates with Housing Options Scotland in Edinburgh
Housing Options Scotland welcomed cabinet secretary for communities and local government Aileen Campbell to a celebration event last week.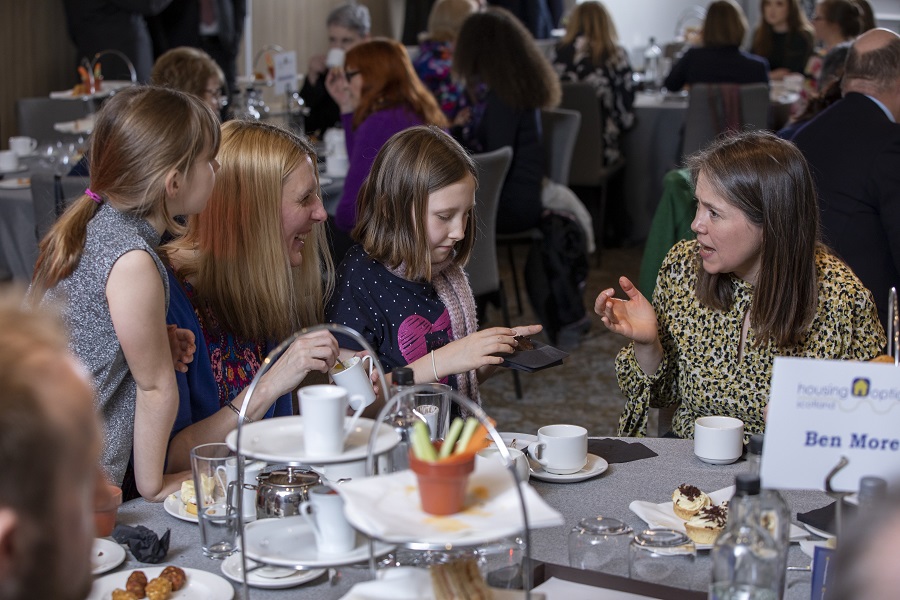 Staff, volunteers, board and supporters of the organisation were all warmly welcomed and thanked for their involvement in supporting disabled people, older people and members of the Armed Forces community all over Scotland to find housing suited to their needs.
At the event, guests were told how in 2019, Housing Options Scotland has already supported almost 700 individuals and families to find the right home in the right place in all of Scotland's 32 local authorities.
Guests were also told about exciting new developments in the organisation, including; the new 'Housing Buddies' volunteering programme, linking volunteer third sector and housing professionals to individuals and families in need of extra support in their area; and the organisation officially launched its redesigned website, tailored to the needs of clients.
The cabinet secretary had the opportunity to speak to several of Housing Options Scotland's former and current clients about how the organisation supported them. One of these clients was Gina an ex-services veteran who ended up homeless with her two girls.
Ms Campbell heard how this situation and the stress of finding a home was affecting her mental health and the health of her girls, and through the support of Housing Options Scotland they were able to find the perfect home for their needs.
Housing Options Scotland's CEO Moira Bayne noted: "Now entering our 23rd year, Housing Options Scotland are delighted to be continuing to work in partnership with the Scottish Government and are thankful to all of the other supporters who enable us to help so many people across Scotland to find the right home in the right place."
Aileen Campbell MSP said: "A home with the right support in the right place enables disabled people, older people and members of the Armed Forces to live safely and independently, offering a sense of security and improving physical and mental wellbeing. Housing Options Scotland has helped so many through the stressful process of finding a home to meet their needs.
"That's why we provided £250,000 to Housing Options in 2019-20 through the Housing Voluntary Sector Grant scheme. Their free support and advice is a valuable service and I'm also pleased to see the launch of their new volunteering programme which will help many more families in need of extra support."