CALA Homes submits plans for homes in Killearn
CALA Homes (West) has lodged an application with Stirling Council for the creation of a residential-led mixed-use development on the former Killearn Hospital site.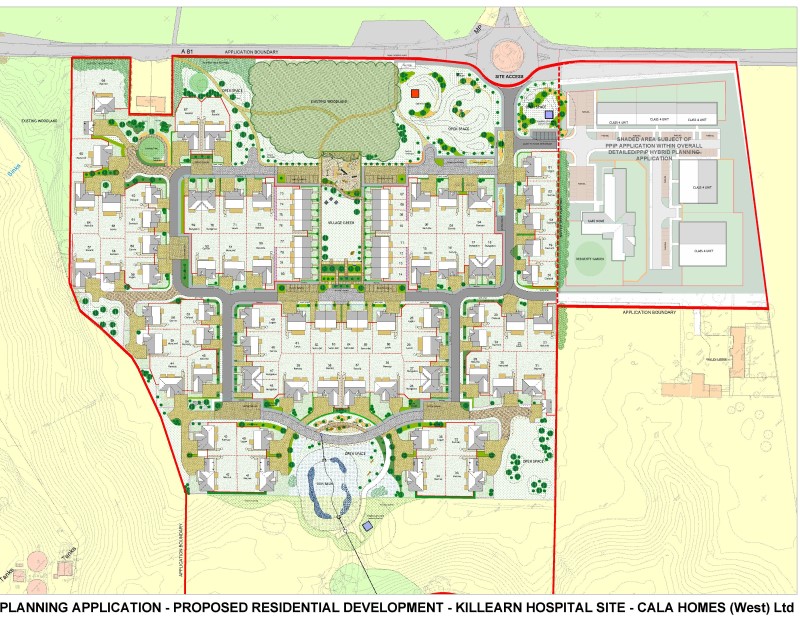 The proposals include 86 homes, transforming the derelict hospital site into a high quality and vibrant community with plentiful green space and a village green incorporated into the masterplan.
Significant effort has been placed on ensuring the development is well connected to the village centre, with a new bus stop proposed to front the development to transport the children to Balfron High School.
A mix of house types consisting of bungalows, terraced, semi-detached and detached properties have been proposed for the site, which will be attractive to a range of prospective homeowners with varying requirements. In addition to this, CALA Homes (West) is developing three bespoke house types that will be unique to the Killearn site.
As part of the application there is an area of the site for commercial space which is earmarked for development within the site. However, if approved, this part of the land would be developed separately from the homes and would follow at a later stage.
Andrew Duncan, land director at CALA Homes (West), said: "This is an important and exciting milestone for the development as we look to deliver a significant transformation to this part of Killearn. We have been working closely with Stirling Council over the past few months to ensure that we could remediate the former hospital site to a high standard, and we are pleased to now be in a confident position to progress with the application.
"Generally, we have received positive feedback from the community on our proposals and we are hopeful that we will get the opportunity to continue our vision and deliver a development that will benefit the area, local businesses and importantly, the people who want to live here."
CALA Homes (West) now has 12 months achieve detailed planning consent with Stirling Council.