CCG delivers new fire doors for Cambuslang tower block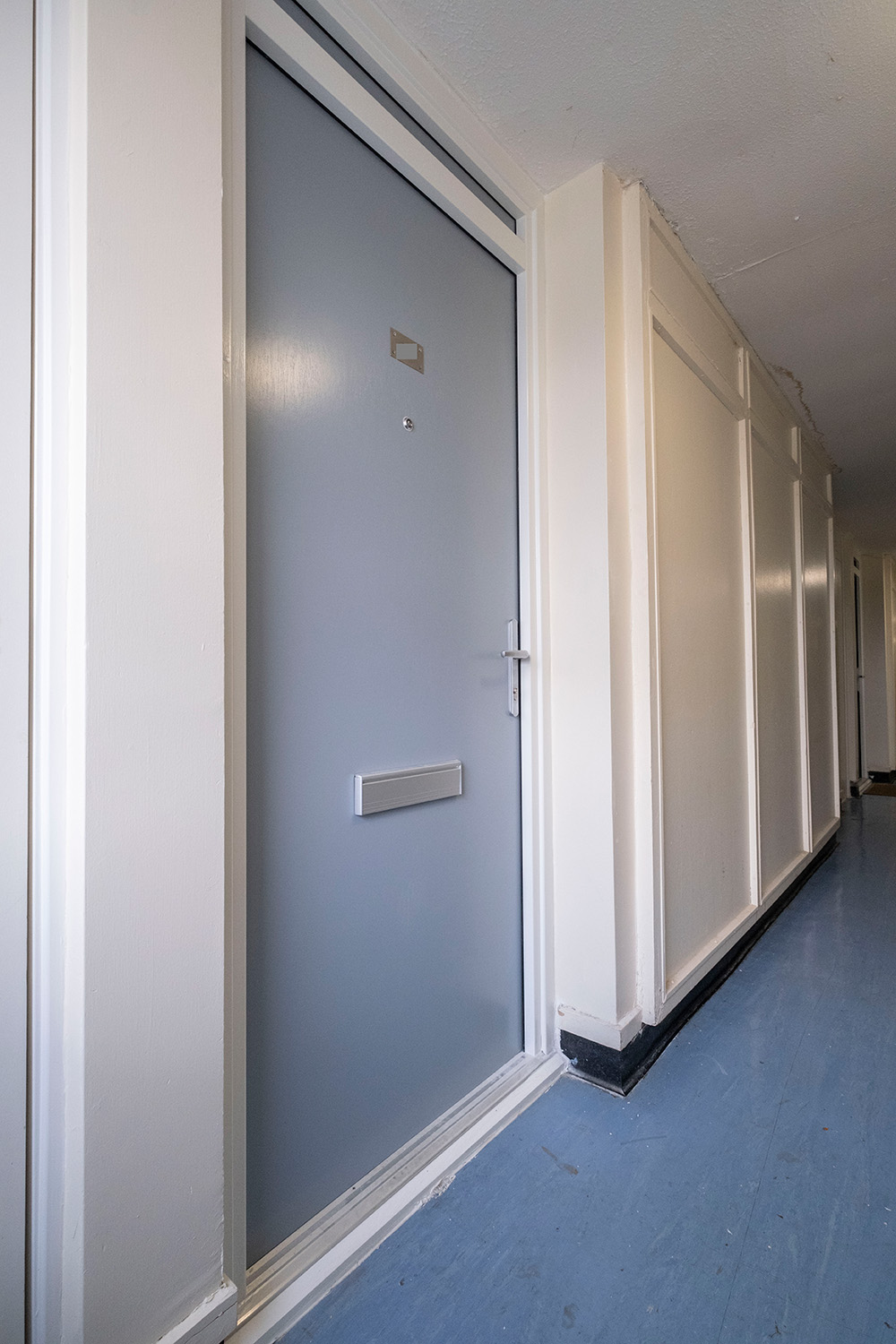 CCG (Scotland) has completed the supply and installation of high-performance fire doors at a multi-storey tower block in the town centre of Cambuslang.
Undertaken on behalf of South Lanarkshire Council, residents of Kyle Court, located on Main Street, have each received new 60-minute fire resistant flat entrance doors and 60-minute fire resistant common doors that have been designed and tested to meet the highest standard of industry performance for fire safety.
This means in the event of an emergency, the doors will provide a minimum resistance of an hour's duration to offer vital assistance in combating the passive spread of fire and smoke as well as providing valuable protection for residents.
The doors were manufactured by CCG at a facility located within a mile of the residence in the Clydesmill Industrial Estate. They were fabricated using solid timber to create an entirely finished product prior to being installed by the firm's own Asset Management (AM Division).
Joanne Forbes, head of property services at South Lanarkshire Council, said: "We are working closely with CCG to deliver compliant fire doors in our Multi Storey flatted accommodation.
"Having successfully completed Kyle Court in Cambuslang, we are now moving onto blocks in East Kilbride."
CCG manufacturing general manager, Craig Smith, said: "CCG has been mainstream in the manufacture of timber doors for over a decade. We have expert tradespeople and the very latest technologies that combine to deliver quality and consistency for our clients that can be utilised to support the delivery of both new build construction projects as well as large-scale, planned maintenance workstreams.
"Fire safety in tower blocks is of the utmost importance and as a result of the materials used and integrated safety measures, the fully certified CCG FD60 product offers a leading standard of performance that can provide residents of multi-storey tower blocks with a level of assurance in the event of an emergency situation.
"As a locally-based company, we are proud to have lent our support to South Lanarkshire Council and the residents of Kyle Court."
CCG asset management manager, Jim Cunningham, said: "As a one-stop-shop for window and door products, CCG is able to meet the needs of our clients with a clear chain of responsibility that delivers on quality control, streamlines project management, and ensures best value for our clients.
"This is achieved as a result of our advanced manufacturing capabilities and an efficient, diligent installation process from Asset Management where we principally ensure our strict quality standards continue to be met once on-site whilst minimising the impact of works on the day-to-day lives of residents.
"The FD60 door is a fantastic product and we look forward to working with South Lanarkshire Council again in the near future."
Alongside the manufacture of timber door sets, CCG provides a wide range of window and door styles that are manufactured using PVCu.
The firm opened a new factory in Cambuslang in 2020 after forming a strategic partnership with the globally-recognised polymer provider REHAU and now has a production capacity of 10,000 units per year.