Scottish Housing Day report shows high level of public awareness towards climate emergency but less certainty about housing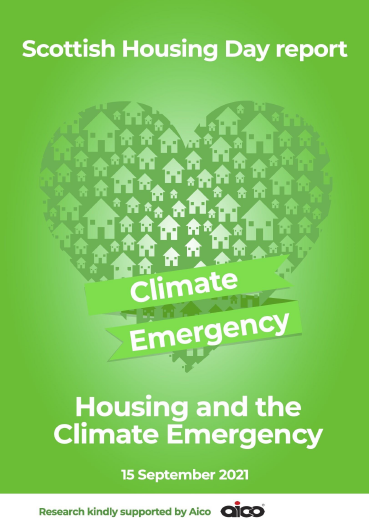 The Scottish Housing Day partners have commissioned research with the support of Aico to find out more about public awareness and attitudes towards housing and the climate emergency in Scotland.
Scottish Housing Day is an annual event aimed at encouraging discussion on a particular challenge or issue in the housing sector, this year focussing on housing and the climate emergency.
Homes across Scotland account for around 13% of emissions and will need to be made more energy efficient with the majority switching to low or zero carbon heating systems to meet the ambitions Scottish Government target of becoming a net-zero nation by 2045.
The public poll of 1,000 people living in different tenures across Scotland showed a high level of awareness of the Scottish Government's target to achieve net-zero emissions by 2045 but less certainty about what this might mean for individuals in relation to their housing.
The research found:
69% of people have heard about the Scottish Government's net-zero plans.
While 81% of people have heard of an Energy Performance Certificate (EPC) only 18% know the EPC rating of their home.
49% of people disagree or strongly disagree with the statement that energy efficiency was an important factor in choosing their current home. Only 15% agreed or strongly agreed.
39% of people would like to move to a more energy efficient home.
82% of people think that the Scottish Government should cover at least some of the cost of improving homes. 34% of people think the Scottish Government should cover all of the costs.
The Scottish Housing Day Partners also organised an online event on September 15 to explore the challenges and solutions to the climate emergency with special guest speakers Shona Robison MSP, cabinet secretary for social justice, housing and local government; Gillian Campbell, communications and public affairs lead for the Existing Homes Alliance Scotland; David Simpson, head of housing and communities at Dundee City Council, on behalf of ALACHO; Calum Murray, director of CCG Scotland; and Sam Mills, head of fuel poverty reduction at Changeworks.
Speaking ahead of the event, Shona Robison MSP, said: "I'm pleased to be speaking at this event today. With evidence continuing to mount of the scale of the climate emergency, housing has a vital role to play in meeting Scotland's ambitious net zero targets and the Scottish Government is committed to working with the sector on this important issue. With Scotland's Climate Week underway and with Glasgow hosting COP26 in November, the topic must be at the forefront of all our minds.
"We are aiming for as many existing homes as possible to meet an energy efficiency rating of EPC band C by 2030, with all being required to meet the standard by 2033. All homes must also install zero-emissions heating systems by 2045. I am pleased that 89% of social rented homes are already meeting the first Energy Efficiency Standard for Social Housing 2020 milestone. We must now build on this work as part of a national endeavour to end Scotland's contribution to climate change."
Ashley Campbell, policy and practice manager at CIH Scotland, added: "If we are to meet the net-zero carbon target by 2045, all of our homes, old and new, must be energy efficient and ready for low or zero carbon heating. This is a massive challenge and our research has shown a clear need to engage with members of the public to inform them about new energy efficiency and heating requirements that are being introduced, how they will be expected to contribute and how they can access information and support.
"We also need to encourage a change in people's attitudes towards their homes so that demand for high quality, energy efficient homes becomes a market driver. Scottish Housing Day and the upcoming COP26 have provided a unique opportunity to start the conversation and we need to keep the momentum going."