Citylets: Open market rents suggest 'unintended impact of new legislation'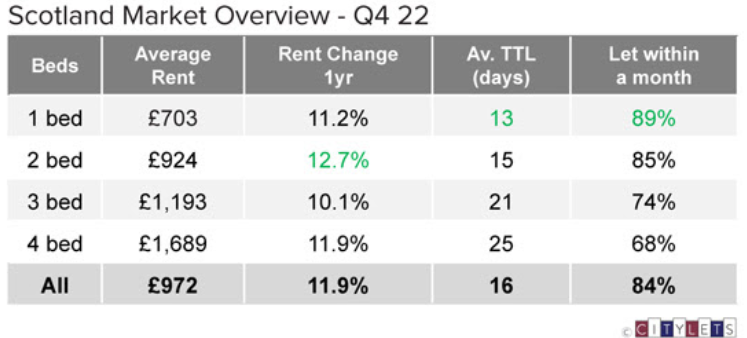 Rents for new tenancies rose an unprecedented 11.9% in Scotland's Private Rented Sector (PRS), the highest annual rise on record, in the first quarter of the existence of new legislation to cap rents for existing tenancies, according to lettings portal Citylets.
The Scottish rental site said pressures on the availability of property to rent in Scotland's PRS continued to grow in the last quarter of 2022 sending average rents for new tenancies higher.
Landlords in Scotland are currently prohibited from raising rents until the end of March but will have the flexibility to raise by 3% from April, subject to Parliamentary approval. Further lee-way for landlords to raise by up to 6% is also provided for under prescribed grounds.
Thomas Ashdown, managing director of Citylets, said: "Notwithstanding the intended benefits, with concerns for supply of property relative to demand so clearly signposted over the past year, it is surprising such policy would be formulated without clear impact assessment on those it seeks to assist.
"Not only is it likely to precipitate a widespread culture of in-tenancy rises, which anecdotally has historically been much more the exception than the norm for the private sector, but it may focus landlords' minds to be more pervasively acutely in tune with rising market rates especially at the new tenancy formation stage. Further, many landlords may simply leave the sector reducing supply.
"Arguably, this latest and unprecedented rise in new tenancy rents is a very early indication of this. Legislating for one part of a free market ecosystem in isolation may effectively be to play whack-a-mole it would seem, however we will wait to see how trends develop over 2023.
"On any view, Landlords in Scotland will be unsurprisingly feeling singled out given the social rented sector has been exempted from rent caps, despite the demographic on average being more sensitive to the impact of rises. The provisos and parameters for this exemption could have been comfortably met by Scotland's private landlords, given the opportunity. It is not surprising a legal challenge has been lodged with the Court of Session."
As well as the introduction of the Cost of Living (Tenant Protection)(Scotland) Act, Citylets said many mortgaged landlords were also impacted that the "disastrous" September UK mini-budget unravelled over Q4 2022 spiking mortgage rates sharply.
Gillian Semmler, communications manager at Citylets, added: "The timing of these two events was quite extraordinary and may destabilise the viability of their accommodation provisions at a time of chronic supply shortage.
"Landlords saw near or medium term costs increase substantively through higher mortgage rates whilst at the same time their scope for mitigation was reduced. The pre-conception that the majority of landlords can easily withstand all is not substantiated."
Commenting on the Scottish market, Adrian Sangster of Aberdein Considine said: "The chronic shortage of PRS properties available continues, whilst demand seems to be ever increasing. As a result, rents throughout Scotland continue to increase along with the stress levels of many people desperate to find a home. The political football that the Scottish PRS has become, was pumped up, kicked around and burst by politicians. It's now landlords and tenants who are suffering for their failures."