Clydebank Housing Association spreads kindness and Christmas cheer in the community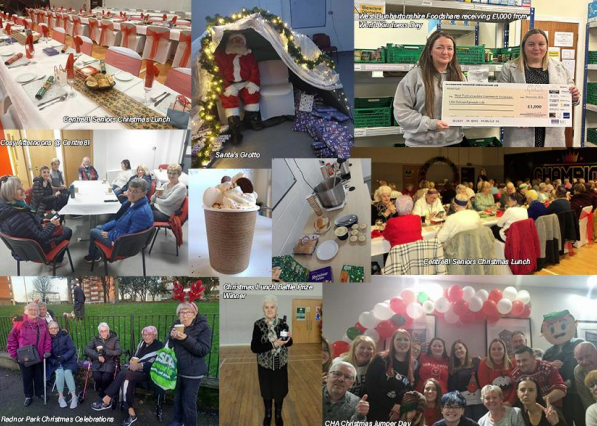 The staff at Clydebank Housing Association (CHA) have been spreading kindness and Christmas cheer in November and December.
The association was delighted to be able to support the community for World Kindness Day 2022 in November.
Along with the association, many of its suppliers, contractors and consultants contributed to a special fund for World Kindness Day, with £1,960 being secured. Half of the fund was used to show kindness in the community with the remaining 50% being handed over to West Dunbartonshire Community Foodshare for their Christmas Toy Appeal 2022.
For the community, the association was able to distribute:
8 £50 grocery vouchers to help towards a Christmas shop
20 kindness bags including a £10 grocery voucher and a box of chocolates
26 selection boxes
9 £15 Amazon vouchers
2 air fryers
The association has thanked all involved for their support.
Clydebank Housing Association was also delighted to welcome over 150 people to our cosy afternoons at Centre81 during November and December. Join the association Fridays from January to March (commencing 13th January), 12pm-3pm. Enjoy free tea/coffee, delicious soup and good company in a cosy setting at Centre81. All welcome!
CHA staff elves distributed over 100 selection boxes and mince pies at its Christmas Celebrations on Thursday 8th December, held at the Radnor Park Community Garden. The ground maintenance contractors, Ground Control, kindly donated and decorated a tree for the event. They did a great job!
The association treated residents to tea, coffee and hot chocolate from Janice's shop to keep them warm whilst listening to festive music and enjoying a chat with staff and neighbours.
Staff donned their Christmas jumpers to raise cash for Clyde1's Cash for Kids Appeal for Christmas 2022.
On 9th December, staff got together to raise money for this worthy cause with £90 being raised.
Lynette Lees, chief executive, said: "We support this every year. As a local organisation who are community-led, we know how important it is to support the local families. We're chuffed to be involved!"
On Thursday 15th December, CHA held its Seniors Christmas Lunch, those who attended enjoyed a 3 course Christmas Lunch, glass of wine, prize bingo and a free prize raffle.
The association received some lovely comments and great feedback.
On Thursday 15th December Santa Claus paid a visit to Centre81 and CHA had a party to celebrate. Over 150 local children were able to visit Santa's Grotto and each received a selection box. A party was also held with DJ Allan from Awestruck Academy keeping the guests entertained.
CHA gave thanks to Centre81 Steering Group for assisting with the party and to Centre81 and association staff who served delicious hot chocolate to keep everyone toasty. CHA also thanked Dominos Clydebank and Dominos Knightswood for donating delicious pizzas for all to enjoy.
The association said it is delighted to have worked in partnership with Clydebank East Community Council who sourced National Lottery Funding for the Seniors Lunch and the Kids Christmas Party.