Community effort to buy vacant shops in Killin launched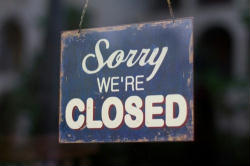 A community effort to buy former vacant shops in Killin has been launched to bring them back into public use.
Killin and Ardeonaig Trust (KAT) wish to register an interest in a Community Right to Buy on the land known as Co-operative for the benefit of the community.
To achieve the goal, the group were required to convince 10% of the community – those living within the FK21 8, FK20 8QT and FK20 8QY – to agree with the proposal.
The population of that area is 972, meaning that around 97 signatures were required to progress the plans. At the time of print, they had received enough support to press ahead with an application to the Scottish Land Fund Grant in order to submit the Community Right to Buy application.
The group have earmarked the Main Street Co-op site, should it be granted permission to re-open at a new location.
Additionally, expressions of interest have also been expressed for the former Bank of Scotland branch, also located in Main Street, The Stirling Observer reports.
In 2019, there were consultations held to develop a new Community Action Plan. Although the resulting document is not complete, a number of potential uses for the selected sites have been put forward. Among the ideas suggested are: a tool hire service; up-cycling, upholstery and recycling with workshops and shop; a men's shed facility; business accommodation and facilities; a learning centre; a youth space; and a community enterprise hub.
RecyKillin is a pilot scheme run by volunteers who, with the support of KAT, which aims to offer opportunities for the community, including a tool library, a remakery – where volunteers will upcycle items that are otherwise destined for landfill, giving them a new lease of life– and workshops.
Eleanor Murray from the RecyKillin group, said: "There is a long way to go, but we are really excited about the prospect of a Community Right to Buy bid and think it would be hugely positive for emerging social enterprises like RecyKillin. So many other communities across Scotland have benefited from community ownership and in the Killin Post Office we know what a difference Scottish Land Fund funding is making to communities like Killin.
"RecyKillin emerged out of lockdown, and is a great example of the community coming together and working on something that can be really positive and make a real difference.
"Transition Stirling and the Edinburgh Remakery have given us real inspiration and we've had some really fantastic support from the people involved in Transition Stirling especially.
"We now have some funding from the Community Climate Asset Fund and bought a range of tools, craft stuff and kitchen gadgets for our tool library. We are delighted KAT have given us some space to get started, but the project has loads of potential to grow, we could have repair cafes, craft workshops, upcycling projects and so on, so we are looking for bigger premises. It would be great for residents and visitors to see a lively, creative hub in the centre of the village. We believe it has the potential to save Main Street and help make our community a better place."