Council leader visits new North Lanarkshire housing development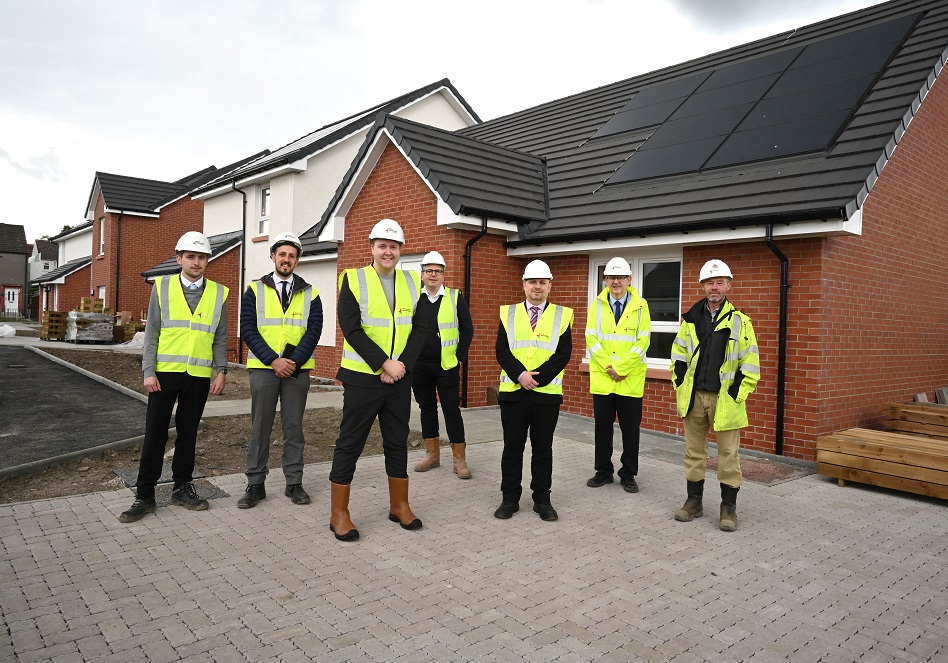 North Lanarkshire Council leader, Councillor Jordan Linden, heard about the progress a council house building programme is making as he visited a new development in Plains.
The local authority is undertaking one of the largest new supply programmes in the country, which will see 5,000 new homes for rent provided by 2035.
The 16 new homes at the Park Place development, on the site of the former Plains Primary School, are nearing completion and will soon be ready for allocating to tenants.
Park Place comprises a mix of family homes and includes:
5 x 2 bedroom houses
3 x 3 bedroom houses
1 x 4 bedroom wheelchair bungalow
1 x 4 bedroom wheelchair house
4 x 2 bedroom cottage flats, and
2 x 2 bedroom amenity bungalows
The leader toured the site and visited one of the wheelchair standard homes to look at its layout and features.
Councillor Linden said: "The specification and design of our new build properties is extremely high, and it's great to see the range of fantastic features on offer to prospective tenants.
"Our homes meet high quality design standards, including Housing for Varying Needs, which means they are adaptable to suit tenants' needs in the future, are 'Secure by Design' to help keep tenants safe and secure and incorporate dementia friendly measures.
"These are also well insulated and highly energy efficient, ensuring comfort for our tenants. We're also embracing new, renewable technologies, building greener homes by using solar panels, enhanced levels of insultation and providing electric vehicle charging points.
"By working in partnership with the Scottish Government, we're investing in new homes across North Lanarkshire, regenerating communities, boosting local economies and improving the lives of our tenants and residents. It's all part of our ambition to make North Lanarkshire the place to live, learn, work, invest and visit."
North Lanarkshire Council aims to include a minimum of 10% wheelchair standard homes within all of its new-build council housing developments as part of its Local Housing Strategy objective for specialist housing provision.
Around 954 new build homes have already been completed with a further 267 currently on site. Many other sites have also been identified including several town centre areas and locations identified as part of tower re-provisioning programme.