Craig Sanderson recognised for lifetime of achievement as CIH Scotland names Excellence Award winners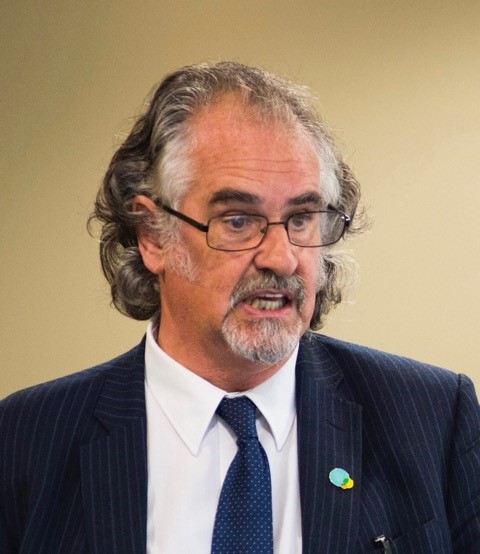 The winners of Scotland's annual awards for excellence in housing were announced at a special awards dinner at the EICC in Edinburgh.
A total of fifteen award category winners were announced alongside a Lifetime Achievement Award, presented to Craig Sanderson in recognition of his services to Scotland's housing sector.
Albyn Housing Association's customer service team was named Housing Team of the Year while North Lanarkshire Council won the Excellence in Communication award for its 'ambitious towns' project.
Sanctuary Scotland won the Excellence in Regeneration Award for its work in Anderston while the Excellence in Development for Affordable Housing Award went to Glasgow Housing Association and its Dougrie Drive development. Hillcrest Housing Association was presented with the Margaret Blackwood Award for Excellence in Housing Innovation for its work on energy advice.
Maryhill Housing Association was presented with the Excellence in Scrutiny Award and also scooped the Excellence in Skills Development Award for the second year in a row. North Lanarkshire Council was named winner of the Excellence in Health and Wellbeing Award. Meanwhile, Rettie &Co received the Excellence in the Private Rented Sector Award.
Individual awards also went to Rhona Matthew of Albyn Housing Association, who was presented with the Bob Allan Young Achiever in Housing Excellence Award; to Elaine McAuley of Link Housing Association, who won the Margaret Vass Award for Excellence in Frontline Housing; and to Caitlin Donald of Your Place Property Management who was named Apprentice of the Year. Gary Dalziel of Elderpark Housing Association received the Excellence in Leadership Award.
Outlining his pride at his pride at receiving the Leadership Award, Gary Dalziel took to LinkedIn and said: "I haven't ever won much in my life, I was not good at sports or particularly athletic, I was pretty poor at school, and generally have no real talents so other than the best Halloween costume at a school disco my trophy cabinet was pretty bare."
He added: "While the trophy is a bonus the part I value most is that my colleagues at Elderpark Housing nominated me, that there were some really touching testimonials from ex-colleagues and that so many professionals from across the sector that I respect and value greatly were so warm with their congratulations.
"Leadership is probably the thing that I am most passionate about but it's also pretty simple, it's about trying to help your colleagues work a little better, be a little happier, feel they are supported and focus on giving them something to aim for. I am very fortunate that get to lead Elderpark Housing as CEO having spent over 20 happy years at Linstone Housing which really shaped my whole career."
Callum Chomczuk, national director of CIH Scotland, said: "It is wonderful to be able to celebrate such an impressive standard of excellence across so many varied categories of housing practice at this year's CIH Scotland Excellence Awards – both in terms of the overall winners and also all those shortlisted for an award.
"As the home of professional standards in housing, CIH Scotland is committed to ensuring that the hard work and dedication of thousands of frontline housing professionals working right across Scotland is properly recognised and celebrated.
"These annual awards offer an ideal opportunity to do that while providing a great source of inspiration and pride for everyone working in housing in Scotland."