Cunninghame Housing Association awards grant to Kilwinning Football Academy
Janet Strang, vice chairperson of Cunninghame Housing Association, has presented a cheque for £1,000 to Craig Simpson, Football Coach of the Kilwinning Football Academy 2008's team.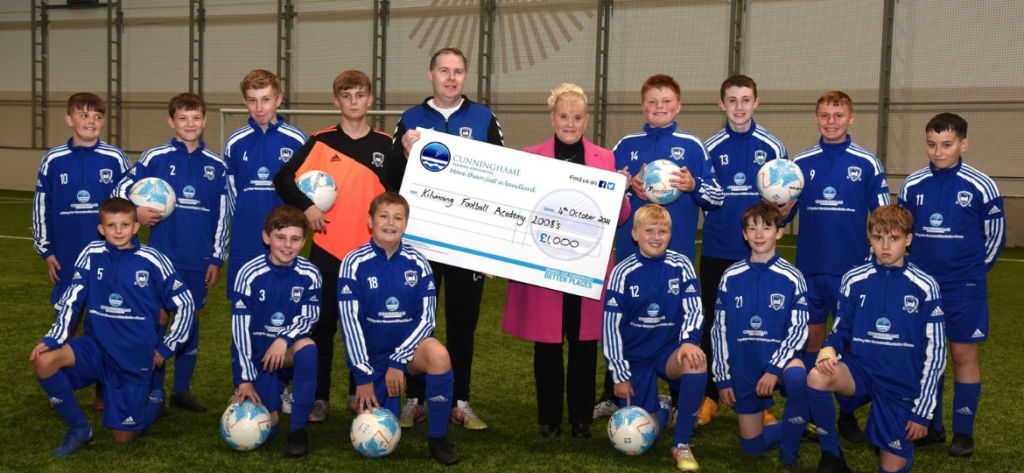 The Kilwinning Football Academy 2008's team is a registered charity that provides football, nutrition and wellbeing to young children in North Ayrshire. The Academy currently has over 300 children registered and encourages them to eat healthy, exercise, develop positive relationships with others and to promote their confidence and skills.
The funds provided by Cunninghame Housing Association have enabled the team of 2008 to purchase new team jumpers as well as covering the costs of equipment, such as new footballs. This allows all of the young people to be part of the team, immaterial of their family's financial status or income.
The funding for Kilwinning Football academy 2008's came from the Associations 'Making Our Communities a Better Place Fund' which operates throughout the year (1st April 2021 to 31st March 2022) until the allocated funding is exhausted.
Janet Strang said: "I was really pleased to present the cheque to Kilwinning Football Academy 2008's on behalf of Cunninghame Housing Association as Craig and his team do a great job with the boys and they recently received an award for 'Fair Play,' therefore a big congratulations to them for that too."