Dandara secures £60m credit facility from HSBC for green Build to Rent projects
Large-scale Build to Rent (BTR) developer and operator Dandara Living has been given the green light to deliver 342 green waterfront apartments in Glasgow's West End after securing a £60 million Green Revolving Credit Facility from HSBC UK.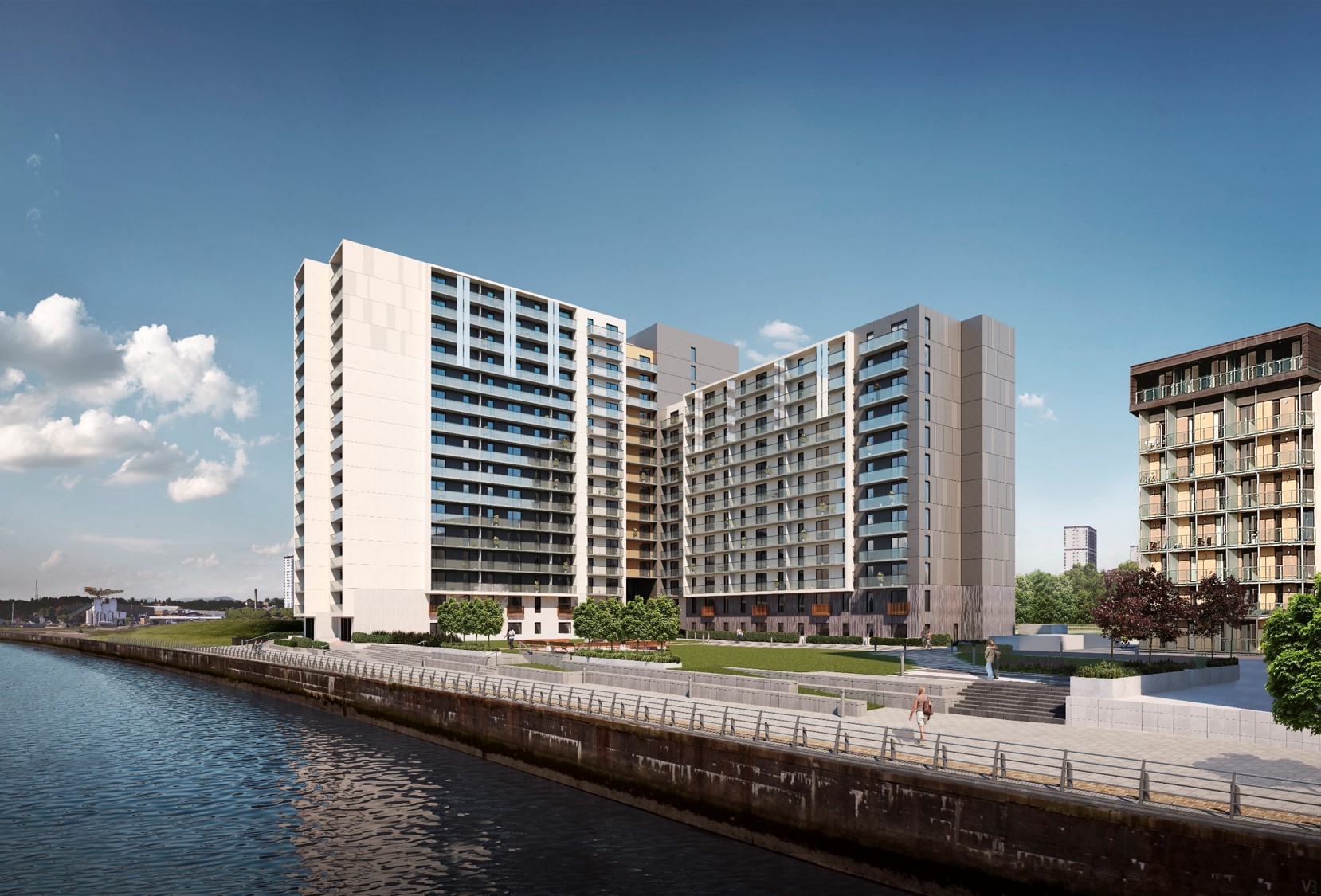 Dandara will use the funding, which is aligned to the Loan Market Association's 'Green Loan Principles' and one of the first sustainable finance facilities of its kind in the housing sector, to fund its existing pipeline of 11 sustainable BTR developments across the UK with capacity to accommodate in excess of 4,500 new BTR homes.
In Glasgow, the Gh2o development will deliver 342 waterfront apartments in the city's West End and is set for completion in Q1 2023.
Other sites to have already secured planning permission are in Birmingham and Bristol. The Unity & Armouries site in the Southside area of Birmingham will consist of 162 apartments over two buildings and is also set for completion in Q1 2023. In Bristol, the Bedminster Green development to the south of the city will feature a mix of 316 one and two-bedroom apartments, expected to be available from Q3 2023.
Ed Tynan, director of the Dandara Group, said: "As a large-scale BTR developer and operator, we are committed to managing the social, economic and environmental impacts of our activities responsibly. ESG is embedded in our business practices and operational procedures. In securing this new Green Revolving Credit Facility, we have increased our ability to deliver sustainable new homes which enhance residents' lives and add long-term social and economic value to the communities we operate in."
Hugh Taylor, head of housing for HSBC UK, added: "Not only will this deal give Dandara the flexibility it needs to roll out schemes across the country, it also enables the developer to respond to the housing challenge facing many of our major cities without compromising on sustainability. BTR developments of this kind have become an important part of the solution to our housing issues by providing flexible living options which reduce energy consumption, reuse materials and enhance biodiversity."
The deal continues Dandara's relationship with HSBC UK and follows the bank's provision of £183m of development funding in 2016. Along with an additional £45m from the Homes and Communities Agency (now Homes England), this funding was used to support the construction of homes across the three BTR schemes in Manchester, Birmingham and Leeds.
Dandara has already built more than 5,900 BTR homes in the last ten years in the UK, of which 2,400 homes were completed in 2020. The developer's activities and approach are aligned to Sustainable Development Goals (SDGs), with design influenced by accredited assessment tools such as the Home Quality Mark, Code for Sustainable Homes and BREEAM.
Gillian Charlesworth, CEO of BRE, explained: "Driving sustainability across the built environment is central to the work that we do at BRE and we are very excited to be collaborating with Dandara Living and HSBC UK on this ambitious project, which will provide excellent homes for so many.
"By achieving certification for the 11 developments certified under BRE's Home Quality Mark, Dandara can ensure that future residents will enjoy cost-effective and energy efficient homes that are of a quality we should expect in the 21st century. This kind of cross-industry collaboration is so important in achieving net zero and we look forward to seeing this partnership make progress at pace in the coming months and years."
Robert King, head of sustainable finance at HSBC UK, added: "Residential housing is a substantial contributor to UK carbon emissions. Providing housing with strong sustainability credentials is therefore critical to meeting the UK's net zero goals. Supporting businesses such as Dandara in meeting their sustainability goals through the provision of innovative Sustainable Finance solutions is an important part of our commitment to help businesses thrive in the transition to net zero."