Dave Boyle appointed chair of Hillcrest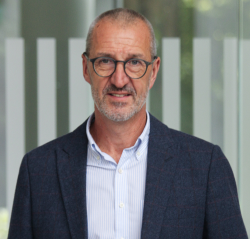 Dave Boyle was elected as chair of Hillcrest at its recent AGM, formally beginning within the role last week.
Mr Boyle's appointment saw former chair Alan Russell stepping down after five years in the role, who has now been elected to a position on Hillcrest Futures' board.
With Hillcrest in the midst of an ambitious transformation project as the company looks to set new environmental, social and corporate goals, Mr Boyle will play a pivotal role in guiding the organisation's business plan and strategies.
Having spent seven years on the Hillcrest Homes board before his appointment as Chair, along with many years as a senior figure within the Scottish Fire and Rescue Service, Mr Boyle brings a wealth of knowledge, experience and commitment to the role.
Commenting on his appointment, Dave Boyle said: "I'm delighted to have been appointed as Chair of Hillcrest. With our values of excellence, innovation, respect and inclusion in mind, we've been working hard to be at the forefront of change and continue to develop the services we offer our customers to help them live better lives."
Hillcrest chief executive Angela Linton, added: "Dave Boyle's appointment comes at an exciting time for the organisation, with our transformation project gathering speed and real results having taken shape.
"We're delighted to welcome Dave into the role at such a key time, and the experience, leadership and focus he will bring will certainly help shape our strategies, helping us go from strength to strength.
"I'd also like to offer my sincere thanks to our former Chair, Alan Russell for the many years of guidance he has given us, and wish him all the best in his new role on the Hillcrest Futures board."