Design at heart of well-being ethos of new advice and support centre for homeless people
The calm efficiency and first-class service that guests of a modern, boutique hotel might reasonably expect is to be provided in a brand-new multi-agency advice and support hub for people who are homeless or at risk of homelessness.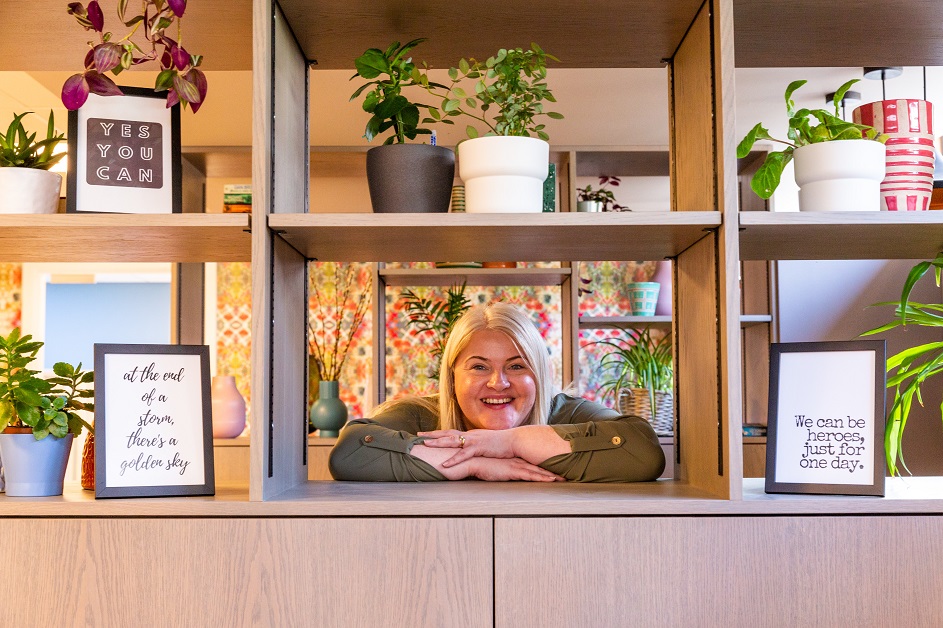 Fitted out in cool colours, contemporary furniture and designer lighting, the Access Hub - in Glasgow's Argyle Street - is expected to be hailed as mould-breaking in the provision of services to people who - often through no fault of their own - are seeking help.
Officially opened yesterday by homelessness charity Simon Community Scotland, the Access Hub has been imagined to ensure that users feel their welfare is paramount and to make it much easier for people to get support.
On entering the city centre building, they will be met by a person rather than a reception desk.
The brief to architecture practice, INCH Architecture + Design, and interior designers, 3 Design Scotland, was to make visitors feel special.
The hub has been designed so that staff from partner agencies will be able to meet clients, 'hot desk' and share ideas and practice with fellow support workers.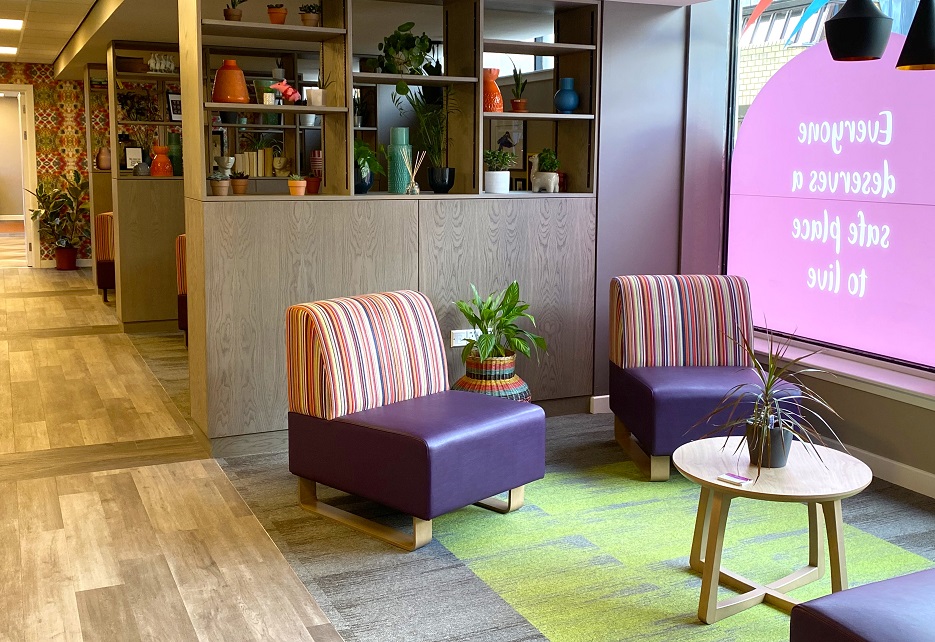 People using the hub will be able to access a wide range of support all 'under one roof' from expert providers. These include financial and legal support and advice, counselling and digital support as well as health and well-being services.
This ground-breaking initiative is expected to radically reshape the experience and impact for people at risk of, or experiencing, homelessness in Glasgow.
The hub has been set up in partnership with Glasgow City Health and Social Care Partnership, Glasgow City Mission, Marie Trust and Turning Point Scotland. Along with Simon Community Scotland, each are members of City Ambition Network, formed in 2015 to aid Glasgow's most vulnerable and excluded homeless people.
The opening was attended by Simon Community Scotland supporters, Lorraine McIntosh and Ricky Ross - of the band, Deacon Blue.
Funding has been provided by the Robertson Trust, plus Glasgow City Mission, Bank of Scotland Foundation, Glasgow City HSCP, the Clothworkers Foundation and the Landfill Trust, along with Simon Community Scotland's own reserves.
Simon Community Scotland chief executive, Lorraine McGrath, said: "Getting support should feel as good as possible - especially if you're having a really hard time.
"We have launched a beautifully-designed and welcoming space and service - so important for people who are facing extremely difficult circumstances. We wanted a space and service that feels good, calm and can even contribute towards healing.
"Getting support should be as easy as possible, especially if your confidence has been knocked, you're dealing with multiple pressures and you may be in poor mental or physical health.
"We're launching what we believe to be a different model of service, as a blueprint for the country.
"By coming together, 'under the one roof', many of the barriers to accessing critical services are removed and we are delighted to have the support of close to 20 organisations to make this ground-breaking project a success. The last thing anyone requiring support should have to do is negotiate various bureaucracies. The hub also doubles up as a great way for partners to learn from each other and work more efficiently in providing solutions for even the most challenging of circumstances."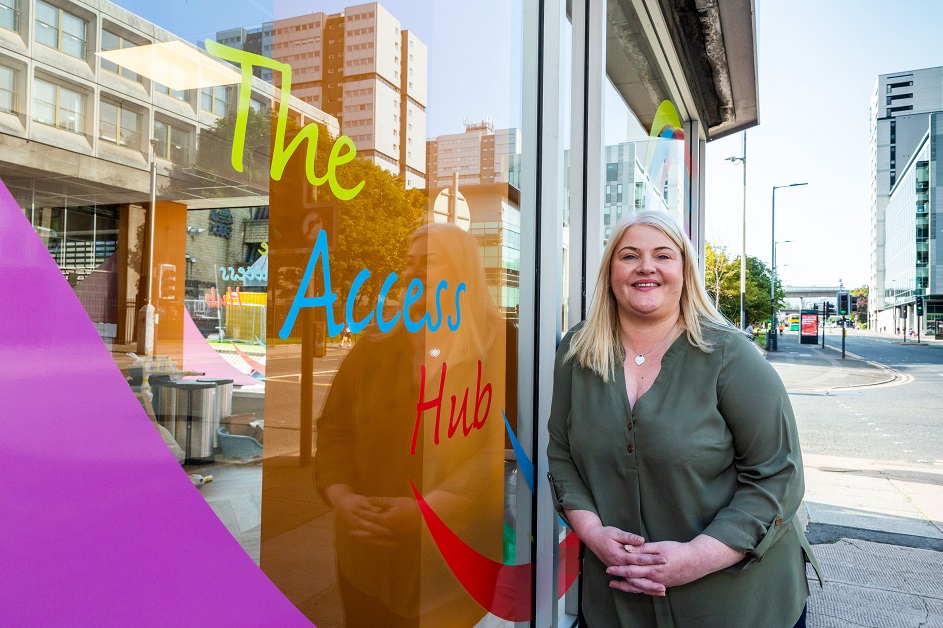 Her sentiments were echoed by Ashley Young, service lead for the Access Hub. She said: "Everyone deserves to be in spaces that feel good – places that promote healing and well-being.
"The people we support are having some of the toughest days of their lives – we want to make it really easy to get support. It's really important that the environment and interactions with staff feel good.
"Following numerous COVID-related delays, we're so excited to be finally opening the doors and are looking forward to seeing how this service grows and develops."
Long-time service user, Joanne, said: "There are lots of different issues I've faced while homeless. The Simon Community is one of the main services that worked for me, so to hear of the new premises is fantastic!
"The Access Hub has so much space for so many activities and lots of quiet, wee spots for the wee chats that really help people like myself.
"It's great to be able to drop in to chat about something small or to discuss more serious stuff like help with benefits, the sexual health clinic and also Trusty Paws [monthly vet clinic]. My dog, Jinty, is a regular visitor! I'm really looking forward to using the new Access Hub in Argyle Street."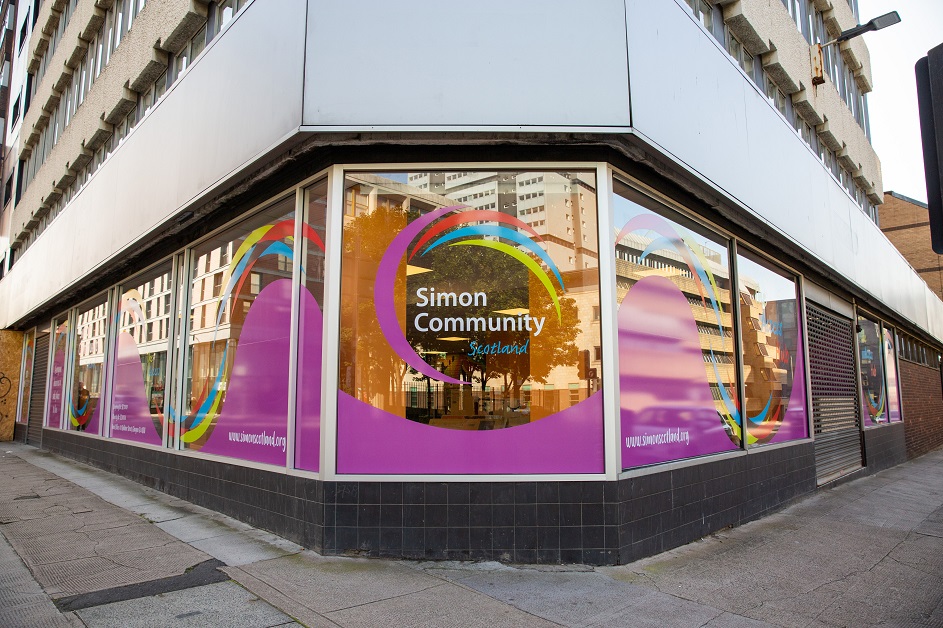 Speaking about the innovative approach to partnership working, Pat Togher, assistant chief officer, Public Protection and Complex Needs, Glasgow City Health and Social Care Partnership, said: "This model demonstrates the extent of creativity and determination from key partners, ensuring services are quickly accessible and responsive to those in most need."
Frances McKinlay, chief officer, Marie Trust, added: "The Access Hub will not only be a place to access a wide range of health and other interventions – but will also offer a more holistic approach in supporting people in immediate and longer-term need. Together, in partnership, we are stronger in alleviating homelessness and enabling opportunities for self-growth and routes out of homelessness."
Suzy Kingswood, from 3 Design Scotland, said: "To help create that welcoming feel, to ensure that the centre was a place of comfort and inclusion, we focused on high quality and creative wall finishes and beautiful furniture. We chose a palette of colours that read cohesively across the space; nothing too 'out there' but definitely something slightly out of the ordinary and unexpected.
"We also chose artwork that will hopefully bring a smile, as well as generate a sense of calm, plus restrained flooring patterns – to break up the zones within the space without the need for physical barriers."
Lorraine McIntosh added: "Glasgow has always been a city with a huge heart and reaches out to support people in crisis. We're delighted to be supporting Simon Community Scotland in creating this amazing space providing an unified response to the challenges people face with homelessness."