Dundee prepares to host Street Soccer event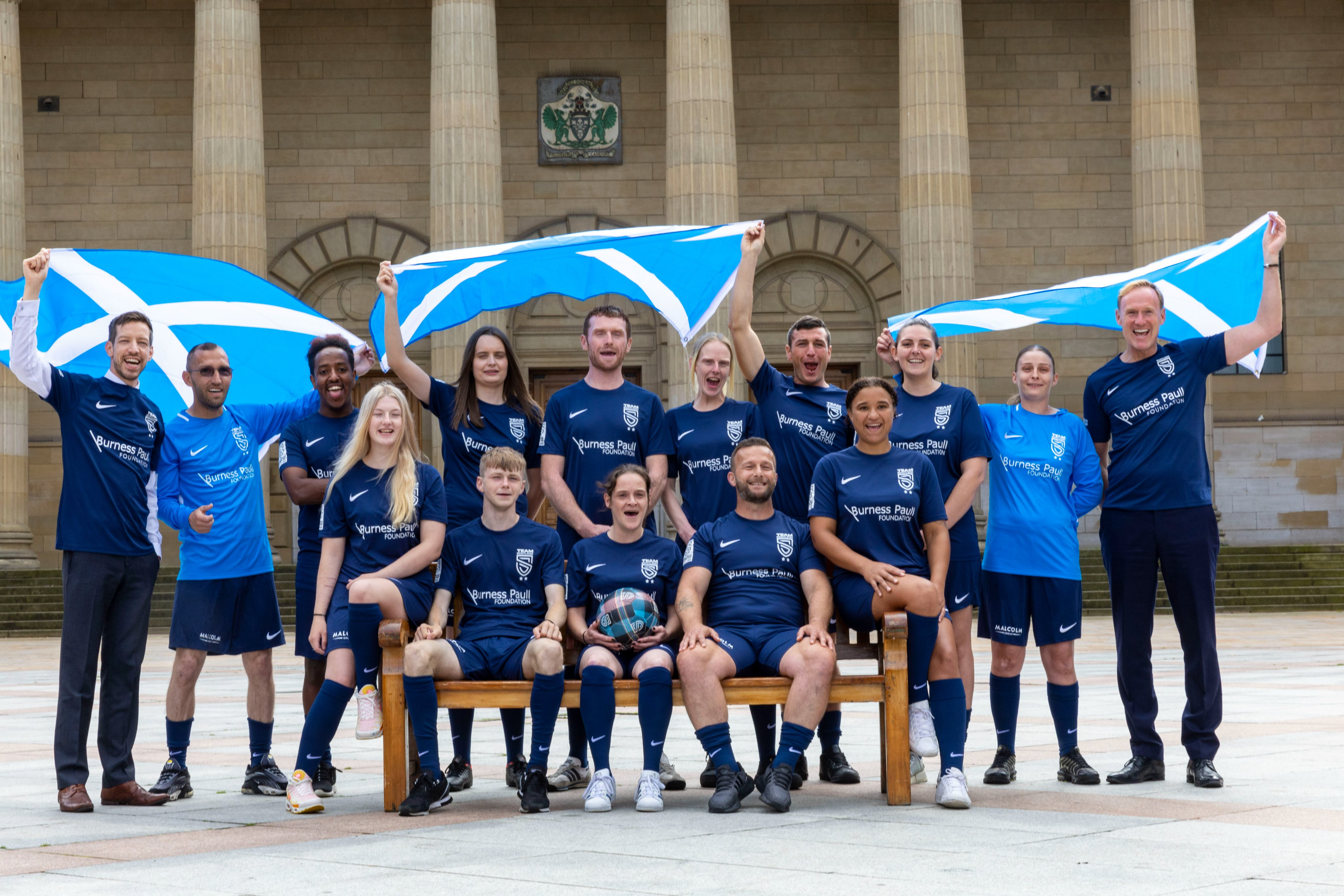 The leader of Dundee City Council has encouraged people to "come out in their droves" to support the teams taking part in the Street Soccer Nations Cup.
Councillor John Alexander was speaking as Street Soccer Scotland announced the 16 players that will make up the Team Scotland squad at the event in Dundee later this week.
Led by Street Soccer coaches Ross Alexander and Sarah Rhind, who both have previous experience in representing Team Scotland at Homeless World Cup tournaments, the squad are now looking forward to meeting the other participating nations next week.
The Team Scotland squad will include players Street Soccer programme across Scotland, including Edinburgh, Glasgow, Aberdeen and the host city.
Councillor Alexander said: "I'm delighted that the Street Soccer Nations Cup is coming to the City Square. It's a tremendous event which showcases how football can unite us all, regardless of background or circumstances.
"Street Soccer are making a huge difference to lives in communities across Scotland, including here in Dundee, and I'm delighted to see men and women from the city represented in the national team alongside those who have travelled from much further afield.
"This is a city which is passionate about its football, and I know that Dundonians will come out in their droves to support all the participants."
Street Soccer Scotland's CEO, David Duke, also represented Team Scotland in past tournaments and is looking forward to a celebratory weekend in the city of Discovery.
"Having been fortunate enough to represent Scotland at the Homeless World Cup many years ago, I know first-hand the impact tournaments like this can have. From the training and build up, meeting new friends from other countries, to lining up for the national anthem – it really is life changing. It's great to see our Men and Women's Team announced and I hope that they enjoy every minute."
The players selected engage in weekly sessions that are aimed to support individuals experiencing social isolation. The programmes are structured to give players access to support and free football, with many participants facing challenges such as homelessness, adverse mental health, long-term unemployment, addiction and criminal justice.
Scotland goalkeeper Graham Dewar is looking forward to pulling on the navy blue of Scotland and says that the tournament is another milestone on his journey with Street Soccer.
"I first heard about Street Soccer when I was in recovery with Phoenix Futures. I'm absolutely delighted that this has come in to my life, that's me almost a year and a half completely free, so it gives me great confidence.
The social aspect is great for me. I have suffered from social anxiety and this place has built me up and helped me overcome that. To be selected for Scotland is incredible and it's something I've wanted to achieve for a while."
The Street Soccer Nations Cup hopes to offer a life-changing experience to all players involved and will provide team activities, accessible support as well as international action on the pitch. Participating nations include Scotland, England, Wales, Northern Ireland, Republic of Ireland, Sweden, Afghanistan and Ukraine. The tournament will have an opening ceremony on City Square at 10am on Friday 9th September, with all nations represented.
The event is free to attend, with games across Friday, Saturday and Sunday. The site will feature a four-a-side pitch, two grandstands, live entertainment as well as catering options and areas to learn more about third sector organisations in the city.
Scotland men's team: Scott Caldwell (Glasgow), Graham Dewar (Glasgow), Shaun McFarlane (Glasgow), Ricki McMillan (Glasgow), Andy Fyffe (Dundee), Jamal Mohamed (Greenock), Lennon McLean (Glasgow) and Hussain Abdullah (Edinburgh).
Scotland women's team: Selena Edward (Aberdeen), Natisha Robertson (Glasgow), Natalia Kasmeridi (Glasgow), Natalie Fella (Glasgow), Sophie Bailey (Glenrothes), Eilidh Anderson (Dundee), Jennie Thomson (Dundee) and Kirsty Oliphant (Dundee).