Council launches consultation on proposed housing development in Kilmarnock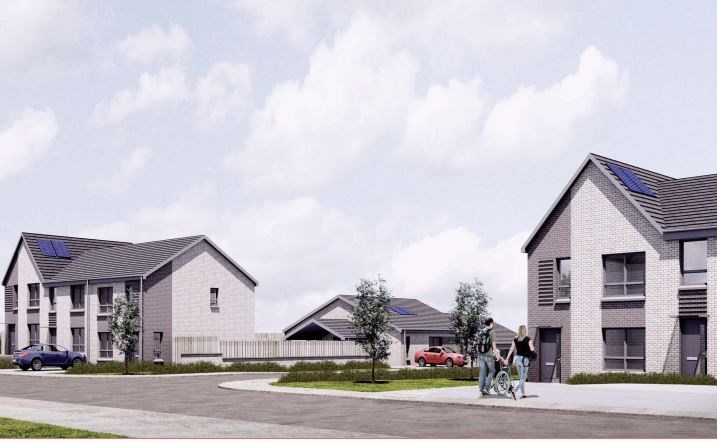 A public consultation is being held on a new housing development proposed for Kennedy Drive in Kilmarnock.
The proposals, which have been developed by East Ayrshire Council in conjunction with developer CCG (Scotland) Ltd and their design team, could see a development of 48 homes, designed to meet a range of needs, being built on the site of the former Silverwood Primary School.
The development would consist of four two-bed homes designed to meet the needs of wheelchair users, three two-bed homes for older/ ambulant disabled residents, 29 two-bed terraced homes, seven three-bed homes, three four-bed homes, one five-bed bungalow and one eight-bed home designed for a wheelchair user.
Blair Millar, head of housing and communities, said: "Public consultations are an essential part of any proposed housing development. It is very important that the local community have their say before we submit a Planning Application.
"The development proposed for Kennedy Drive is ambitious and designed to meet the needs of local people. The 48 homes have been carefully considered and the design includes attractive green spaces. This development is also the Council's first Net Zero project with full consideration being given to low carbon technologies. This includes the proposed installation of Air Source Heat Pumps instead of gas boilers, the use of Scottish products and materials wherever possible to reduce transport energy and solar panels installed on all roof spaces.
"Any feedback received will help inform the final proposals submitted to Planning and the Ayrshire Roads Alliance."
Plans for this area, which are set out in the Strategic Housing Investment Plan (SHIP) 2022- 27, have been progressed by the council's developer, CCG (Scotland) Ltd, and its design team.
MAST Architects has prepared a consultation booklet that can be viewed online or downloaded. The booklet provides details of the proposed site layout and floor plans for the houses, along with some indicative visualisations of what the development may look like, subject to securing planning approval.
The public consultation for Kennedy Drive, Kilmarnock will open on Wednesday 18 May and will close on Wednesday 1 June.