East Ayrshire to challenge SEPA flood warning for planned development sites
East Ayrshire Council has pledged to "constructively challenge" a ruling by the Scottish Environmental Protection Agency (SEPA) which identified areas of ground earmarked for development throughout the region as being at risk of flooding.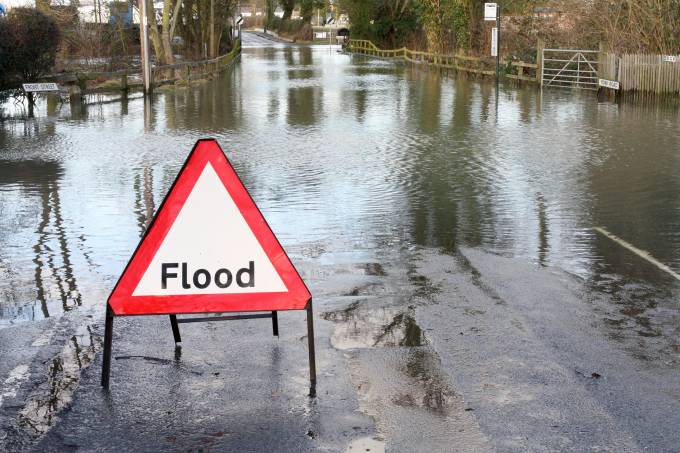 Earlier this week, members of the local authority's cabinet received an update from senior planning officials which set out the scale of the impact of the SEPA flooding policy and how it would impact on future town centre developments and regeneration plans across communities.
Updated SEPA flood maps identified areas of ground which were previously considered as developable land and sites which were included as part of the current local development plan.
In the report, SEPA made particular reference to areas around Kilmarnock including Kilmarnock Town Centre South (beyond the 1 way system and west of Titchfield Street); South Central Kilmarnock (south of Glencairn Square between River Irvine and Kilmarnock Water); Queens Drive West (Retail park/cinema area) and Queens Drive East (Car showrooms, Kilmarnock Rugby Club and the Ayrshire Athletics Arena).
As a result, the council said new developments will not be permitted on any land areas which have been identified as potential at a medium or high risk of flooding.
The impact of flood risk policy at a national level, which now includes an additional allowance for climate change, effectively means that there will be a moratorium on new development in all of these areas in Kilmarnock. Alterations, refurbishment and change of use of existing buildings within these areas, will subject to the relevant Planning Permission and Building Warrant still be able to be undertaken. Greening and amenity projects would be permissible only until at least 2035 and even then there is uncertainty, on the basis of existing guidance, as to what will be acceptable in development terms.
Councillor Douglas Reid, leader of East Ayrshire Council, said: "The seriousness of this situation cannot be underestimated. This is a worrying report, and it's only right, in the interest of our communities, that we set out exactly what the implications of SEPA's approach really mean in terms of the future of our local economy and town centre regeneration aspirations. The viability of our town centres is being threatened.
"They say things come in threes and that's certainly true for us! Our communities have been battered by COVID-19; there's additional uncertainty for us all with a no-deal Brexit looming on the horizon, and now we have to face the possibility that future investment in our town centres will be severely restricted as SEPA will refuse to sanction proposals which contravene their view of the impact of flooding
"We cannot wait until 2035 – that's a whole generation away. We need to act now. A number of discussions have already taken place with the relevant agencies, but we need to move up a gear if we want to ensure that we can protect our communities, both in terms of economic and environmental prosperity.
"Regrettably, climate change is here to stay. We cannot influence the weather, but I'd like to think we can influence the policy makers and key influencers and with suitable mitigation, develop proposals to balance flood protection with economic recovery."
"Our chief executive, Fiona Lees, has contacted the chief executive of SEPA and he has agreed to a meeting within the next two weeks. I personally plan to write to the Scottish Government and Councillor Jim Roberts, in his role as both chair of the planning committee and as the council's representative on COSLA's environment and economy group, has raised this with colleagues in COSLA, as we know other councils across the country are also struggling to come to terms with the constraints of the new policy.
"I'd like to reassure our communities that we plan to challenge SEPA's flood policies in a constructive way. We want to work with SEPA to find a solution that is both flexible and accommodating. We don't know for certain what the full impact of climate change will be, but we can learn from other towns and countries as we seek a solution that will protect our communities now and in the future."
The council's cabinet agreed the following recommendations:
Note the planning and development implications of current flood risk guidance for East Ayrshire's communities and the very serious implications that flooding and flooding policy will have on the future development across East Ayrshire;
Agree that the Council, through the Chief Executive open discussions with SEPA and the Scottish Government to examine the issue of flood risk within East Ayrshire's communities and the opportunities for preparing a strategic flood mitigation strategy for East Ayrshire;
Request that officers of the Council prepare detailed analyses of flood risk for all affected communities in East Ayrshire and agree that these are considered as part of the LDP2 preparation process;
Review the Kilmarnock Town Centre Strategy to take account of flood risk and ensure that the implications of any proposed demolition of buildings within the town centre are considered;
Agree that a final determination on Brown Street/Nelson Street, Newmilns, will be presented to members for consideration in November 2020 as part of the Strategic Housing Investment Plan following a further detailed engagement with SEPA within the wider strategic context of East Ayrshire as detailed in this report;
Continue with the LDP2 work to prepare a strategy for South Central Kilmarnock working in partnership with the Scottish Land Commission and integrate the strategy with that for Kilmarnock Town Centre; and
Prepare a costed master-plan including a comprehensive Traffic Impact Analysis for the Bellfield East Economic Growth Area as identified in the East Ayrshire LDP taking account of the requirements of the Ayrshire Growth Deal and any wider strategic flood mitigation strategy work.