Edinburgh Tenants Federation unveils 2020/2021 annual report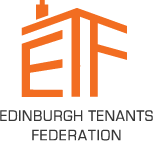 The Edinburgh Tenants Federation (ETF) has released its annual report for 2020/2021 showcasing its work to represent tenants throughout the city and ensuring tenant influence in housing policy and service decisions.
The primary objective of the umbrella organisation of tenants' and residents' groups is to improve housing conditions and standards, along with the quality of life of all City of Edinburgh Council tenants.
It does this by providing:
Information, independent advice and learning opportunities for tenants;
Advice, support and information to tenants' and residents' organisations to help them develop and accomplish their aims and objectives;
Networking opportunities bringing local organisations together to work on matters of mutual interest;
Events and seminars to help people to take part individually and through their groups in decision making about their homes, community and environment.
In the report's foreword, the ETF executive committee (EC) writes: "As a result of the continued COVID-19 restrictions the Federation Office has remained closed, with all ETF work remaining online and staff working from home. Despite these circumstances, ETF has continued to work on the successful implementation of the Federation's Business Plan, Work Plan and our Service Level Agreement (SLA) with City of Edinburgh Council (CEC).
"We have also been very busy carrying out a governance review, to ensure our constitution, policies and procedures are up to date and fit for purpose.
"TIS has facilitated joint ETF and CEC workshop sessions to develop a Tenant Participation and Scrutiny Framework for Edinburgh. This extensive work included reviewing the current arrangements for tenant participation and tenant scrutiny across Edinburgh.
"Due to COVID-19 restrictions, ETF submitted a written deputation to the Council Committee requesting a rent freeze. ETF representatives were pleased that CEC agreed a city-wide freeze on council tax payments and a rent freeze for tenants in 2021-2022. The Housing Service Improvement Plan (HSIP) Group has worked diligently with CEC Officers over recent months to develop the Rent Consultation documents for the coming year, ensuring tenant input was at the very centre of discussions, along with content and design decisions.
"We also held specific meetings and events to support our members and the Federation find out about and respond to national housing consultations with the Scottish Government and Scottish Housing Regulator. ETF representatives have held regular meetings with CEC Officers on a range of topics, including stair
cleaning and repairs.
"Despite lockdown our member groups have kept themselves very busy and we are very proud of the work they have carried out.
"The EC has continued to meet with senior housing staff in their respective localities, ensuring EC members can find out what is happening in their areas and for CEC staff to find out more about the work of ETF."