Energy efficiency efforts continue in Aberdeenshire as Scottish Housing Day marked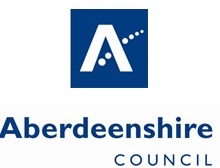 The efforts being made to improve energy efficiency in Aberdeenshire Council's housing stock are being highlighted as Scottish Housing Day was marked across the country yesterday.
Scottish Housing Day, now in its sixth year, explores challenges and achievements across the housing sector, with this year's focus being on housing and the climate emergency.
Currently, around 13% of Scotland's carbon emissions are related to the way homes are heated. Scottish Government targets aim to reach net zero carbon emissions by 2045, with a commitment that gas boilers will no longer be installed in new homes from 2024.
In turn, Aberdeenshire Council's Climate Declaration states the council will 'work with others across the region to ensure that Aberdeenshire reaches Net Zero by 2045'.
Energy efficiency has underpinned a wide range of improvements to council housing for a number of years, with digital tools playing an increasingly key role.
Among activities that are currently underway is the installation of solar panels to 500 council properties across the area as part of the Smart, Solar and Storage project.
As well as the generating free electricity for tenants via the panels, battery units and smart devices are also being installed to help manage the use of energy in the home. Any electricity generated by the solar panels that isn't used is stored in the battery, allowing tenants to use it at any time they want.
The system allows tenants to monitor how much energy is being generated and could potentially save them up to £300 on their annual electricity bills. It is hoped the pilot scheme could lead to future income generation for the council through the sale of surplus electricity to the National Grid.
Funding for pilot scheme was secured by the council's housing service from the Scottish Government's Low Carbon Infrastructure Transition Programme.
The project is one of several measures being undertaken to improve energy efficiency in council properties as part of the authority's Housing Improvement Programme.
There were nearly 2,000 upgrades to more than 1,600 properties across Aberdeenshire over the 2020/21 financial year, including wall insulation, improvements to heating systems, and replacement doors and windows - completed despite the challenges of the pandemic.
In support of this work, an in-house repairs team was established in 2018 to carry out internal wall insulation and other improvements in empty properties across Aberdeenshire and has since employed apprentices to boost the team and share skills.
The upgrades have so far contributed an overall carbon emission saving of 1,410 tonnes of CO2 per year, as well as reducing overall running costs.
Digital tools are playing an increasingly important part in dealing with tenant queries at the touch of a button. Aberdeenshire Council has been using the remote guidance platform XMReality since February 2020 to provide remote support to tenants.
The system, accessible on mobile devices, quickly became an essential tool in reaching out to tenants throughout the Covid-19 pandemic, providing the ability to view the tenant's properties and assess any issues and allowing emergency works to be organised where required. More than 600 calls to tenants have been made through the system to date.
Tenant satisfaction is also important. Over the past year, the council conducted around 1,200 interviews about property upgrades, with 85% rating the overall experience as 'very good' or 'good'.
Feedback was particularly good for the council's guide for tenants, as well as for communication from contractors ahead of work being carried out, and a total of 94% of respondents rated the overall service received from contractors as 'very good' or 'good'.
Councillor Anne Stirling, chair of Aberdeenshire Council's Communities Committee, welcomed the innovative approaches being adopted for home improvements.
She said: "Good quality, affordable homes – which includes the affordability of heating – are the bedrock of reducing child poverty and supporting thriving communities and health and wellbeing, not to mention helping to act on climate change.
"The Smart, Solar and Storage project in particular has multiple benefits, as it will reduce energy costs for tenants and generate some additional funding for the council as well as helping us meet the Energy Efficiency Standard for Social Housing."
Committee vice chair Cllr Judy Whyte, added: "The approach to upgrading properties has to be forward-thinking and this is why we adopt the principles of a 'circular economy'. This involves preventing waste from being generated and looking closely at the way products are designed, procured, used, reused, repaired and recycled, and is something that applies to various aspects of work across the council."