England: Social housing managers must be qualified under new laws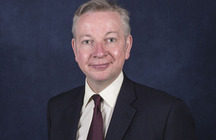 The latest action by Michael Gove to attempt to "drive up standards" in England's social housing sector will see professional qualifications made mandatory for social housing managers.
Around 25,000 managers across the sector will now be required to have an appropriate level housing management qualification regulated by OfQual equivalent to a Level 4 or 5 Certificate or Diploma in Housing, or a foundation degree from the Chartered Institute of Housing (CIH).
The changes will be made through amendments to the Social Housing (Regulation) Bill which Mr Gove said will drive up standards in the sector and hold landlords to account over the service they provide to their tenants. The Bill will also allow the regulator to enter properties with only 48 hours' notice and make emergency repairs with landlords footing the bill.
It follows Awaab's Law, introduced earlier this year in the wake of the tragic death of two-year-old Awaab Ishak, which will force social landlords to fix damp and mould within strict time limits.
Michael Gove said the new requirements will professionalise and drive the culture change needed in the sector, ensuring residents receive a high level of service and are treated with respect at all times.
This, he said, will bring social housing more closely into line with other sectors providing front-line services, including social work, teaching, and health and care services. Any landlord who fails to meet the requirements of the new standards could receive an unlimited fine from the regulator.
Secretary of state for levelling up, housing and communities Michael Gove said: "The Grenfell Tower tragedy and, more recently, the death of Awaab Ishak showed the devastating consequences of residents inexcusably being let down by poor performing landlords who consistently failed to listen to them.
"We know that many social housing residents are not receiving the service or respect they deserve. The changes we are delivering today will make sure social housing managers across the country have the right skills and experience to deliver an excellent service and drive up standards across the board."
Gavin Smart, CEO of the Chartered Institute of Housing, said: "We welcome the government's focus on and support for professionalism in housing. We believe housing professionals should do all they can to ensure that tenants and residents have access to good quality, affordable homes; that they are treated with dignity and respect; and that their voices and views are heard and taken account of in decisions that affect them, their homes and the communities they live in and that the vast majority of housing professionals and organisations share this belief.
"We look forward to working with government to support organisations and individuals in achieving the qualifications needed under these new requirements."