Families across Edinburgh receive 6,000 food parcels since New Year thanks to RBS foodbank drive
Royal Bank of Scotland and its catering provider, BaxterStorey, have distributed more than 6,000 food parcels to Edinburgh's most vulnerable families since January, thanks to a surge of generous donations.
Significant contributions of fresh fruit, vegetables and baked goods from Royal Bank business customers and BaxterStorey's suppliers have been sorted and prepared into meal bags at the bank's Gogarburn foodbank facility before being loaded onto a mobile van that delivers to communities across the Capital.
The Gogarburn foodbank initiative was set up by bank employee, Sheena Hales, at the beginning of the COVID-19 pandemic last year to offer a space for charities to store large food donations.
A team of staff and volunteers have since coordinated largescale donations at its Edinburgh HQ, partnering with charities Social Bite and Cyrenians to allocate food and clothing to those in need of support.
The foodbank was shortlisted for the Inspiring Partnership Award at the Edinburgh Chamber of Commerce Awards this month in recognition of the vital support it has provided to vulnerable people across the city, while founder Sheena Hales was also awarded a British Empire Medal for her leadership in the 2020 Honours list.
Since January, a number of businesses have stepped up to get involved. The Thriving Box Co, an Edinburgh-based start-up that offers bespoke corporate gift boxes, are one of those now involved.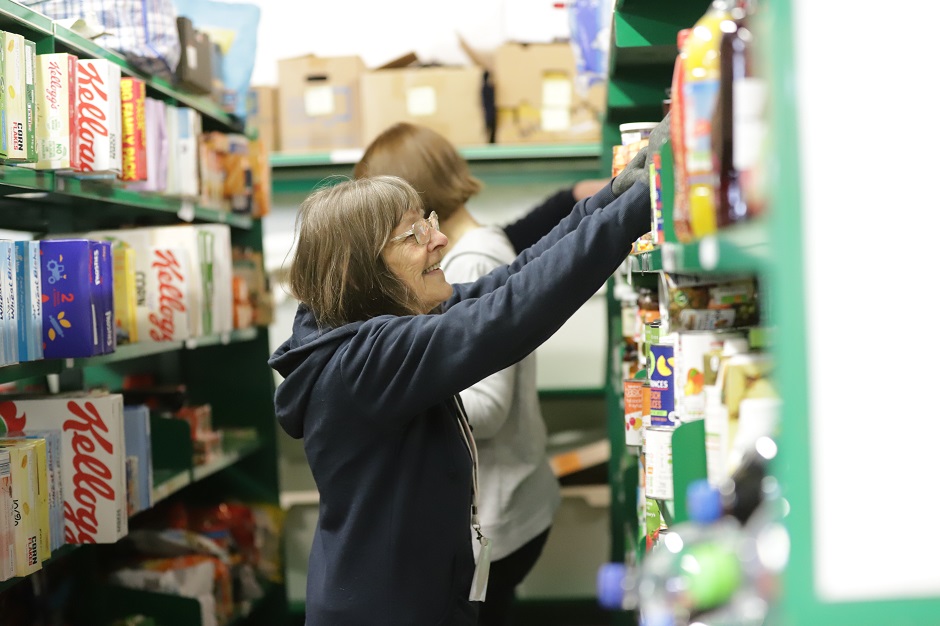 Joanna Burns of The Thriving Box Co, said: "After being left with excess Christmas stock from our gift boxes, we weren't sure what to do with it. When we heard about what the team were doing at the foodbank, it was the perfect opportunity to ensure our Christmas cake mixes and sweets didn't go to waste. We're really happy to have helped out and to be part of the great things happening at Gogarburn."
Since opening its doors, the Gogarburn foodbank has distributed around 6,000 meals per week, taken in huge donations from across Scotland including 220,000 items of new clothing, and run a series of initiatives including a link-up with BaxterStoey and security firm, G4S to deliver 10,000 shoeboxes full of toys, books, games, food and clothing to vulnerable families across Scotland.
Sheena Hales, programme capability manager at RBS and manager of the Gogarburn distribution centre, added: "When we first launched the foodbank in March 2020, no-one realised that a year later, the service would still be needed. If anything, the demand we're seeing now is as high as when the pandemic first began. This latest project wouldn't have been possible without the generosity we've seen from our customers and our volunteers. The past year has been extremely challenging for businesses and to see people who have struggled themselves offer up time and resources to support those more in need is nothing short of humbling."
Phillip Benzies of Benzies Farming, who regularly donate produce to the Gogarburn foodbank, commented: "I have a long tradition of supporting the community and helping children in local schools learn about environmentally-friendly farming. Royal Bank has been a long and loyal supporter of my business and I wanted to support this initiative, not only because it is the right thing to do but because I wanted to repay that loyalty that the bank has shown me down the years.
"Over the course of the last year, this drive has allowed us to not only reach those in most need of support but to allow us to see how valuable Scotland's charity network is. By providing pallets of carrots and potatoes, we are delighted to be able to continue to offer this support and make a positive difference to people's lives."
Caroline Bacigalupo, operations manager, BaxterStorey, said: "The BaxterStorey team has been volunteering at the Royal Bank foodbank in their own time since last year, supplying hearty, healthy nutritious meals for the latest project and as part of the shoebox and Feed the NHS appeals that we ran with the bank in 2020. Thanks to the wonderful donations from local businesses and our suppliers we have been able to make this happen and continue providing this wonderful service to people within the community."