Final site in Raploch Regeneration Programme to build 68 new homes
Almost 70 new homes are to be provided at the final site in the Raploch Regeneration Initiative programme.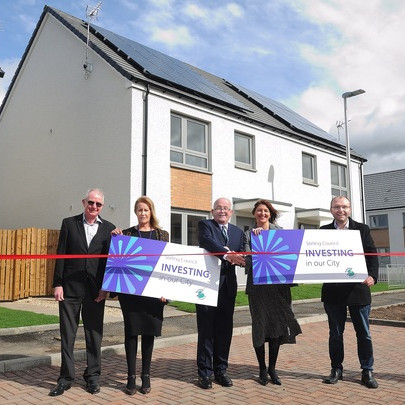 Stirling Council will deliver 32 affordable homes in partnership with Robertson Partnership Homes, while Forth Housing Association will develop a further 36 homes at the former Gowanhill Gardens site which was demolished around 2007.
The houses will be built as part of Stirling Council's Strategic Housing Investment Plan (SHIP) which aims to provide new, high-quality, sustainable, affordable homes for Stirling residents.
Work on the 68 new homes, which will be part of a wider development that on completion will create a new neighbourhood in Raploch, will begin later this year.
The new council homes will be available for social rent, and will be amongst the most energy efficient houses in Stirling, featuring solar panels and solar battery storage with an A-rated Energy Performance Certificate.
The housing mix for Stirling Council will include:
1 bedroom cottage flats (6 homes)
1 bedroom cottage flats with wet floor shower room (2 homes)
2 bedroom cottage flats (13 homes)
2 bedroom cottage flats with wet floor shower room (3 homes)
3 bedroom semi-detached, 5 person (6 homes)
3 bedroom semi-detached, 6 person (2 homes)
Housing portfolio holder, Councillor Jim Thomson, said: "This regeneration programme is an important initiative in improving the quality of life for many residents by helping to ensure everyone has housing that meets their needs.
"These projects will also help secure new and existing jobs and training opportunities in the construction sector for our businesses and residents."
Deputy housing portfolio holder, Councillor Danny Gibson, said: "This development will provide a range of house types and tenure options for both families and single people, providing them with affordable, energy efficient homes that meets their needs."