First Minister and Conservative leader visit Milnbank Housing Association
First Minister Nicola Sturgeon and leader of the Scottish Conservative Party Douglas Ross MSP paid a visit to Milnbank Housing Association's Bluevale Community Centre following a debate in the Scottish Parliament over the need to tackle Scotland's drug death crisis.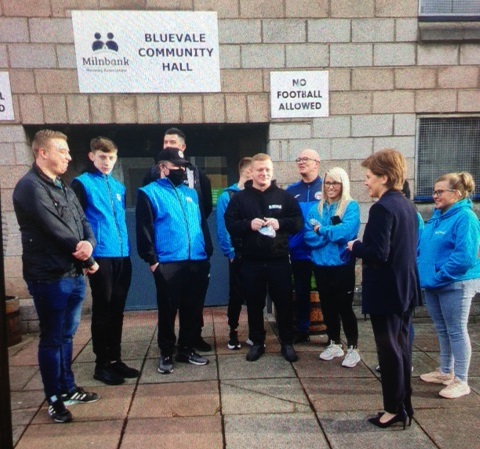 The visit was arranged by the Bluevale Community Club, which has established a recovery café in the Bluevale Centre. The purpose of the visit was to highlight the work of a community-based initiative specifically set up to support the recovery of vulnerable people.
During the visit, the First Minister announced funding of almost £100,000 to the Bluevale Community Club to help provide continuous support and help people live healthier lifestyles through the club's activity classes and a host of supportive local networks.
The First Minister said: "The work being done by Bluevale Community Club in their local area helping people to live healthier lifestyles through their activity classes and recovery drop-ins is fantastic. It is an excellent example of how sustained, meaningful activities and supportive social networks are key to building stronger communities.
"The funding of almost £100,000 will help them focus on expanding these services further and give employment to young people who have given their time free until now.
"The rights of individuals to access effective treatment and support underpins our national drugs strategy. But we know there is more to do to make these rights a reality which is why we launched the National Mission backed by an additional £250m over the next five years to improve and increase access to services for people affected by drug addiction – including an investment of £100m on residential rehabilitation.
"We are determined that every penny of that will make a difference to all those affected by this public health emergency."
Bluevale community club is a registered charity which supports members of the community to live a healthy and active lifestyle. They provide fitness classes, nutrition, support classes for mental health and addictions. They link in with local nurseries & schools, clubs and organisations to ensure an overall support network within the community.
The £99,588 funding Bluevale has received from the Local Support Fund is part of the £2.5m that the Scottish Government has invested since March 2021 in third-sector and grassroots organisations which deliver frontline services to support people with problematic drug use.
Prior to this investment the organisation ran with 24 volunteer staff members and 4 young employees funded through the Step-up programme which supports young people into employment as part of the Young Person's Guarantee. This funding will enable the club to recruit two of the volunteers on a part-time basis.
Bluevale founder and project manager Kenny Trainer said: "We welcome the visit by the First Minister and Douglas Ross to see first-hand not only what we are trying to achieve here at Bluevale Community Club but also meet the people who remind us daily why we do it.
"We have run our club on a voluntary basis and welcome the investment from the Scottish Government that will allow us to employ two part time members of staff, allowing us to focus more on developing a whole community response to recovery. Prior to this funding we were unsure if we would last beyond Christmas. We will continue to look at further alternatives to meet the additional shortfall in meeting our charity's mission and ambition.
"We now ask that all parties, and both governments, put their political differences aside and agree on how we can tackle Scotland's problems not just at a national level, but locally – ensuring that any investment reaches the heart of our communities where it will make the biggest impact. We have seen too many friends and family members die while seeking access to the help they needed and that's why we back any rights-based approach when it comes to drug treatment – one based on holding decision makers to account where necessary."