First Minister visits new Glasgow Housing Association homes
First Minister Nicola Sturgeon visited Glasgow Housing Association's (GHA) latest development of 152 affordable flats in Ibrox yesterday.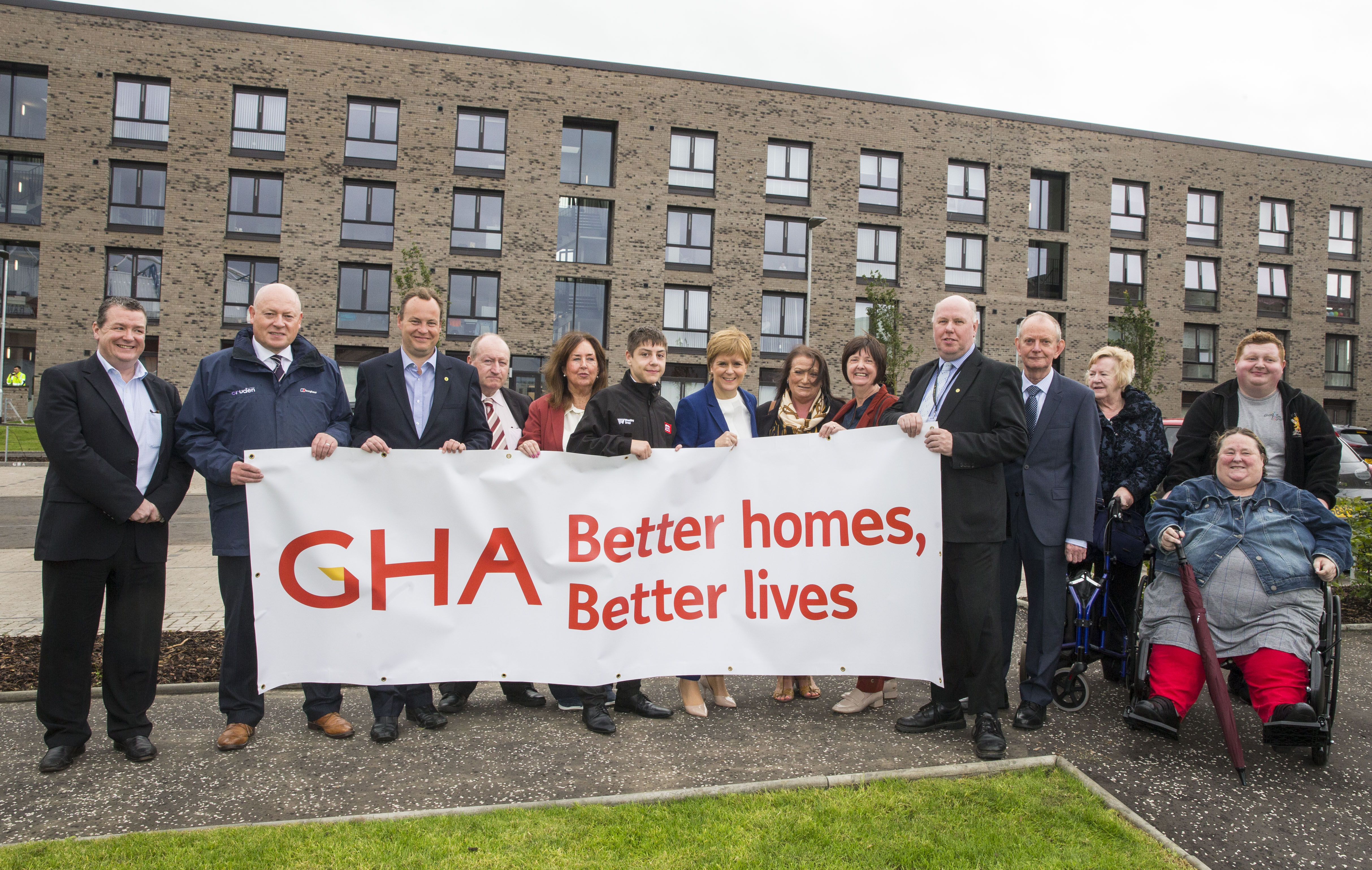 The new flats are a combination of one- and two-bedroom homes, and six have been adapted for wheelchair users.
A total of 116 of the flats are for social rent and 36 are for mid-market rent by GHA's sister organisation Lowther Homes.
As MSP for Glasgow Southside, Ms Sturgeon attended to mark the completion of the £16.2 million project in Ibrox, part of her constituency. During her visit, she heard of how the new homes were giving the tenants a bright new future.
Tenant Lesley Frame, 65, who is in remission from cancer and suffers from arthritis, told Ms Sturgeon that her new home in Hinshelwood Drive was 'life-changing'.
Lesley said: "I am in remission from breast cancer for the second time and also suffer from painful arthritis so my mobility can be limited.
"I was pretty down in my old place in but my new ground floor home makes me feel so much better and very positive about the future. It is like a fresh start for me.
"The new flat has huge windows which let in loads of light and I also have a lovely balcony when I need some fresh air. When I wake up in the morning and the light floods in, I just feel so much better. I am looking forward to a bright future in my new flat which has been life-changing."
The Hinshelwood development was built for GHA by Cruden Building, in partnership with the Scottish Government and Glasgow City Council, and is part of the wider Transforming Communities: Glasgow (TC:G) regeneration of East Govan and Ibrox. The project is also the biggest completed new build development in Wheatley Group, GHA's parent company.
Ms Sturgeon said: "It was an absolute pleasure to visit Lesley in her new home today. For me Lesley's story epitomises the importance of good quality affordable housing, this is more than just a roof over her head, it's a home in which she can feel a sense of belonging, independence, and pride.
"I want everyone in Scotland to be able to afford good quality, warm, sustainable home and the Hinshelwood Drive development plays a vital part in meeting the ambitious target set by my government of building 50,000 affordable homes by 2021, backed by record £3 billion investment."
A community benefit clause in all Wheatley Group's new-build contracts requires contractors to provide jobs and training opportunities for people who live in Wheatley's homes. Cruden Building delivered four new jobs, all of which went to tenants, and five new apprenticeships.
They have also donated £1,250 to Ibrox primary and nursery school for outdoor play equipment, and £3,750 to the charity Starter Packs to hire an additional van to make more deliveries to people facing hardship.
GHA chair Bernadette Hewitt said: "I'm delighted to learn that Lesley, and all of our tenants, are settling into their new homes. This £16.2 million investment in Hinshelwood Drive is another example of how we are turning our mission – Better Homes, Better Lives – into reality. Working with our partners we have built this fantastic development of one and two-bedroom flats which provide local people with high-quality affordable homes. There is no doubt the development is giving local people a better quality of life. They are bright, modern and energy-efficient which will cut tenants' bills and help them stay warm and comfortable."
Councillor Kenny McLean, chair of Transforming Communities Glasgow, said: "These new flats in Ibrox are a great example of the high-quality new homes that are being built across the city, housing that better meets the needs of a wide range of people. It is really pleasing to hear these stories of people's lives being improved by their new homes, and we are delighted to help support this development through the Transforming Communities: Glasgow partnership."
Allan Callaghan, managing director for Cruden Building, added: "We are delighted to see the huge impact that creating quality, energy-efficient housing makes to peoples' lives, such as Lesley. Importantly we build sustainable communities, not just homes. The long term benefits from delivering job creation and community donations will make a real difference to this area for years to come."