Former hotel to be South Lanarkshire's first car-free development
A residential development that will be offered for affordable rent by Clyde Valley Housing Association has been given the 'green' light in more ways than one.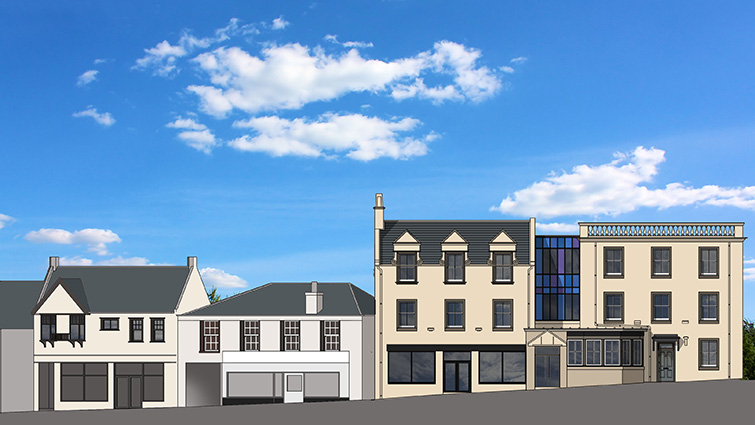 Proposals to redevelop the empty building that was formerly Lanark's Royal Oak Hotel into 15 flats has been approved by South Lanarkshire Council's planning committee and promises to bring unique environmentally-friendly benefits to its area.
In a first for the region, tenants will be informed before moving into the flats that no car parking is provided.
With the site being within the town centre, extremely close to Lanark bus and train stations and within walking distance of local amenities, it is deemed that the development is ideally located for this policy.
In addition, 15 secure cycle-parking spaces will be provided and residents will be provided with a travel plan outlining key routes to amenities and public transport information.
Councillor Isobel Dorman, chair of the planning committee, said: "This is one of our Scottish Government Town Centre Capital Grants Projects and is an ideal opportunity to remove an eyesore from the centre of one of our towns, provide much-needed affordable housing and also make a green and sustainable impact on the area.
"This building has been a problem for the area for more than a decade now, so it is exciting to see a solution being enacted, and even more so to see the local transport system and amenities being utilised to make it viable as a development and also demonstrate how a car-free development can, in the right circumstances, be made to work."
The property is in a poor state of repair and has fallen vacant in various stages with the 14-room hotel having closed around 2008, the public bar in 2011 and the shop incorporated on the ground floor in 2014, and was the subject of several unfulfilled planning applications between 2008 and 2014.
The current application has been made by Burgess Homes and will also incorporate a commercial unit for the sale of food and drink that will integrate with the existing range of amenities in the town centre.
In keeping with the fact that the property is a listed building and sits within both Lanark Conservation Area and the New Lanark World Heritage Site buffer zone, the development work will preserve the existing façade and gable walls.
Clyde Valley Housing Association will also carry out an independent assessment of the compliance with the car-free nature of the development and its effects on the surrounding area. Any issues that are identified will be addressed as agreed with the council.