Fraserburgh affordable flats development to be named after iconic fashion designer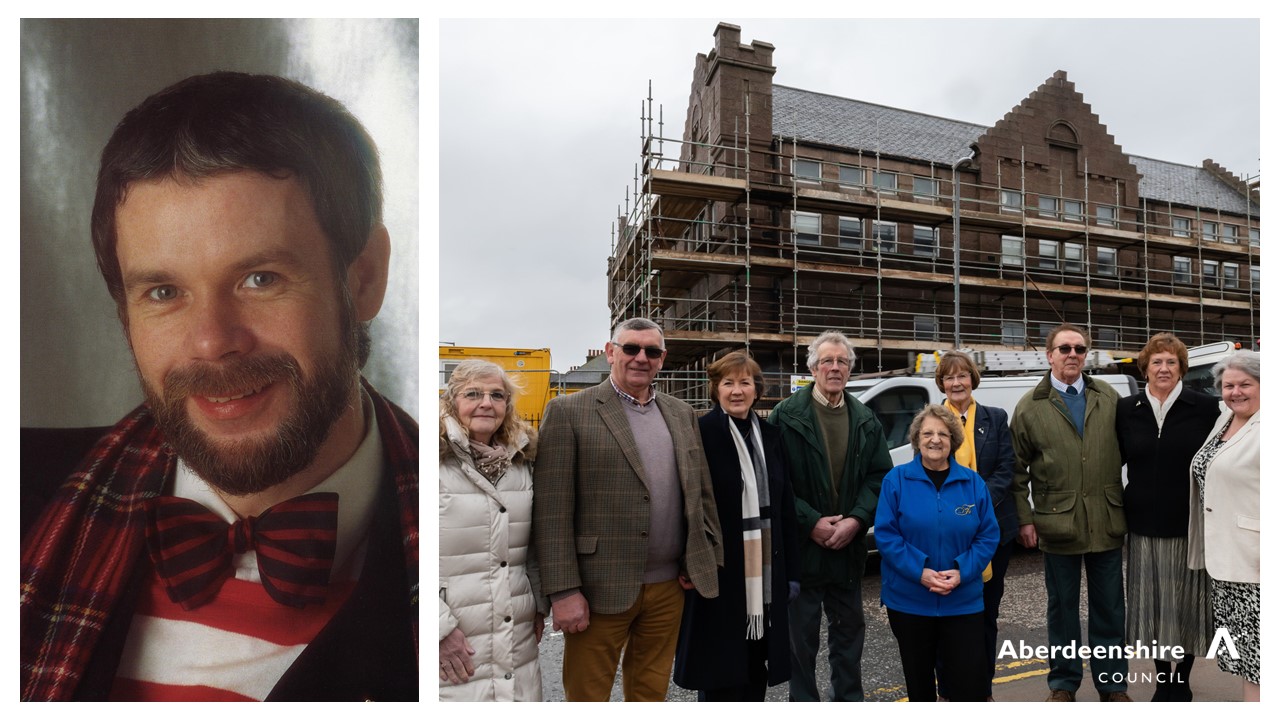 A new affordable housing development in Fraserburgh is to be named after one of the town's most famous sons, iconic fashion designer Bill Gibb.
At a meeting of Aberdeenshire Council's Banff and Buchan Area Committee earlier this month, councillors unanimously agreed to name the flats on the corner of Dennyduff Road and Finlayson Street 'Bill Gibb Court'.
The naming is in tribute to the former Fraserburgh Academy pupil who went on to become one of the most influential designers in the 1960s and 70s, creating outfits for the likes of Twiggy and Bianca Jagger.
His amazing creations were largely based on nature and while he often combined the use of fur, feathers and leather in his work, he is best remembered for his stunning knitwear.
Tragically he passed away in 1988 from bowel cancer aged just 44, however his legacy lives on as a renowned talent who had such a profound influence on so many designers over the years.
The 16 one-bedroom flats which will bear his name are being developed on the site of the old Fraserburgh Academy by contractor Chap Construction Ltd.
Two of the ground floor flats will be fully wheelchair accessible, while six will be suitable for ambulant disabled persons. These will meet the requirements of households with particular needs.
The cost of the year-long development is being part-funded by the Scottish Government New Build Grant with the remaining funded through Aberdeenshire Council's Housing Revenue Account and Second Homes Council Tax Revenue.
Increasing the supply of affordable housing is a key priority in Aberdeenshire as highlighted in the Local Housing Strategy, with Fraserburgh in particular being identified as a 'high priority' town for affordable housing investment to meet local needs.
The former academy once housed the art and drama departments - which have since been re-located within the main school building - and was declared surplus to requirements in 2020. Planning permission was granted for conversion of the building into residential use in March last year.
Cllr Doreen Mair, chair of the Banff and Buchan Area Committee, said: "Not only is the creation of new housing near the centre of town very welcome indeed, but the redevelopment of this vacant but lovely old property will have additional community benefits and given the accessibility to essential services and facilities, the development will form part of the existing 20-minute neighbourhood in Fraserburgh.
"I am absolutely delighted that the committee approved the naming of the Old Academy building as Bill Gibb Court in memory of one of our most famous and influential sons. Bill was without doubt an amazing talent who took the world of fashion design by storm and it is a tragedy he was taken from us at such an early age. I know his family are very pleased to have the development named after their beloved Bill. This building was where Bill attended school and started on his journey to such great heights so it is a very fitting tribute."
Chair of Aberdeenshire Council's Communities Committee, Cllr Anne Stirling, added: "The development of these 16 properties will go some way to addressing the local housing need and the provision of 8 particular needs properties clearly demonstrates our commitment to independent living.
"They will enable households to live as independently as possible with the appropriate housing and support as well as aligning with our Rapid Rehousing Transition Action Plan where there is a significant demand for one-bedroom properties. This development will also assist in meeting the council's wider strategic aims in terms of regeneration of a brownfield site enhancing sense of place, community safety and fuel poverty through the delivery of new energy efficient affordable homes."
Aberdeenshire Council's new build programme - Phases 8 & 9 - includes a number of developments which are currently ongoing. Not only are there new developments in Fraserburgh, but there are projects in Huntly, Blackdog, Ellon and Stonehaven making a total of approximately 254 new homes for Social Rent across Aberdeenshire being built. There have also been another 50 homes which have recently completed in Banff and Rothienorman.